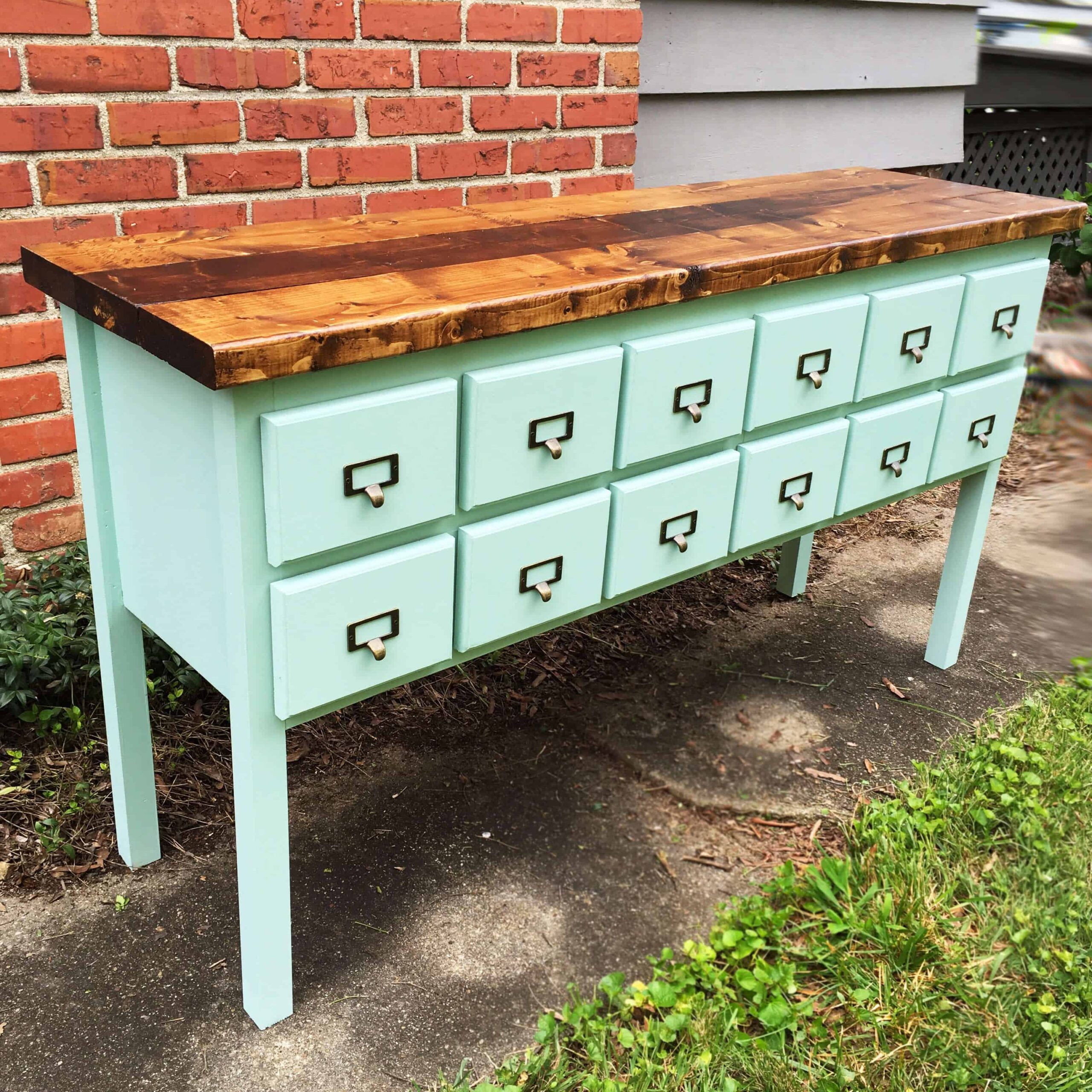 Some of you might recognize this Apothecary style Console Table build, but none of you have seen plans for it. Until now! This is a previously unpublished build that people have been hounding me for the tutorial for and now you get it. Originally built and submitted for the original IG Builder's Challenge inspired by plans from Ana White, it's time we give you a chance to build your own Apothecary Console Table… and don't worry… drawers are EASY to build.
Let's talk first about the IG Builder's Challenge. Hosted on Instagram only, builders from around the web blindly sign up (for free!) to receive a secret build plan. Then on the same day everyone gets the same set of plans (like a table, desk, console, etc.) and agree to build it with their own personal spin on it over a 3-4 week span. When you finish your build you take a pretty picture, slap a hashtag on it and post onto your Instagram feed. Then you're entered to win a ridiculous bounty of prizes. Interested? Sign up here for the contest kicking off April 1st, 2018. Lucky for you I'm no longer a participant that can win all of the awesome prizes. I'm actually on the IG Builder's Challenge Build Team which means I'm building along with the contestants, but am there to answer questions (if you've ever seen a runner use a pacer to help them win, that's essentially what I'm doing). Check it out!
Let's get on with this funky build though. Twelve, yes twelve drawers and all!
---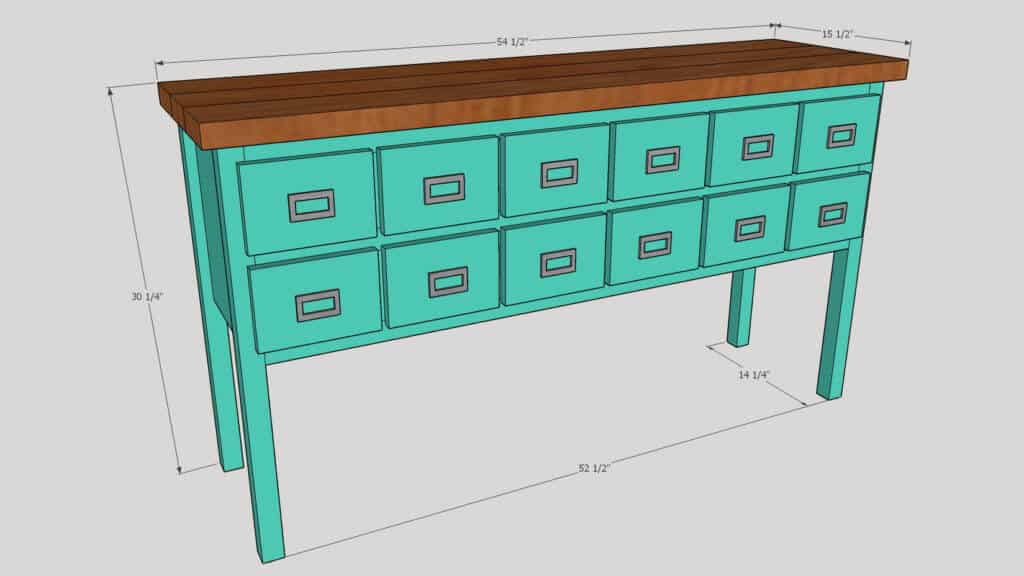 ---
Tools Used
Miter Saw
Table Saw
Drill/Driver
Router w/ round over bit (optional)
Pocket Hole Jig
Materials/Supplies Needed
(5) 2 x 2 x 96″ Premium (4 side square) board
(2) 1 x 12 x 96″ board
(2) 1 x 2 x 72″ board
(3) 2 x 6 x 96″ board
(1) 4'x 8′ underlayment (1/8″ thick)
(2) 1 x 6 x 72″ Premium (4 side square) board
(5) 1 x 5 x 96″ Premium (4 side square) board
Cut List
(4) 2 x 2 x 28.75″ – Legs
(2) 1 x 12 x 14.25″ – Side Panels
(4) 2 x 2 x 49.50″ – Horizontal Supports
(1) 1 x 12 x 49.50″ – Bottom Shelf
(2) 2 x 2 x 49.50″ – Middle Supports
(1) 1 x 12 x 49.50″ – Middle Shelf
(10) 2 x 2 x 4-7/8″ – Drawer Dividers
(10 1 x 2 x 11.25″ – Drawer Guides
(3) 2 x 6 x 54.50″ – Top
(1) 49.50″ x 14.25″ Underlayment – Backer Board
(24) 1 x 5 x 10.50″ – Drawer Sides
(12) 1 x 5 x 7″ – Drawer Front
(12) 1 x 5 x 5.50″ – Drawer Back
(12) 1 x 6 x 8″ – Drawer Face
(12) 6″ x 10.75″ Underlayment – Drawer Bottom
---
Step 1 Legs & Sides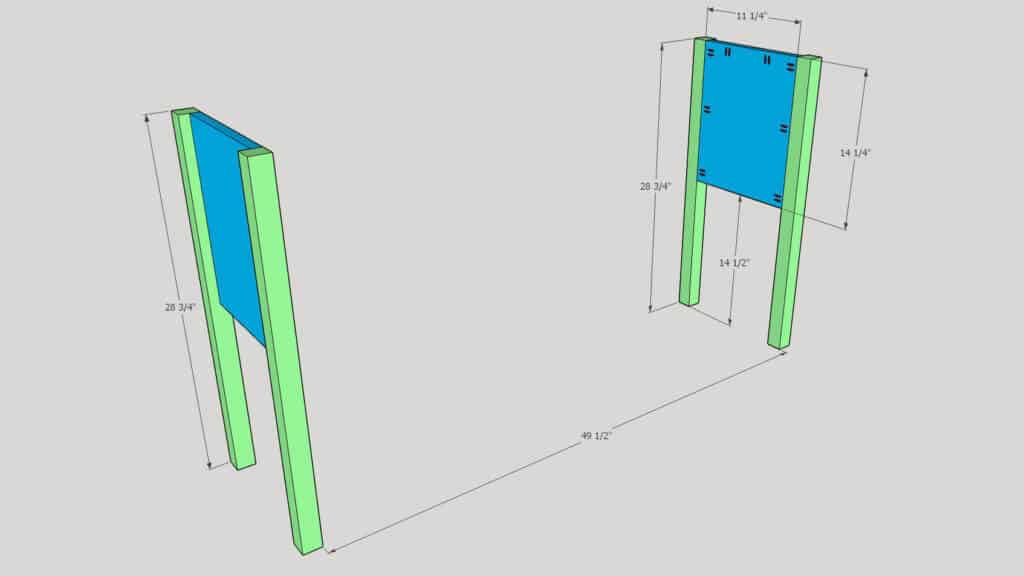 Before you do anything, make sure you bought the "premium" 2 x 2's that have 4 flat (called S4S) sides. Not the rounded edge, wonky and curved cheaper 2 x 2's. You honestly can't use those. Sorry, I'll wait while you run to The Home Depot and come back. Trip #4 today?
Welcome back! Cut four 2 x 2's to 28.75″ for the legs and two 1 x 12's to 14.25″ for the side panels. Using a pocket hole jig, pre-drill into the three sides of side panels for a 3/4″ pocket screw depth. You're going to attach the legs flush so the drill hole free side is inset into the legs as shown above. Just put a scrap piece of 1x material under the side panel when attaching to the legs. Make sure you clamp, use wood glue and 1-1/4″ screws to attach. Leave at least two pairs of pocket holes pointing upward so you can attach the top in a final step.
---
Step 2 Attach Horizontal Supports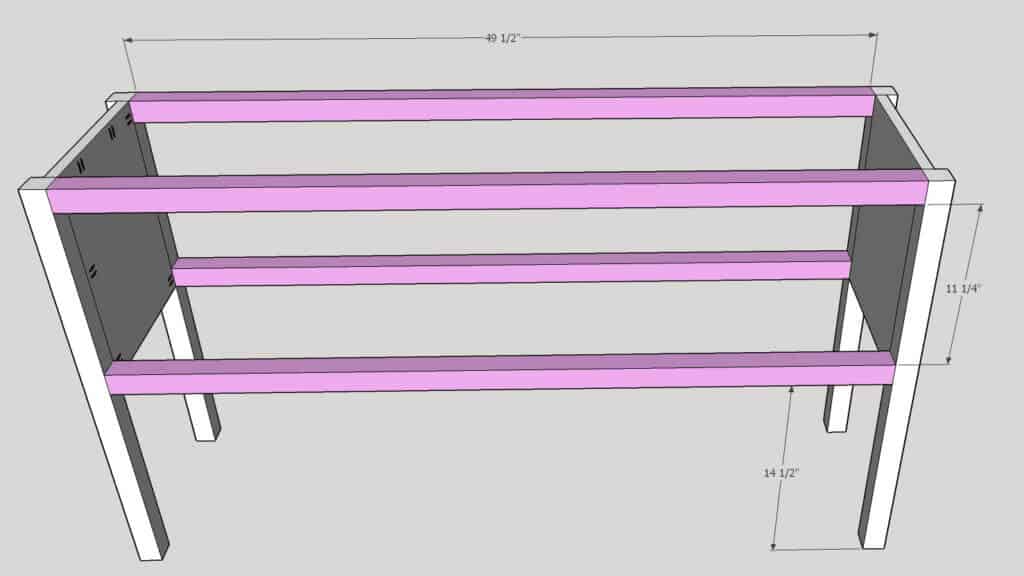 Cut four more 2 x 2's to 49.50″ for the horizontal supports. This time you're going to use a 1-1/2″ pocket hole depth to attach the supports to the 2 x 2's on the frame. Strategically place the pair of holes so they won't be visible from the front. The outer edges of the 2 x 2's will be part of the face of the console table. You're going to mount the top support flush with the top of the side panel leg and leave a gap of 11.25″ between. From the bottom of the lower support to the floor, you should have a 14.50″ clearance.
Not in the picture, but pre-drill a few pilot holes through the top horizontal supports. When it's time to attach the top you can screw wood screws through these supports for a more secure fit.
---
Step 3 Attach The Bottom Shelf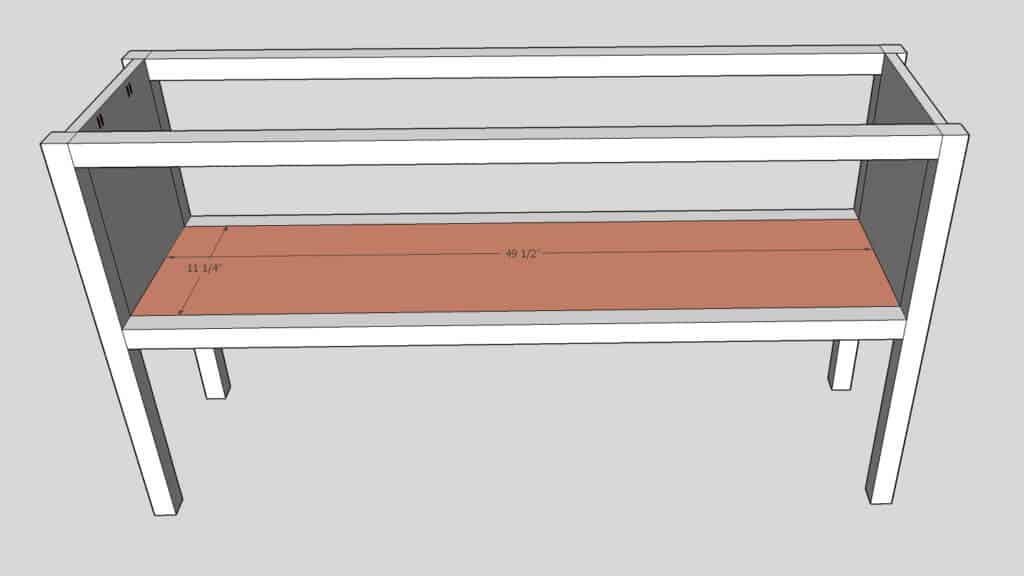 Cut another 1 x 12″ board to 49.50″ and then pull out the pocket hole jig again. Along the bottom of the panel, pre-drill 3/4″ pocket holes on all four sides. Using clamps, wood glue and 1-1/4″ pocket screws, attach the shelf flush with the lower supports and side panels. This might be a tight fit, so if you have to cut it the tiniest bit short, you can always caulk and fill any gaps later.
---
Step 4 Attach Middle Supports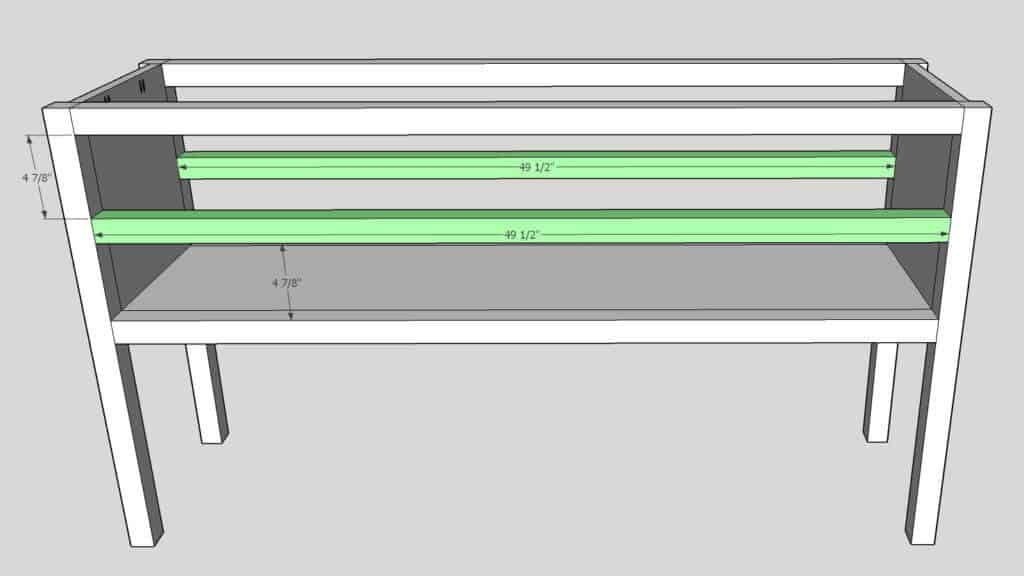 Cut two more 2 x 2'x to 49.50″ and pre-drill 1-1/2″ pocket holes. Attach to the side panels with 2-1/2″ pocket screws and wood glue. You're centering your 2×2 support smack in the middle of the 11.25″ space between the top and bottom horizontal support so that will leave a gap of 4 7/8″ on each side. I know I know… fractions. How dare I, but 7/8″ is a super easy one to figure out. Once again, make sure those pocket holes aren't visible on the outside edge when you mount them.
---
Step 5 Attach The Middle Shelf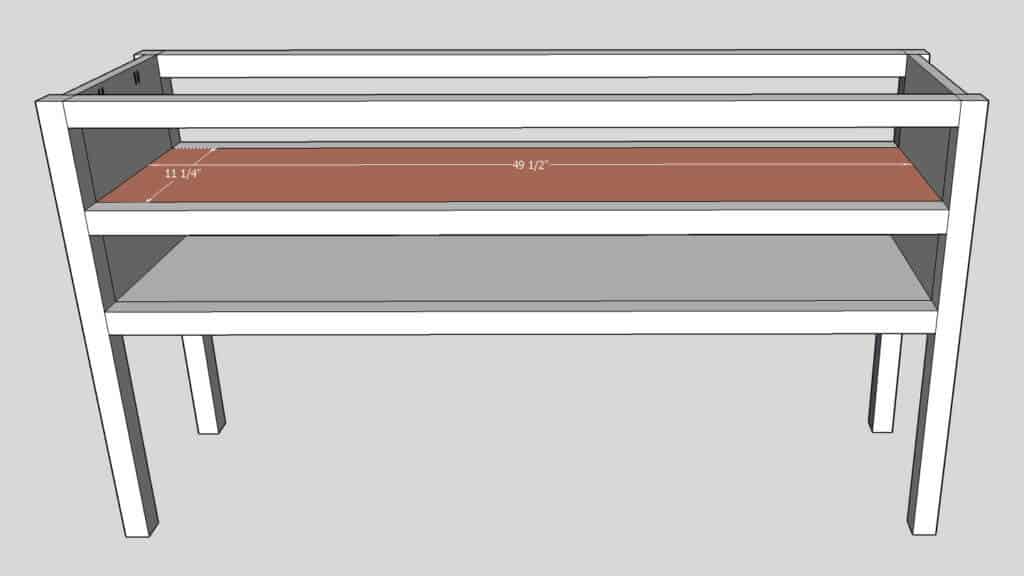 Almost identical to step 3, you're going to cut another 1 x 12″ to 49.50″ and pre-drill 3/4″ pocket holes on the bottom of the panel on all 4 sides. Then using clamps, wood glue and 1-1/4″ pocket screws attach to the side panels and middle supports. It's going to be a tight squeeze, but you will have plenty of room to use an impact driver or drill.
---
Step 6 Attach Drawer Separators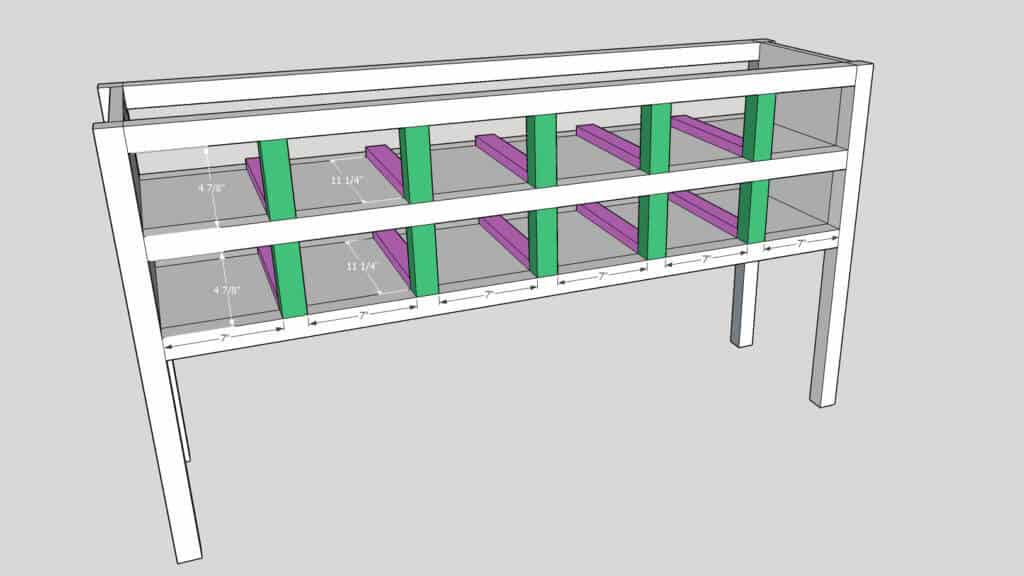 This step is going to warm you up for mass producing cuts. Cut ten (yes ten) 2 x 2's to 4-7/8″. It's drawer frame will be 7″ wide by 4-7/8″s tall. Pre-drill 1-1/2″ pocket holes into each end and then attach with clamps, wood glue and 2-1/2″ pocket screws with the holes facing inward. You will have 6 drawer openings on each level. The outside edge will be the face of the console table. It's important that your spacing is accurate and your top and bottom pieces line up evening. Otherwise… it's gonna look wonky.
Once the 2 x 2's are attached, cut ten (yes ten again!) pieces of 1 x 2's to 11.25″. Attach as shown with wood glue and either brad nails or wood screws (pre-drill to avoid splitting) behind each set 2 x 2. We're using these guide pieces to cut down cost and to avoid having to build drawer boxes and add drawer slide hardware. *Note, you might want to add the guides for the bottom shelf prior to adding the middle shelf. It will save you some sanity or working in tight spaces.
---
Step 7 Attach The Top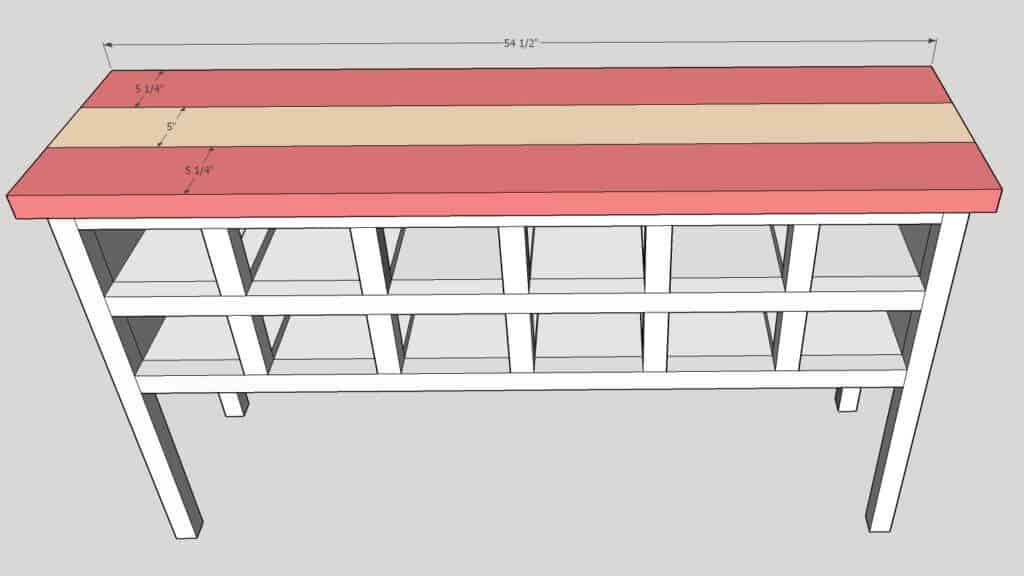 Yeah I know, this is the first we've talked about the top. Honestly, get this sucker ready ahead of time so you can slap it on the top when the time comes. But this is when you attach it. And oh lord… we're using a table saw… if you're not comfortable using a table saw, then it's up to you to figure out the right combination of 2x material to get you a width bigger than the 14.25″ width of the side panels and 2 x 2 legs. I cut (or used a jointer) the inside edge of the two outer 2 x 6's so I had a flat edge and a width of 5.25″. I then trimmed both sides of the middle 2 x 6 so it would only be 5″. I pulled out my pocket hole jig and then and pre-drilled 1-1/2″ holes and butt joined the three pieces using clamps, wood glue and 2-1/2″ pocket screws.
My total top width is 15.50″ which gives me a slight overhang on the back and about 1″+ up front, which we will need considering our drawer faces are going to be 3/4″ thick not including pulls. Attach the top using clamps, wood glue, the pre-drill pocket holes and 1-1/4″ pocket screws on the side panels from step 1 and then 2″ wood screws through the top supports you pre-drilled in step 2.
---
Step 8 Attach The Backer Board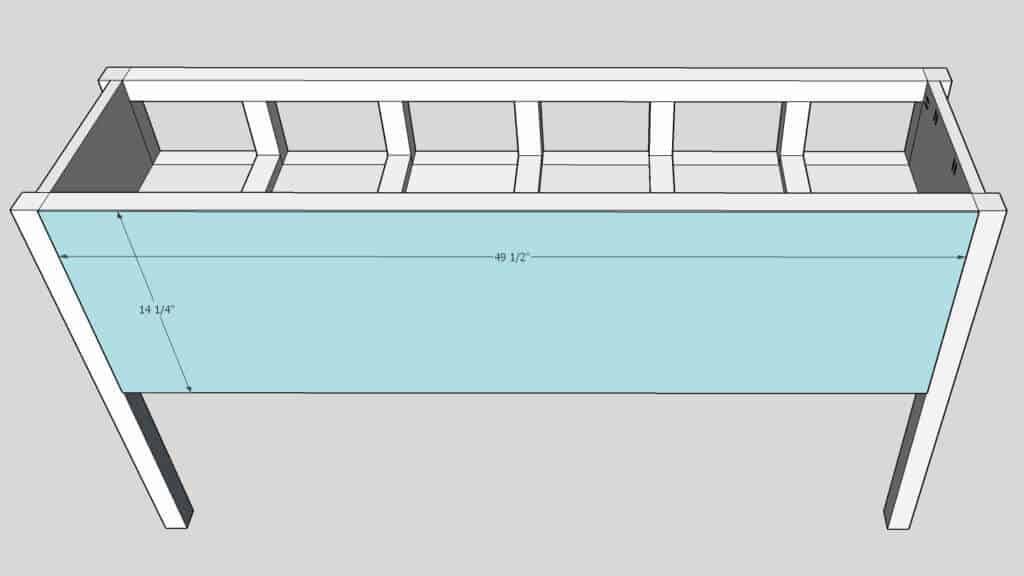 Something looks… different. I took the top off (Spring break!!!) so you could see what we were doing. Plus… you don't want to attach the backing until you have the top on because space is going to be tight inside the table when driving those screws in. I recommend using either a RIDGID Palm Impact Driver or a right angle attachment like DeWALT makes(*affiliate links).
For the backer board I used 1/8″ underlayment that comes in sheets of either 4 x 8′ or 2 x 4′. Because this is the back of the piece it doesn't have to be pretty or even 1 solid piece, just so long as it covers the back and no one sees it. Ultimately, you need to cover a space of 49.50″ x 14.25″. I attached with wood glue and brad nails.
---
Step 9 How To Make a Drawer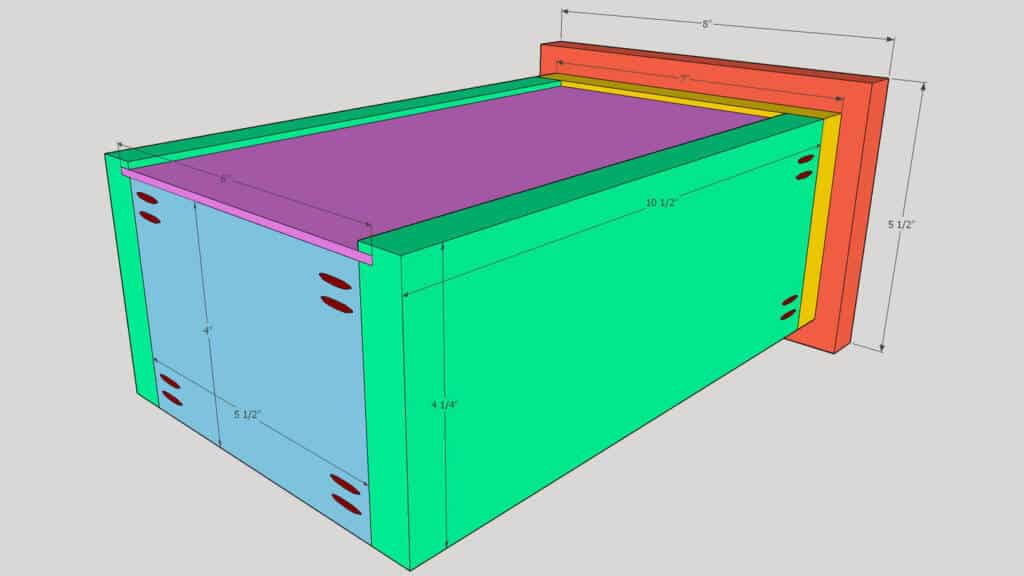 Here's where you want to panic right? Drawers. So many drawers. Twelve in fact. What if I told you these were the first drawers I ever made? I actually have an older tutorial talking specifically about how I made these drawers so check it out! Then when you make twelve of them you get really good at them. One quick note, the image pictured above is slightly different then the tutorial linked above, you'll see below, but the blue piece is actually cut shorter so the drawer bottom slides in over top and attaches.
First things first, we want these drawers to slide in like your hand in a glove. As you know for our drawer boxes we left a space of only 7″ wide and on the image above you'll notice the yellow piece is 7″ wide. We're going to cut that just short at like 6-15/16″ but I didn't want to freak you out with fractions again. Just know the yellow and blue pieces are going to be the tiniest bit smaller. You'll also notice there's a dado groove in 3 of the 4 drawers sides. It's really simple to do if you have a sliding miter saw or a table saw. Don't panic! Check out the video I just linked above to or this video to learn how to make repeatable dados.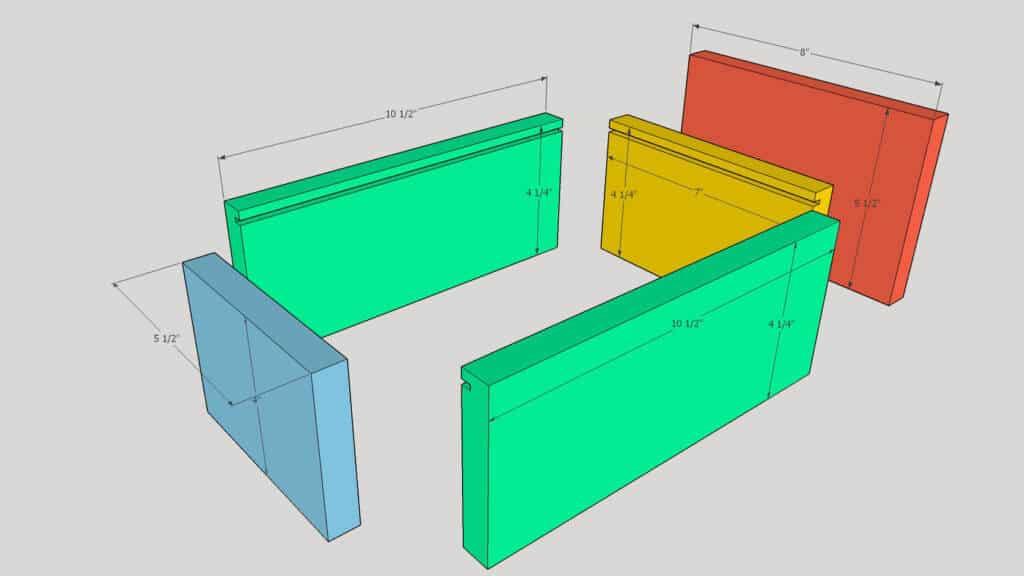 We're using 1 x 5's here so you'll need to cut 24 pieces to 10.50″ for the sides, 12 pieces to 7″ (6-15/16″) for the front and 12 more pieces to 5.50″ (5-7/16″) for the back. But wait there's more! That 5.50″ is only 4″ tall! As you saw in the tutorial I linked, you want that blue piece to only as tall as the bottom edge of your dado, because you're going to slide a piece of underlayment into the assembled drawer, into the dado grooves and then have it rest on the top of the blue piece. The strengthens the drawer bottom and if you ever break the bottom out, it makes it easier to replace in the long run.
Once you have the drawer assembled, center a piece of 1 x 6 x 8″ on the face for the drawer front. Before I added the drawer front I did route the edges with a round over bit and added the hardware.
---
The Finish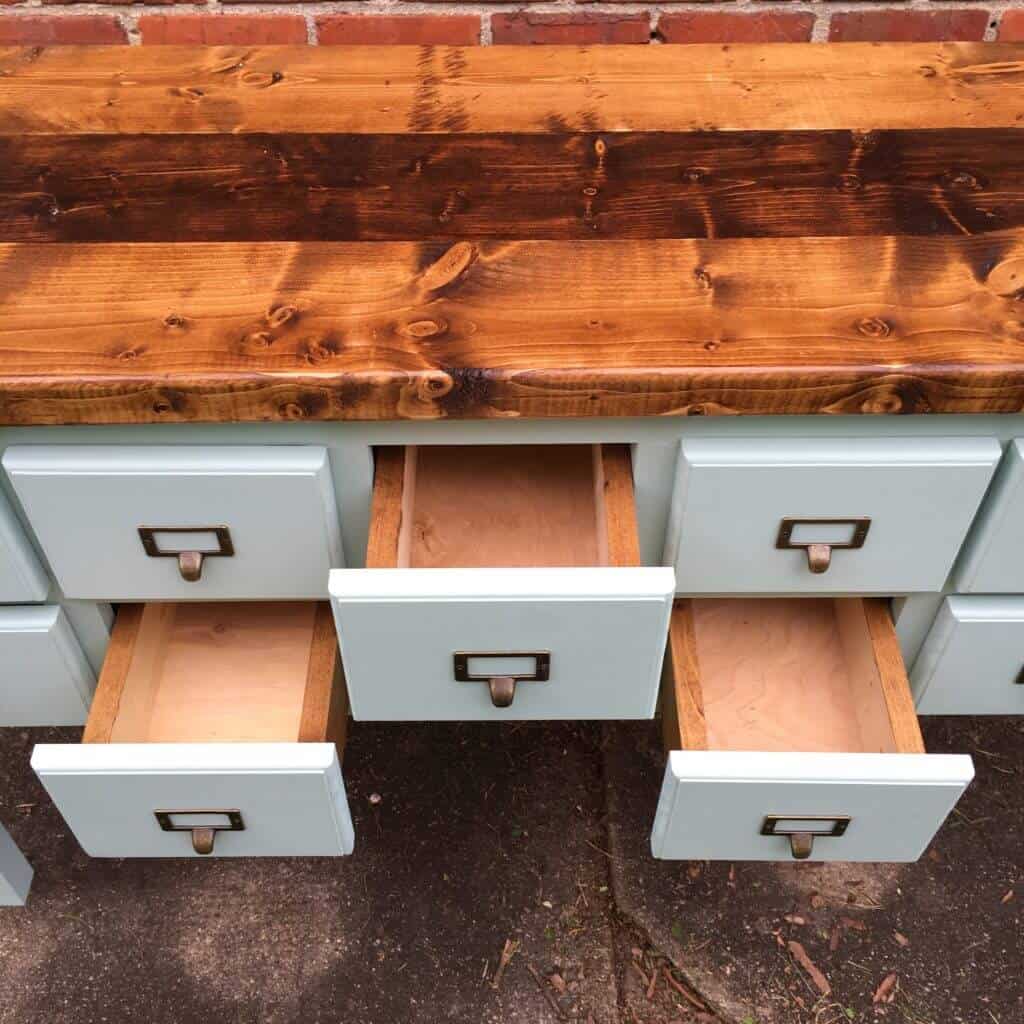 For the color and finish I used MinWax Early American Stain and the paint was just a bargain buy custom made in the discount bin at my local Home Depot. I made sure I seal the top with several coats of clear semi-gloss poly from MinWax. I applied at least 4 coats, with a hand sanding with 400 grit sandpaper between each layer of sealant.
~ Lazy Guy