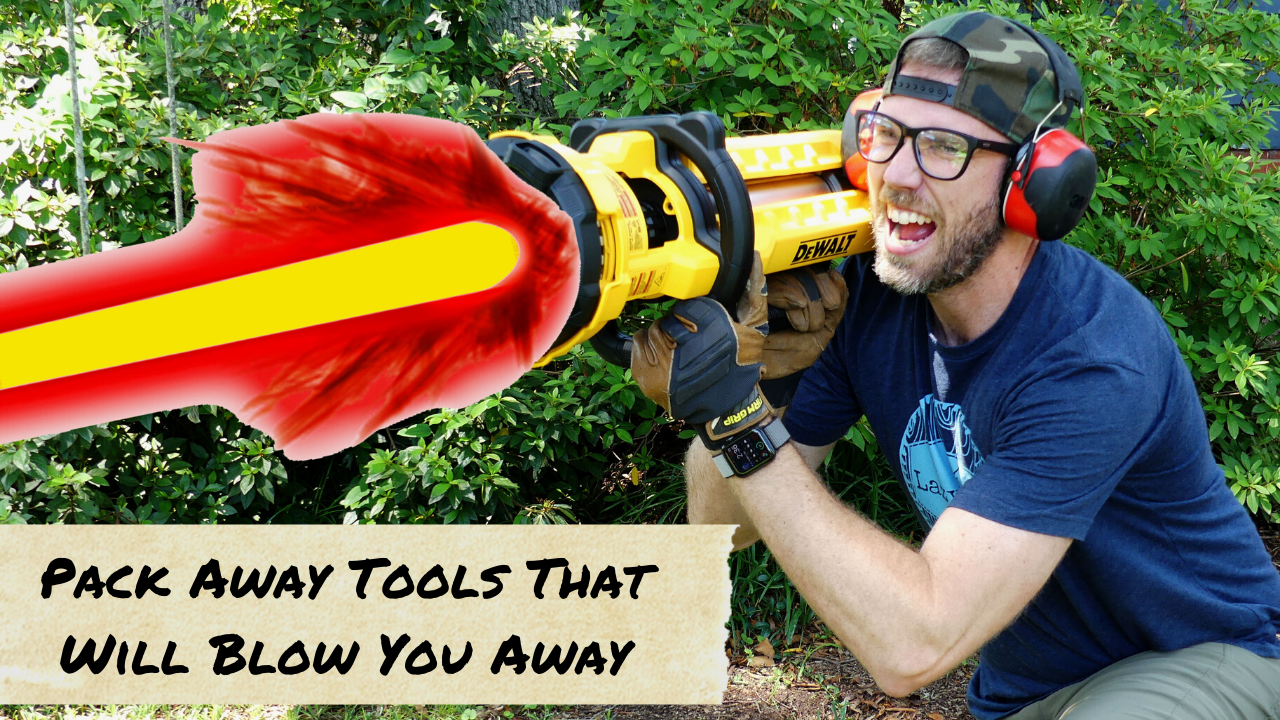 Occasionally you need to take this show on the road! With that there are a few tools I've tested recently that pack up neatly and come to the job with me. Whether it's stow and go or just neatly pack away somewhere in my shop, a space saving design always wins in my book! Check out these three tools that pack up and will blow you away… and maybe a bonus item as well!
This post is part of The Home Depot's Prospective tool review. Affiliate links to follow!
Watch The Video!
Don't forget to subscribe to the Lazy Guy DIY YouTube channel. And while you're there leave me a thumbs up and leave a comment too on which tool you like best!
Meet the Pack Away Tools
DeWALT 33″ Folding Workbench
Quick Take: The DeWALT Workbench has been my go-to work surface when outside of the shop. It folds down flat for storage and makes a perfect surface for setting up my compact table saw or miter saw. The clamping cut outs and dog holes are a nice touch, but the bench lacks the weight to make them truly workbench useful.
The Verdict: A folding table that packs flat and can take the abuse of the job site. Pick one up at Home Depot for under $90.
DeWALT 20v Max Tripod LED Light
Quick Take: The DeWALT Tripod LED Light is a powerhouse flood light that's been a perfect fit for painting and drywall jobs around the house. Especially in areas where lighting hasn't been the best, this light illuminates every surface and missed spot on my paint job. While the folded down size is still fairly large, you get 7′ of extension and a secure base when in use that sets a great standard for a tough light.
The Verdict: Bright at 3000 lumens and easy to transport. For the price point I would to see a hybrid plug in option, but the design is great for the job site. Pick one up at Home Depot for under $230.
Bora Tools SpeedHorse
Quick Take: The Bora SpeedHorse is a NextGen Sawhorse the resets the standard of what is usually an afterthought for your workflow. Holding up to 1500 lbs. each, picking up a pair of these improves your workflow and ability to quickly set up or close up shop. There are plenty of bells and whistles that justify the cost for a permanent solution to your typical scrap wood build.
The Verdict: Given the space limitations my workshop has, the Bora SpeedHorses have vastly improved my workflow and ability to stow and go. Pick a pair up at Home Depot for under $160.
*Bonus Pick!
Bernzomatic ST2200T Butane Micro Torch
Okay, so maybe it doesn't pack down to a fancy workbench, but the Bernzomatic Butane Micro Torch is tiny. It weighs less than a pound when empty and easily packs away until you need it. Whether you're torching out bubbles in an epoxy pour or soldering pipe fittings, it's a quick job aid that can go anywhere. Pick up a Bernzo Micro Torch at Home Depot for $25, but don't forget to pick up your Butane Gas as well!
~Lazy Guy
*This post has been sponsored by The Home Depot. I have been compensated for my time and provided with product in exchange for my opinions. My opinions are my own.