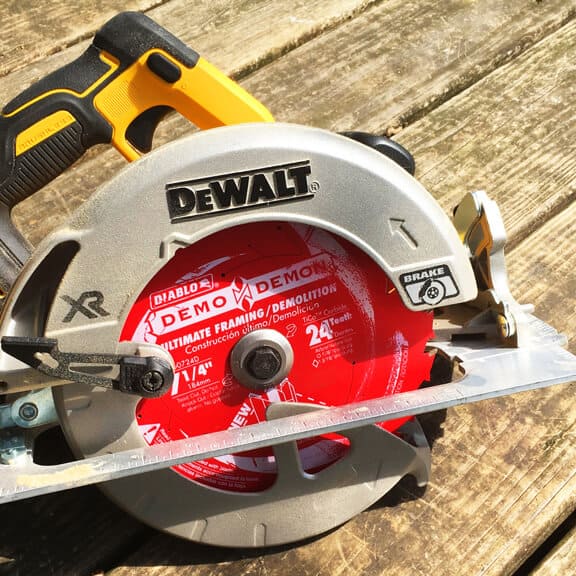 Marcia, Marcia, Marcia. It's always about Marcia, that flashy DeWALT 60v Max FlexVolt (*affiliate link) platform (with the matte black accents!) is full of power and is adored by the masses. And then there's little Cindy, that 18v NiCad DeWALT (*affiliate link) platform that's pint sized with a 6.50" blade. So cute and approachable. But what about Jan? It's tough being the middle child. It's so easy to overlook a 20v Max model when there are two extremes on either side. But this middle sibling is no slouch. The DeWALT 20v Max XR Circular Saw (*affiliate link) packs a punch and shouldn't have to resort to hitting Marcia in the face with a football to get noticed.
DeWALT 20v Max XR Circular Saw
The DeWALT DCS570 (*affiliate link) turns a 7.25" blade like it's older sibling and thanks to its Brushless motor, hits over 5,000 RPM's under load. Before someone asks it, other than blade size, what's the difference between the 18v and 20v max models? If you didn't already know, they use essentially the same battery power (a little different with NiCad and Lithium-ion tech). The guys at Pro-Tool Reviews have an excellent write up about the topic if you want to check it out, but basically it comes down to marketing the different lines within brand not the amount of volts it produces. So what's the real difference? It's the addition of the brushless motor. Less friction and more power gives you more go juice, longer run time (over 100 crosscuts) and more raw power. So if you were looking for more brute strength in the next model up, you've got it here.

Get To Know Your DCS570
Prove you say? Will do. I have a collection of circular saws from a variety of brands that are corded, cordless, brushless, 6.50″ bladed, 7.25″ bladed, left-blade mounted, right-blade mounted and even rear-driven (what? I like collecting things…). But, every single one of those saws struggled on the slab of 2″ white oak I've been working on for months. The wood is too hard and too thick (stop it) for those other models and would just bog down part of the way through. Nothing looks better than incomplete cuts on a client build. Not with this DeWALT. It sliced like a hot knife through butter… or a 20v Max saw through 2″ thick white oak…

Circular Saw Ergonomics
The pistol grip is by far the most comfortable in my inventory. I have lighter saws that are easy to use on crosscuts because of the weight difference (this one is 7.5 pounds), but the ergonomics on the DeWALT index in my hand in a way that requires very little assistance on the pommel to keep it on track. So embracing your inner Luke Perry and hanging on for the full "8 Seconds" is a breeze. I've since been using the saw on my deck demo paired with a Diablo Demo Demon blade (*affiliate link) and those water logged decking boards haven't stood a chance.

Straight cuts not good enough for you? You get a bevel up to 57 degrees, but what you're really going to love is the saw brake. It's electronic, so you get a quick stop when you take your finger off the trigger. Like it's miter saw big brothers, that's an essential safety feature if you like to dangerously wave your saw around in celebration after glorious straight cuts. You really should work on that…
Final Thoughts On The DeWALT Circular Saw
My only negative mark is with the shoe (I'm more of a flip flop guy when I'm not in the shop). Before I got the numbers full of sawdust and dirt, they were difficult to read when using the saw outside because of the reflective surface. The FLEXVOLT line uses a matte black that cuts down on this issue (have I said how cool that looks recently?). If my only complaint is about something being too shiny in the sunlight, then I think we have a winner.
The DeWALT 20v Max XR 7.25″ Circular Saw (*affiliate link) is available now at the Home Depot.
~ Lazy Guy
*This DeWALT saw is part of The Home Depot Pro-Spective tool review program. I have been provided with product and compensated for my time for my opinion of this saw. My opinion is my own, so don't go thinking otherwise. And don't go chasing waterfalls. Please stick to the rivers and the lakes that you're used to.