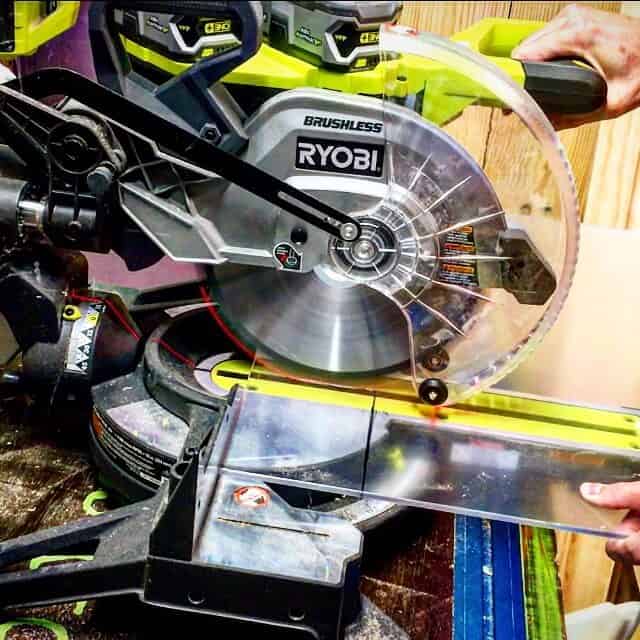 I don't know whether I'm proud or ashamed by the fact that I've referenced the Fast & Furious franchise (how did this even become a franchise?) only one other time on this website.  But there's a scene in one of the newer movies where "The Pacifier" says something along the lines of "I need you to take all of this equipment and put it into this car and make sure it's portable, lightweight and fast."  I'm paraphrasing of course, but dialogue was never the strong suit of those movies.  Cars then proceeded to go fast and things start 'sploding.  Luckily for me, when Ryobi Tools decided to take all of this equipment stacked on one side and then drop it into a tricked out lightweight model that was portable… we got a lot of speed and a lot of power… and no 'splosions!  This is especially important because we are talking about the new Ryobi One+One 10" Cordless Brushless Dual Bevel Sliding Miter Saw (affiliate link).  That's a mouth full.  I shall now rename you the "Mobile Blade of Fury" or "Bruce".

Ryobi Cordless Sliding Miter
But how mobile is Bruce?  And how furious is he?  To quote myself when my wife asks me an in-depth question and I'm distracted by something shiny and awesome… "yes… wait what?".
Let's start with the power.  This is the beefiest power tool in the Ryobi One+ line up.  It's running two 4 amp hour 18v batteries that combine into a 36v powerhouse.   You're getting over 800 cuts with a fully juiced flux capacitor that has enough power to take you back to Hill Valley in 1955.  I've talked about this before, but Brushless motors are game changers in the battery world.  Less heat and less friction equals more power and longer run time.  I've been using this saw for about 2 months now and I've yet to drain more than half the power over a full day of work.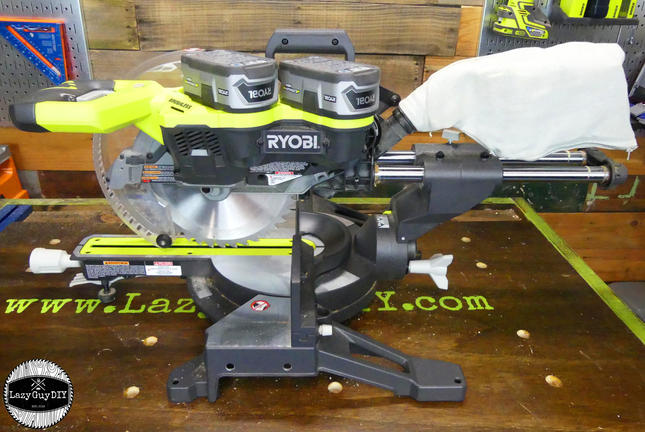 How Powerful Is A Cordless Miter Saw?
Smoothly but more so awkwardly segueing from power to portability… this saw has no cord.  It's 100% battery powered.  I would love to see a Hybrid model in the future like the Ryobi One+ SCORE Bluetooth Speakers or the Shop Fan, but for now… let's bask in the glory of the cordless miter saw.  My normal shop saw is the RIDGID 10" Dual Bevel, Sliding Compound Miter saw (again with the name… let's call him Steve).  Some people still call Steve one of the best saws you could get for the money even after he's been out for a few years.  However, Steve is fat (and not just with a PH).  He's over 70 lbs. fat.  Other than the obviousness of having to plug the saw in, lugging 70 lbs. around isn't exactly portable.  Which is why the Ryobi weighing in at only 34 lbs. is nothing short of amazing when you take the same great features and make it half the weight.  With easy one-handed carrying, Ryobi is generally categorized as "consumer" brand for DIY'ers, but now they are fully jumping into the pro-grade world because this is definitely a "job-site" saw.

Why Cut The Cord With A Miter Saw?
Over the last few years thanks to HGTV and DIY Networks, house flipping has become about as trendy as pumpkin spice lattes.  Regardless of background or skill level, people are foaming at the mouth (and not from their latte froth) to snag a property for the cheap and turn it into a Chip and Joanna Fixer Upper.  If you've ever gutted a house to the studs before, you usually find some major electrical issues (if you're lucky enough to even have the power safely running) which means your bigger power tools either have to run off of a generator (extension cords everywhere!) or you're saving those associated tasks for last.  Having a portable miter saw that runs on batteries is a game changer for that reason alone.  Making it lightweight and easy to relocate around the job site just puts an exclamation point on how ridiculously convenient it is.  Whether you're a beginner DIY'er or a flipping pro, this is a great addition to your tool inventory.
Let's touch on the features before we go anywhere else.  There are very few models of cordless miter saws on the market right now and even fewer have saw blades 10" or bigger.  The novelty wears off when you realize most of the competing models have a tiny 7.50" saw blade and cost double the price of the Ryobi.  So you spend more… and can cut less…. Hmmm….  The 10" saw blade and the sliding miter give you a 12" cross cut capacity.  That's big enough for pretty much any job-site requirements plus it can cut up to a recommended 3.50" thick material so 4×4's are on the table (unlike some other brands…).  The EXACTLINE laser is more accurate than most onboard lasers I've used, plus it's easily adjustable.  I generally use my miter saw lasers more like "pirate guidelines" than tools for accuracy, but this model is by far one of the better options I've had my hands on.

Miter Saw Bells & Whistles
Another element I was very happy to see is an upgrade to the dust collection.  Miter saws will always kick up a ton of sawdust regardless of what kind of suction you have hooked up.  One of the biggest issues is how to gather the dust coming immediately off the blade without inhibiting the cut?  A lot of people have been MacGyver'ing a deflector out of foil or tape directly behind the blade that channels your excess sawdust into that problem area to get sucked up.  Ryobi has taken note and extended the deflection point as well.  While we are nowhere near the elusive "dust free" operation it's a noticeable upgrade.
One thing you'll notice when pulling the trigger is the sound is very specific to this model.  It's a little more high pitched than other models, but I'm already wearing ear protection (and so should you!) so it doesn't bother me.  The fun part is when you take your finger off the trigger… electric brake!  It's not immediate, but it might as well be.  The electric brake should be standard on all saws.  It's a fantastic feature that will can save your fingers or material from absent minded action.

Final Verdict On The Ryobi Cordless Sliding Miter Saw
So, is it all sunshine and butterflies?  Actually yes, you get a lot of saw for the money compared to other models in the group.  My only gripe doesn't even apply to me, but those weirdo left handed folk out there.  The trigger safety is not lefty friendly like my RIDGID is and it's a little cumbersome at first even for a righty.  Once I got used to it I had no issue, but I found the safety design initially distracting after I had carefully lined up a cut.  But hey… with an accurate laser who needs to stress over lining up a cut?
The Ryobi One+One Cordless Brushless Dual Bevel Sliding Miter Saw (Bruce) is available now at the Home Depot for $299.00, but don't forget your batteries (*affiliate links).
~ Lazy Guy
Want to check out more Ryobi power tool reviews?  Check out the full Ryobi Review Section Here!
*This product was provided by Ryobi Power Tools in exchange for my opinion on the product.  My opinion is my own (even though they gave me a magical cordless miter saw).