Whether it's for fall mums, spring vegetables or summer flowers it's always nice to have a workspace for your gardening needs. That's why I designed this easy weekend build for a Potter's Bench that you can complete with only three power tools! I teamed up with my friends from The Home Depot Rental on this project and picked up the tools I needed for this quick project that will help my green thumb (or lack thereof).
Tools For The Build
From The Home Depot Rental I picked up three power tools. For your next DIY project you can reserve the tools you need at your local Home Depot Rental up to 30 days in advance.
Rented Tools
Other Tools Used
Kreg Pocket Hole Jig
Clamps
Speed Squares
Additional Materials
12" x 18" Pan for Potting Station
Wood Glue
2" Wood Screws
Cut List By Step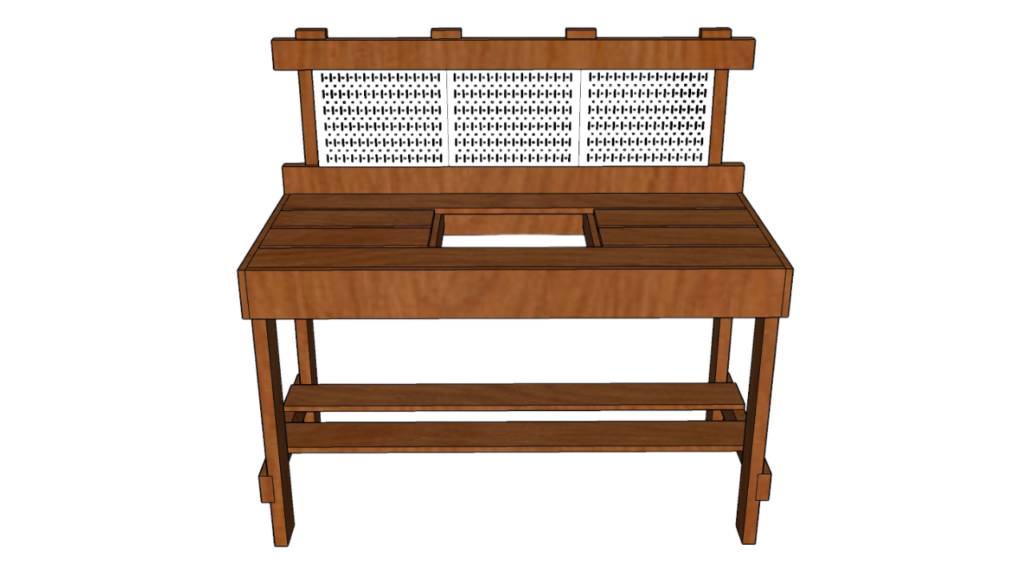 (4) 2 x 4 x 34"
(2) 2 x 4 x 16", (2) 2 x 4 x 24"
(2) 1 x 6 x 55-1/2"
(2) 1 x 6 x 57-1/2"
(2) 1 x 6 x 25-1/2"
(2) 2 x 4 x 24"
(2) 1 x 6 x 55-1/2"
(4) 1 x 6 x 18-1/4"
(1) 2 x 4 x 57", (4) 2 x 4 x 25-1/2"
(1) 2 x 4 x 57"
Watch The Potter's Bench Build
Step 1 – Legs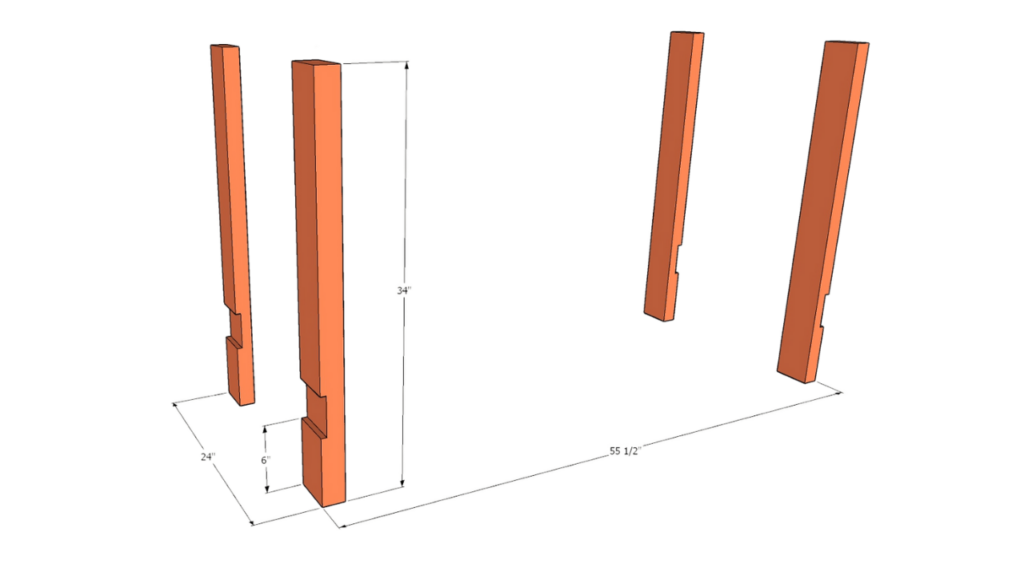 To start this build off you'll need to cut (4) 2×4's down to 34" each.  If you have a miter saw or a sliding miter saw you can easily use that to breakdown most of the material and even cut the dados.  However, for this project I used the Circular saw I rented for all cuts.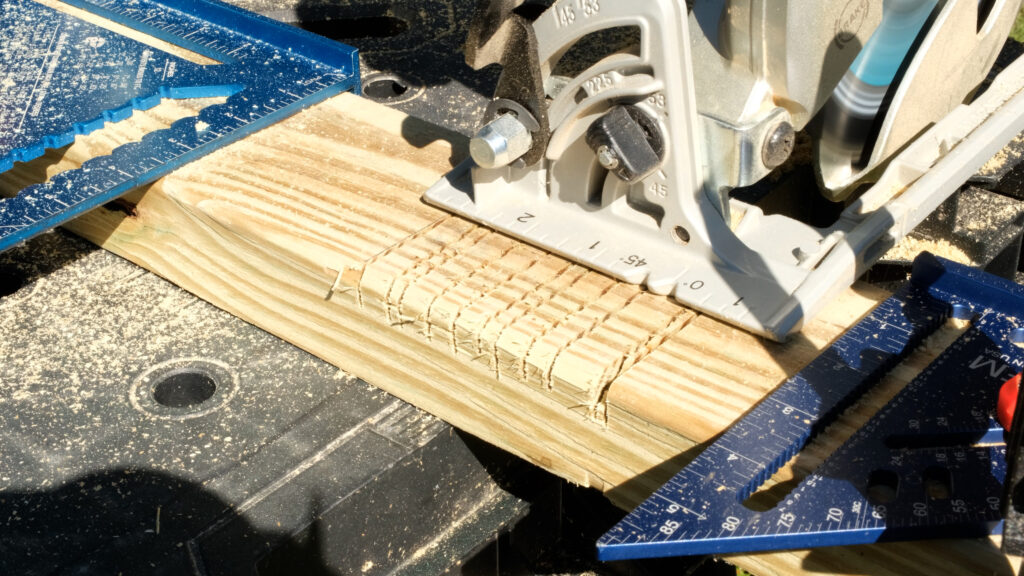 Six inches from the bottom of each leg I marked the end of my dado cut.  Then marked an additional line 3.5" up for where I'll be cutting each dado for a more secure leg.  I then set the depth of my circular to ¼" to ½" (your pick!) and made multiple passes inside my marks to hog out material for the dados.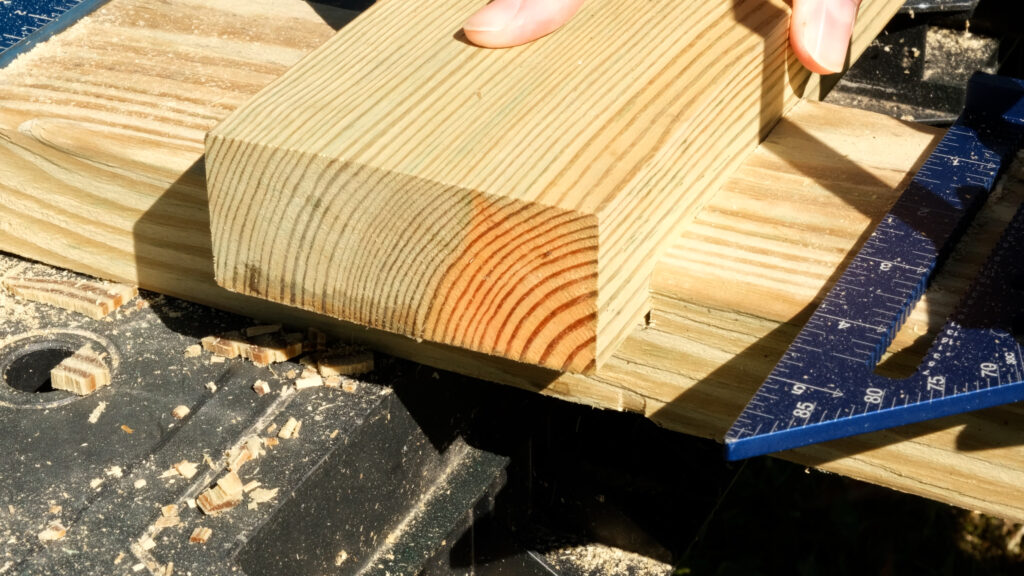 Depending on how many passes you make clean up should be fairly simple with a chisel and a hammer or even a screwdriver.  If you watch the YouTube video that's included you can see how simple it is.
Step 2 – Leg Supports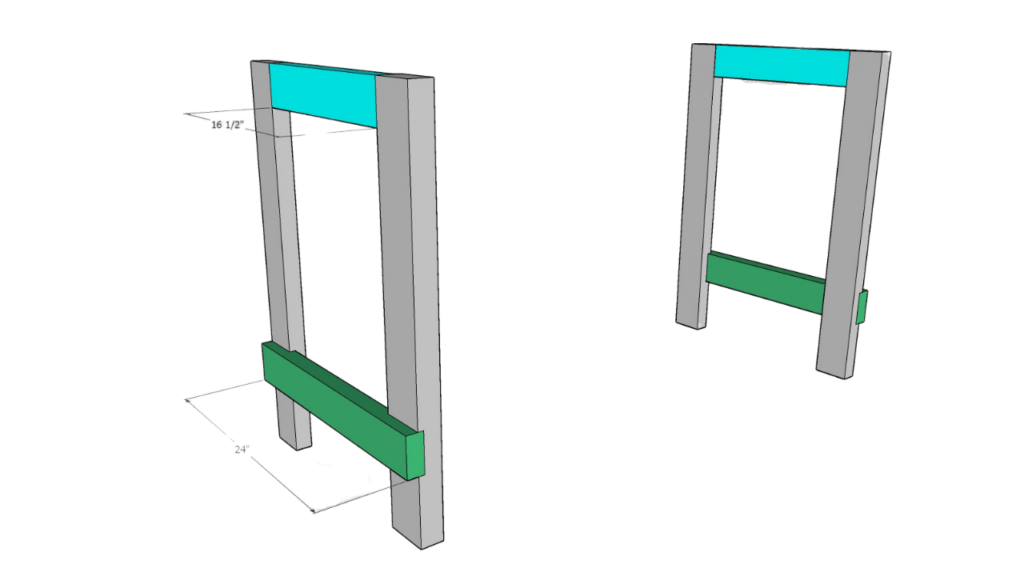 With the dados cut on the legs, you will need to cut the leg supports.  Cut a 24" 2×4 for the bottom that will fit in the dados.  Then cut a 16-1/2" 2 x 4 for the top support.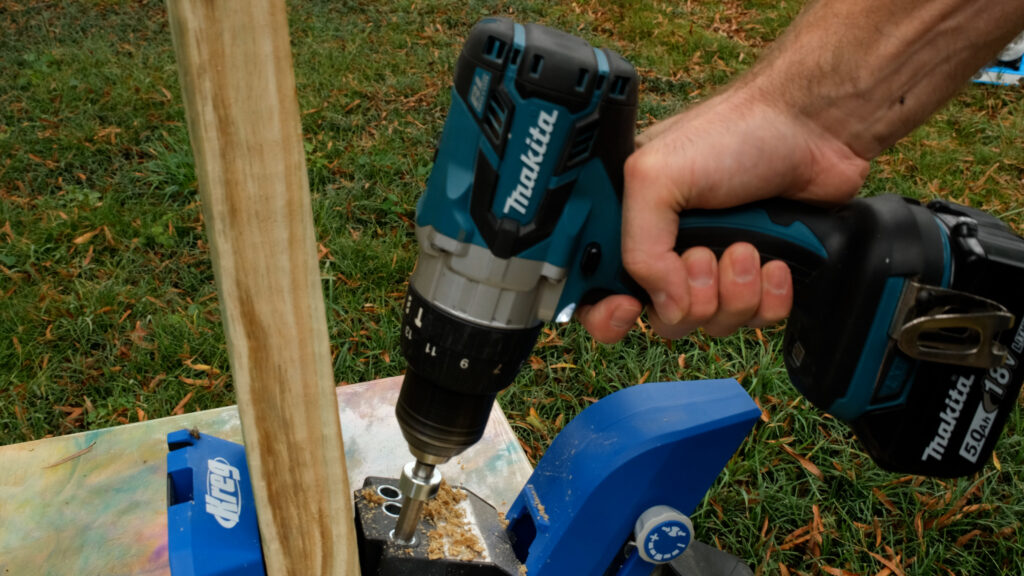 For easy joinery I use a pocket hole jig with the depth set for 1-1/2" thick material.  For each of the top 16-1/2" supports I pre-drill a pair of pocket holes with the Drill Driver I rented.  Why a drill driver and not a Impact driver?  The impact driver concussion damages the collet used on the pocket hole drill bit that sets the depth of each hole.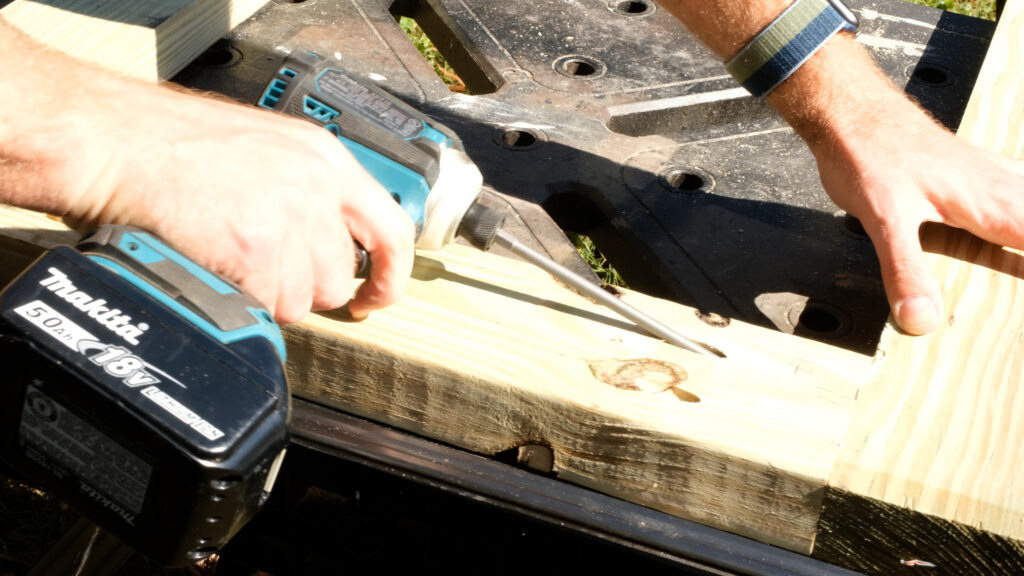 However, using the impact driver I rented to drive screws into dense pressure treated lumber is the right tool for the job.  I attached both supports and added optional exterior wood glue to each joint.
Step 3 – Lateral Supports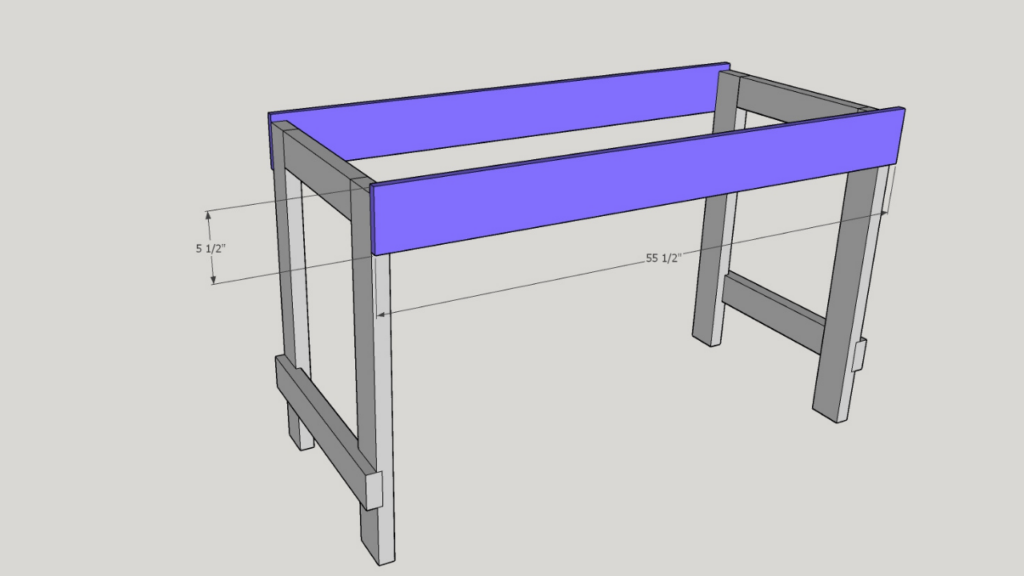 Using 1×6 (5/4 thickness) pressure treated decking boards I cut two pieces down to 55-1/2" inches.  I then used a scrap piece of 1×6 to overhang the top by the board's thickness and pre-drilled then attached with the impact driver and wood screws to each leg frame.
Step 4 – Lower Shelf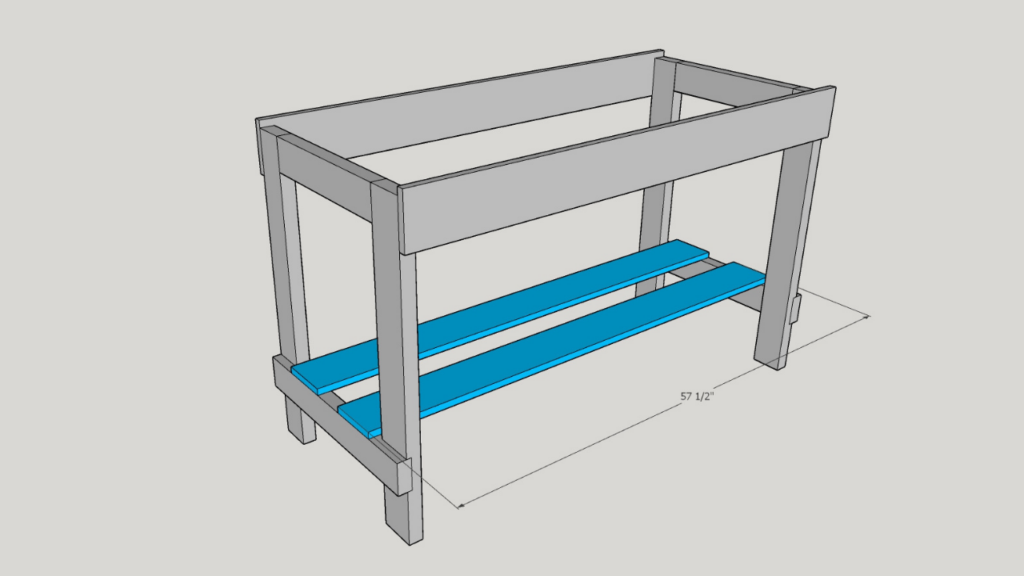 I then cut two more 1×6's to 57-1/2" for the bottom shelf.  I'm not planning on storing anything significantly heavy on the bottom shelf, but if you are planning on loading it up you might want to add an additional support leg frame to the middle.  I pre-drilled and then attached these with the impact driver spacing each board away from the leg frame with a scrap piece of 1×6.
Step 5 – End Caps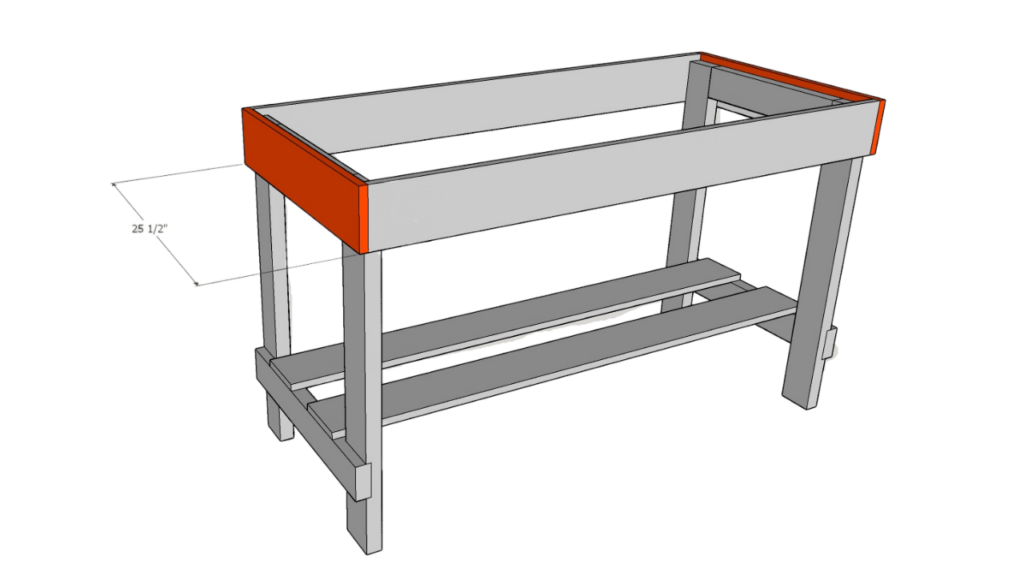 I cut two more pieces of 1×6 to 25-1/2" and then pre-drilled and attached to the frame using the impact driver.  A pair of helping hands or clamps are a must here. 
Step 6 – Middle Supports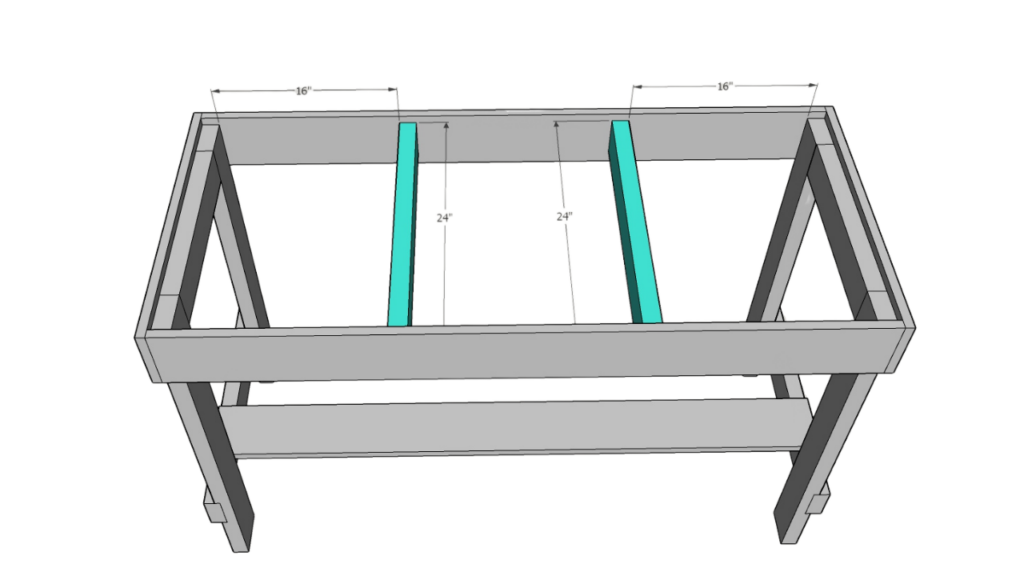 For the middle supports I spaced them specifically for a 12"x18" pan to drop in between.  This pan will be used for the potting station to add dirt and collect any overflow.  I don't know about you, but every time I repot a plant, I have a random patch of dirt in my yard where I spilled.  For this I cut a pair of 2×4's down to 24" and add a pair of 1-1/2" thickness pocket holes to the ends of each.  I then attached them with the impact driver 16" from each end.
Step 7 – Top Boards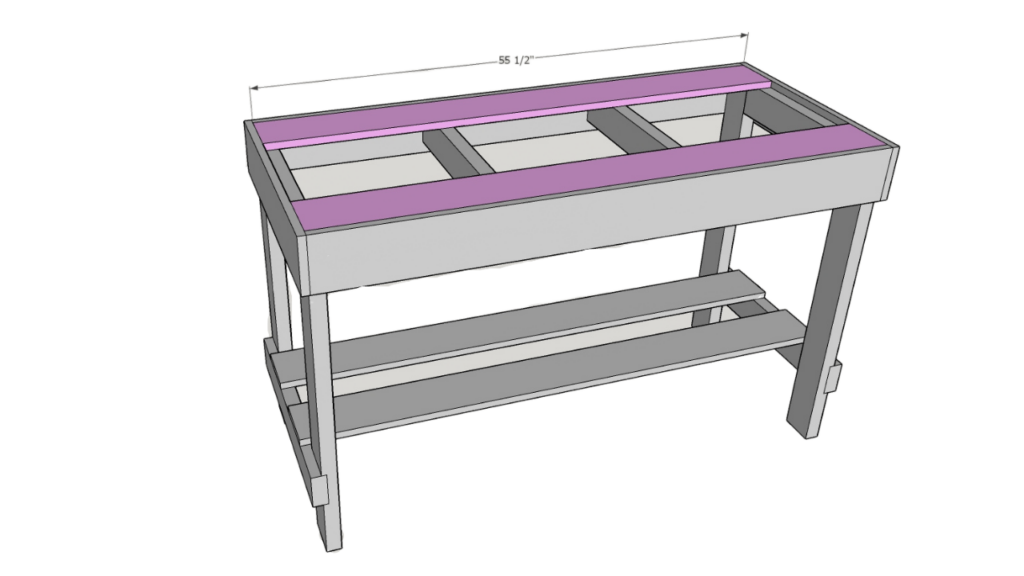 For the top I cut a pair of 1×6's to 55-1/2".  I then pre-drilled and attached them to the outer edges of the top frame.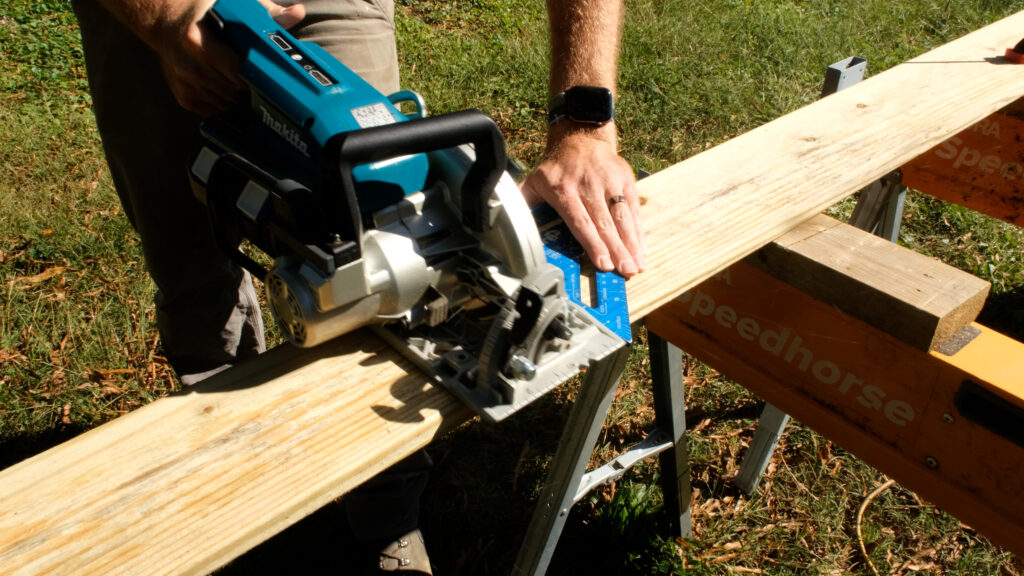 Because pressure treated lumber has a tendency to shrink and expand you want to make sure there's 1/16" to 1/8" spacing from the edges of the frame.
Step 8 – Remaining Top Panels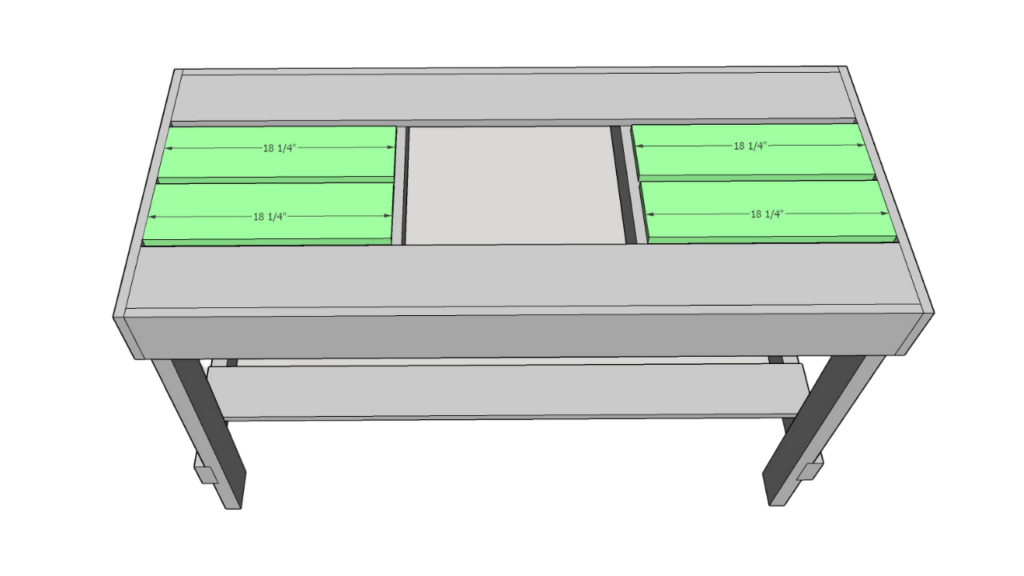 Cut four more pieces of 1×6 to 18-1/4". You'll pre-drill and attached these with the impact driver with even spacing between boards. Again, you don't want to butt these boards against each other due to wood movement on pressure treated lumber. You also will want to make sure your potting station pan fits and adjust the 18-1/4" width accordingly.
Step 9 – Panel Support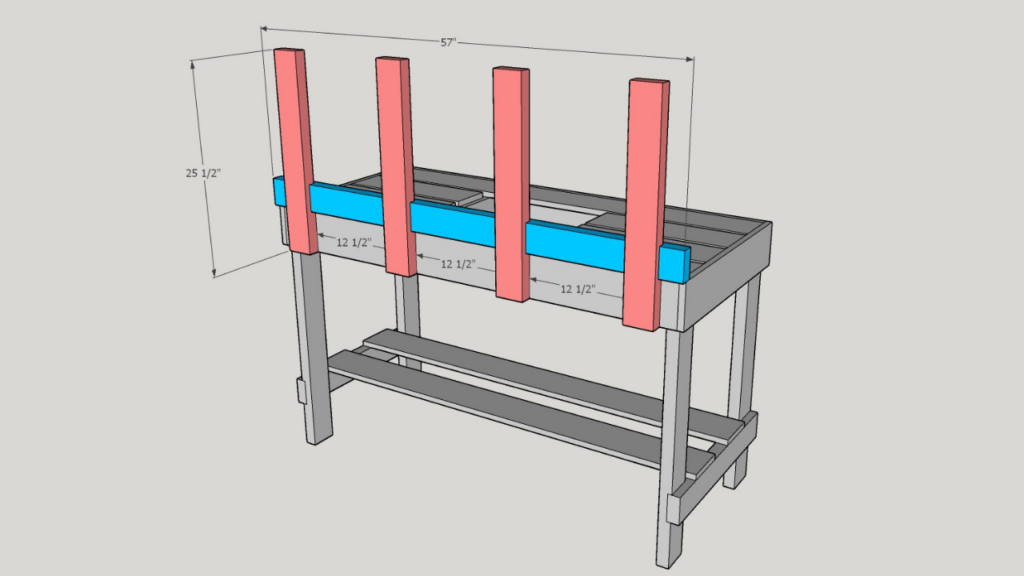 For the backer of this build I used Wall Control metal pegboards.  They're all weather and full adjustable with accessories.  Three 12" x 16" "fun sized" panels were the perfect fit.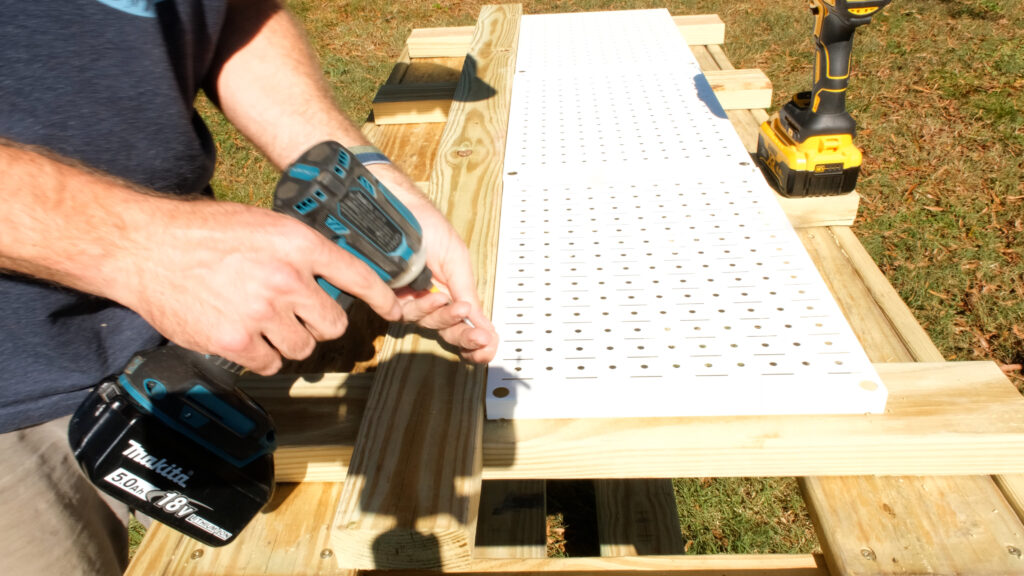 They attach directly to a frame 16" on center.  So I cut (1) 2×4 to 57" for the bottom frame and one more for the top.  I then measured out exactly the width I would need for the (4) 25-1/2' frame supports.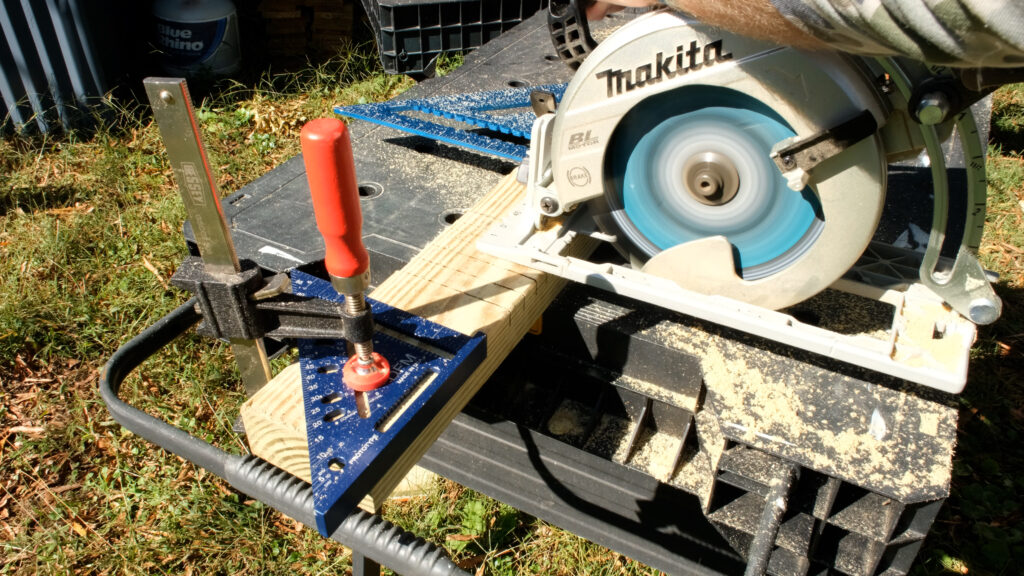 With a 12-1/2" spacing between each support, I cut ¾" dados on the pair of 57" 2×4 frame pieces. So that's four dados for each 57" board. I then assembled the bottom 57" frame board to the (4) 25-1/2" supports pre-drilling and attaching with wood screws. I did leave an overhang on the bottom the width of a 1×6" board so the frame attached flush to the bench's apron.
Step 10 – Top Support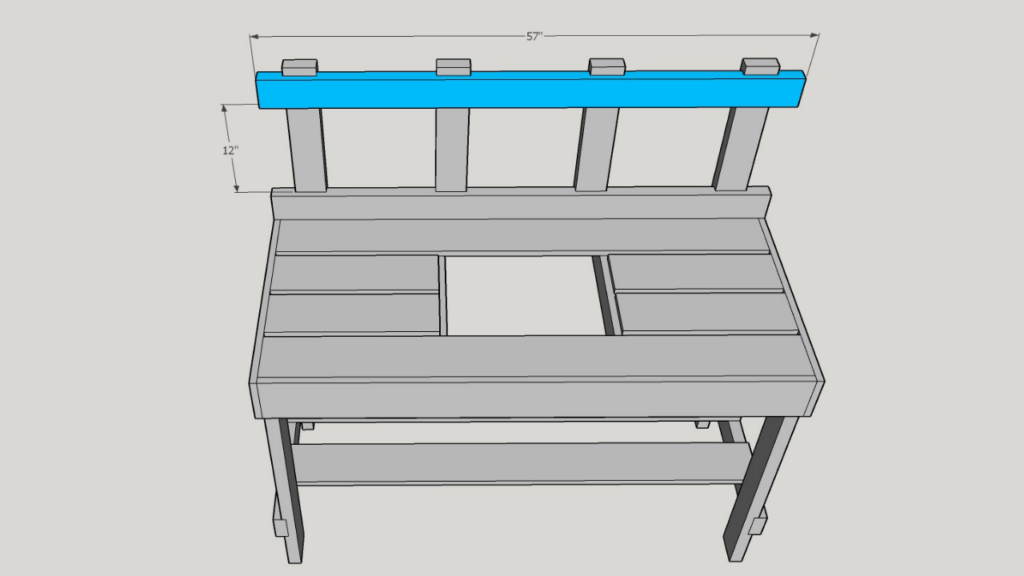 With a pair of clamps handy, I attach the frame directly to the back of the bench (this is where the overhang comes in) with woodscrews and then add the Wall Control metal pegboard panels. With the panels in place, I then attach the top 57" board roughly 12" from the bottom frame board. The Wall Control panels are 12" tall, but you want a little wiggle room for manufacturing tolerance and wood movement. So I attach the panels first then add the top.
Get Planting!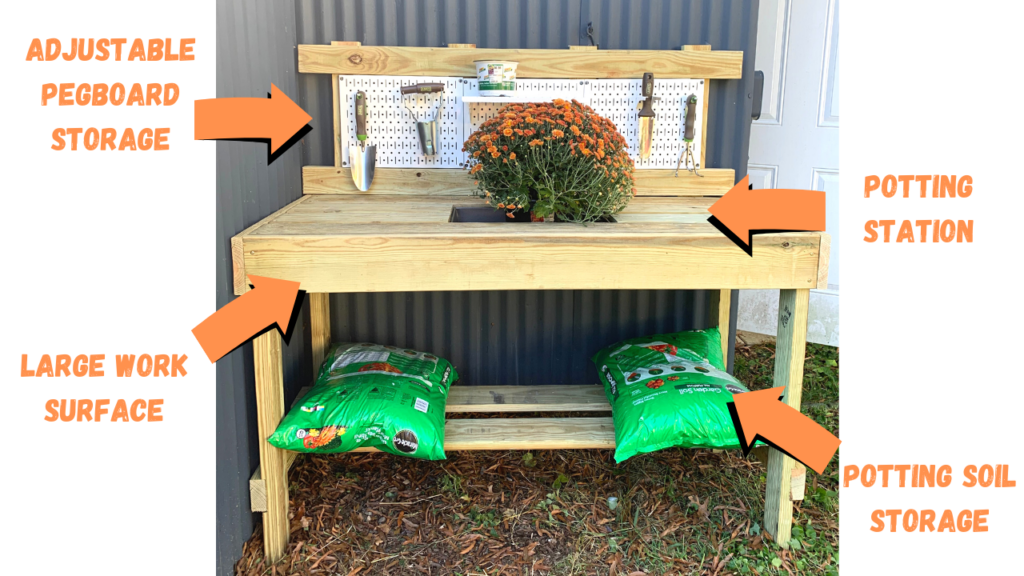 I will note that I did drill a few drainage holes into the potting station pan just so water can drain out and we don't grow mosquitoes in the warm months.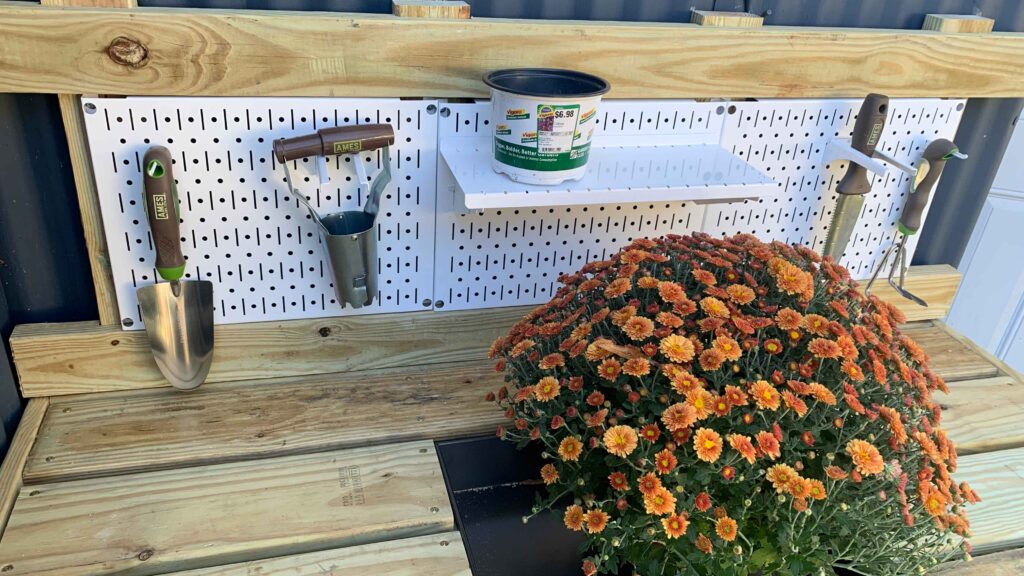 If you liked this outdoor project, check out these additional outdoor projects I teamed up with The Home Depot Rental on!
~ Lazy Guy