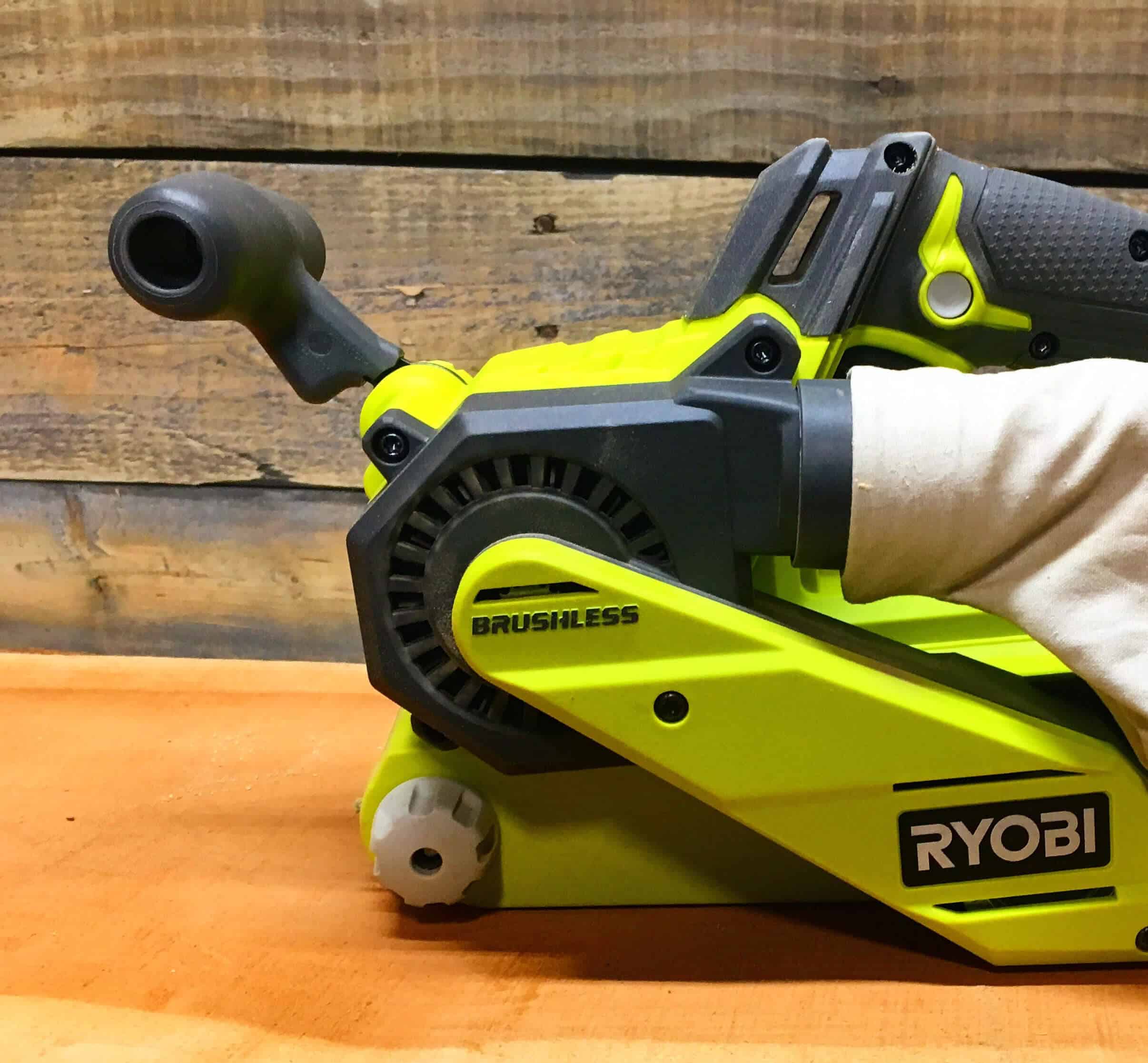 Ryobi Cuts The Cord
Hopefully this past weekend you picked up a handful of High Capacity Ryobi One+ batteries during Ryobi days at The Home Depot.  The big 4 amp hour batteries, not the little guys.  When you're using tools that are traditionally corded powerhouses, you really need to use the bigger batteries if you want to get the most out of this new wave of tools that just a year ago you couldn't even dream of getting without a cord tethered to it (like the little kids with the leash backpacks as Disney World).  A belt sander is absolutely one of those power tools that most assumed would be on a leash forever.  Enter the Ryobi 18v One+ Cordless Brushless Belt Sander  (model P450) that retails exclusively at The Home Depot and that dream becomes a reality.
At the time of this post only RIDGID offers another cordless belt sander option, so this tool is in a very exclusive club right now (two members, but lots of fans).  Illuminati…  I've mentioned this in previous reviews, but Brushless motors have opened up a ton of options to the tool world that wouldn't have been possible because of the now more efficient power consumption.  Let's level set though, cordless does not mean ALL day projects with hours and hours of use.  You're still a few years away from that.  What you do get from these new cordless models is comparable power in 10-20 minutes chunks of time.  That's perfectly adequate for a DIY'er looking for the rapid removal of a material with the Belt Sander.
Cordless Belt Sander First Impressions
Right out of the box the Ryobi sander comes loaded with a 3″ x 18″ spool of 80 grit sandpaper ready to use.  As the name implies, I'm occasionally lazy, so it's nice I don't have to mess with this from the start.  It is a bare tool (no battery included) but I already have a battery of batteries (hey-o, battery pun!) ready to go from my other Ryobi tools.  I literally put on the dust collection bag, slap on a battery and I'm ready to use it.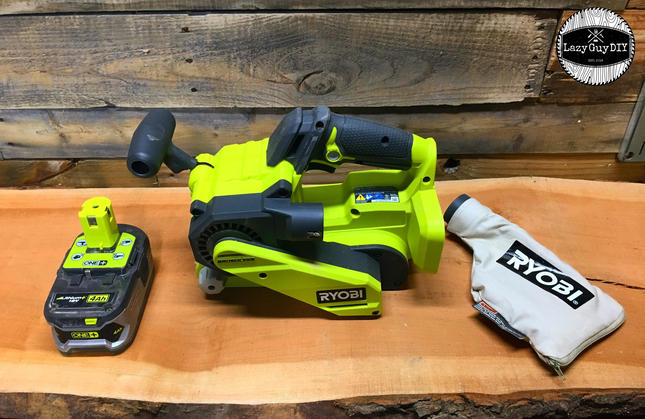 The grip around the trigger is comfortable and tacky.  Not as in ugly Christmas sweater tacky, but as in texture.  The last thing you want is to turn this thing on and have it shoot right you of your hands across your work surface.  The front grip is adjustable and pivots up to 5 angles so it's fairly versatile to the comfort size of the user.  This also means that if you need to get into some close spaces, you can easily pull the pommel handle back and this unit can do some real proximity talking… err sanding.  For the record, proximity talkers weird me out.   Stay out of my bubble.
The Belt Sander Set Up
The Ryobi runs full capacity at 850 fpm (feet per minute) which is a set speed.  While models like the RIDGID or other corded models might have variable speeds, I can't think of a single instance where I ever needed to change the speed of a belt sander.  You're usually "woohoo hamma down" when rapidly moving material so this isn't a knock to the model at all.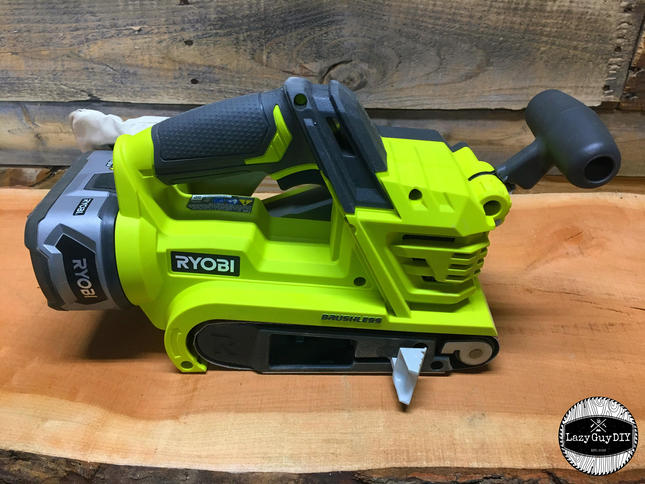 Changing the belt is as easy as pulling the tension lever on the side and sliding a new belt of sandpaper on.  Although I do recommend removing the battery first (do as I say, not as I photograph myself doing incorrectly…).  The adjustment shouldn't be a feat of strength, if it is, you've got the belt tracking cranked too high.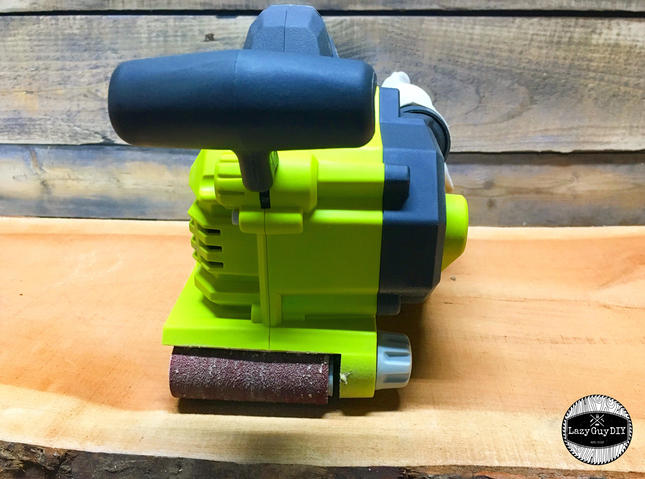 Speaking of belt tracking… on the front of the unit there's a little knob that allows you adjust the tension to make sure your belt stays put when sanding.  Turn it too far one direction (not the band) and your belt goes flying off.  Turn it too far the opposite direction your belt starts eating away at the plastic housing like I did.. (pictured above) whoops.  Strictly cosmetic though, it can't go any further than that strategically placed groove I added, but let's be honest, chicks dig scars.  Or that's what the old rumor used to say.  So a scarred up belt sander is simply irresistible.
Turn and Burn Sanding
Enough about its good looks, let's talk about how it worked.  I just so happened to have a giant slab of live edge white oak sitting around that could use a little cleaning up.  This piece went from mill to kiln to my shop so it was very rough cut.  In other words, "hold on to your butts" as Mr. Arnold would say.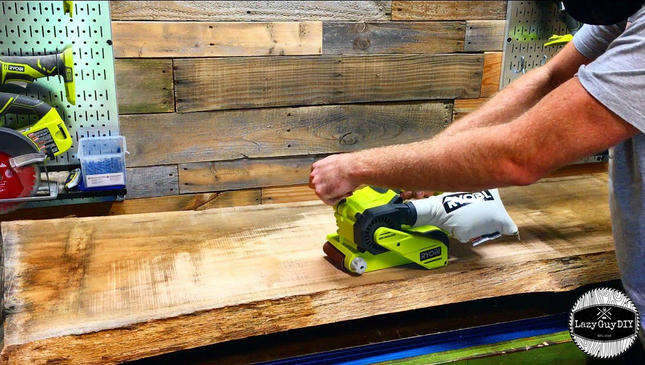 With a pull of the trigger I was off.  And then I had to immediately stop.  The factory settings weren't going to work for what I needed.  The belt went flying off.  Whoops.  So I cranked the belt tracking knob on the side and started again.  Wrong direction… the belt went off faster.  So I cranked it the opposite direction the next time and obviously went a little too far.  It fed the belt right into the casing of my sander.  Whoops again.  So I took a quick time out and read the directions.  Probably a smart idea from the start…  With that dialed in correctly I started stripping (but only to put myself through college) away layers of rough sawn oak.  The unit is very light so you will need to lean into it slightly to take off material.  I like the idea of a heavier tool for gritty (sandpaper joke!) jobs like this, but where I want heft, many others want light weight maneuverability.  I was able to sand the entire surface of this 5 foot by 26″ slab of live edge and still have 2 bars remaining out of 4 on my battery pack.   To me that seemed like plenty of juice for the job I needed it for.
As with all belt sanders, they aren't quiet, so ear protection is a must, unless you want a long term excuse to ignore your significant other with the obligatory deaf "huh?"  As for the dust collection, I had on a mask and goggles and still expected there to be a dust cloud like with my other sanders.  It didn't happen.  The little bag sucked in a good amount and didn't create a dust cloud around me like I was Pig Pen from the Peanuts.   The remaining sawdust remained on the surface of the wood in little piles and was easily taken care of with my shop vac.
What's the Call?
With only two options on the market for cordless belt sanders from Team Green (Ryobi) and Team Orange (RIDGID) and only $20 separating their price point, it really comes down to what batteries you already have in your shop.  They both come from the same family and have similar features.  The RIDGID gives you the variable speed option (which.. meh), a little more aggressive styling and a grip a little more accommodating to larger hands.  Batteries for the RIDGID model are more expensive than Ryobi by about $20, so moving up a model is a $40 investment over this green unit.  Seeing as how the Ryobi's $129 price point might already be pushing it for some beginner DIY'ers, the Ryobi is definitely a better option for someone cutting their teeth with a belt sander.  All in all it's a belt sander that's up to the task for most DIY'ers maybe just starting out with rough cut lumber and live edge pieces.  Similar to the Ryobi Cordless Router you're buying this unit for the convenience of not having a cord and being able to get in and get out to get the job done quickly with minimal set up.  If you need your belt sander to do extended heavy lifting, keep your expectations reasonable and go with a corded model that you'll be happier with so you're not knocking this unit for what it's actually made for.
The Ryobi One+ 18v Cordless Brushless Belt Sander is available now for purchase exclusively at The Home Depot.
~ Lazy Guy
Want to see more Ryobi Power Tool Reviews?  Check out the Ryobi Tool Feed!
*This review is Sponsored by The Home Depot.  I have been compensated for my time and provided with products in exchange for my review.  My opinions are my own… unless someone is using the Imperius Curse on me… and that's strictly forbidden at the school of Wizardry and Witchcraft.  Product links included in this review are affiliate links, which means if you make a purchase using a link, a portion of your sale will go to this website at no additional cost to you.