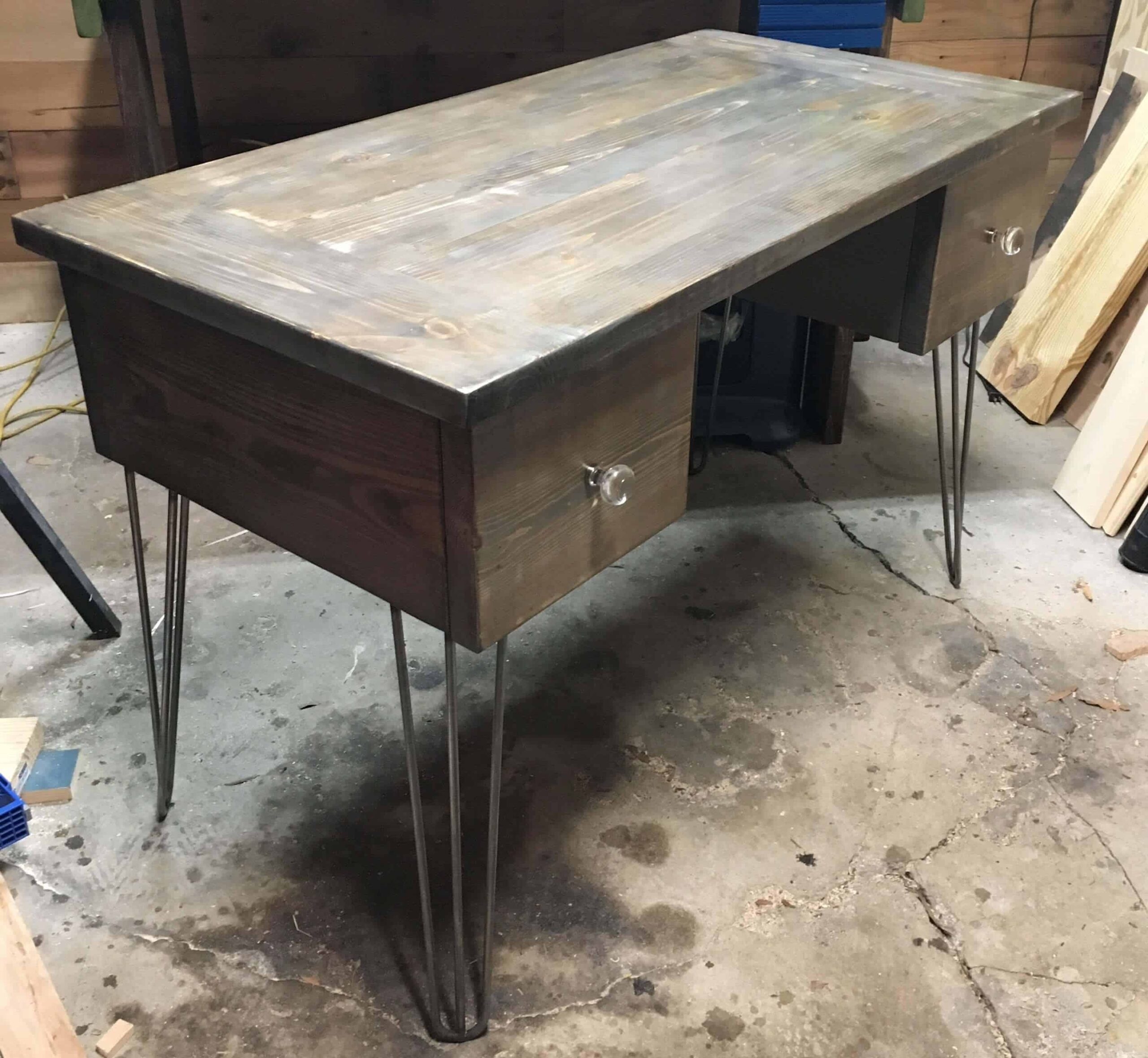 "I want you to hit me as hard as you can."
Wait wait wait wait.  Wrong Fight Club scene.  Restart.
"This is lye."
"Can I see your hand please"
"This is a chemical burn."
Wait again.  Why are we talking about Fight Club?  This is a woodworking webpage for fox sake!
Because for this project I got to play with the extremely caustic chemical known as lye!!!  Unfortunately, I wasn't able to use it how I wanted to, but the nice folks at Woca USA sent me some to experiment with.  It all comes down to a finish I was trying to match for a client that ultimately, I never achieved, but what we ended up with after a lot of trial and error was this awesome farmhouse style desk with hairpin legs I'm calling the "Jack" Desk.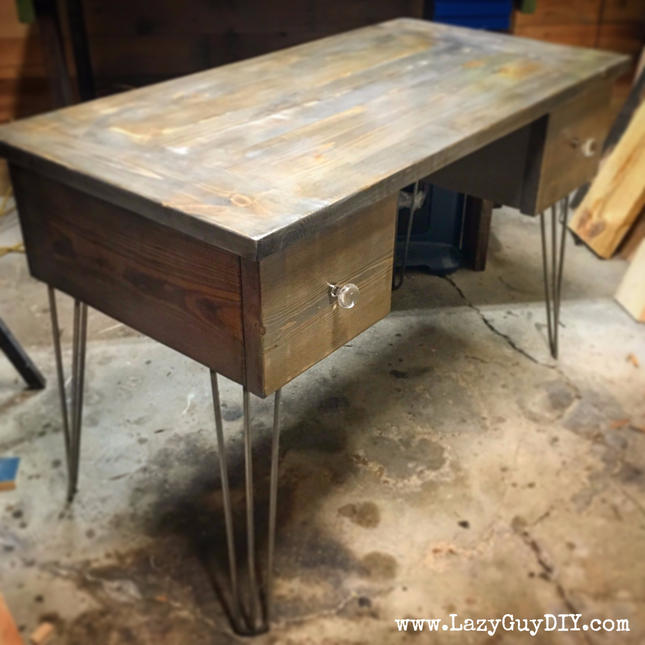 ---
Tools Used.  
Miter Saw
Table Saw
Thickness Planer
Drill/Driver
Random Orbital Sander
Kreg Jig System
Bar Clamps
Wood Glue
Speed Square
Material/Supplies Needed
*affiliate links to follow
(3) 2″x10″x8′
(1) 2″x6″x8′
(2) 1″x8″x6′
(1) 1″x10″x4′
1/4 sheet plywood underlayment
1-1/4″ Pocket Screws
2-1/2″ Pocket Screws
2″ Wood Screws
(2 pairs) 

18″ Soft Close Drawer Slides

(2) Drawer Pulls
---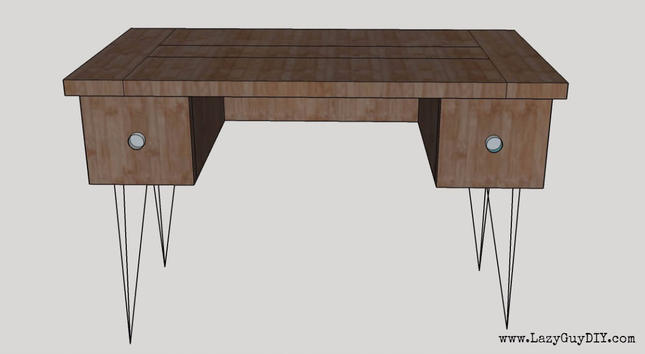 ---
Hate reading but like watching videos… check out the YouTube video of the build below:
---
Step 1A – Squaring The Lumber
I'm going to keep offering this as an optional step, but if you don't have a thickness planer and you continue to build from my plans, you should ABSOLUTELY purchase one in the near future.  Any time I use 2x material at this point I'm going to run it through the planer on both sides to square off the boards (you can see how nice and square the boards are in the pic below).  Not only does it make for a cleaner joint when butting two boards together, but it also reveals some awesome grain that might otherwise be missed.  You know that terrible (but awesome) 90's movie "She's All That" where they take an obviously very attractive girl and hide her under baggy clothes and glasses, only to give her a makeover later and reveal she's been beautiful all this time?  Yeah… a thickness planer will do that, but in a more genuine manner, minus the choreographed prom dance scenes.  It's worth noting that if you are planing these boards, don't cut them to length just yet, you always get a little bit of snipe (deeper cut) on the end of your board as you send it through, so you can cut that off later.  If you don't want to invest in a thickness planer, you can always run your boards through a table saw  and cut off a sliver on the sides to get a square edge or if you're into Cross Fit punishment, sand til your hands can sand no more.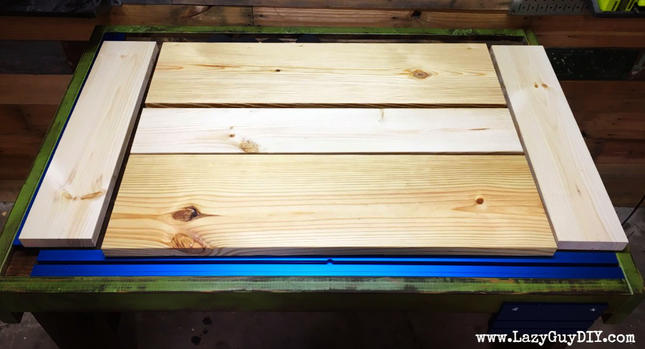 Step 1B – Assemble The Farmhouse Top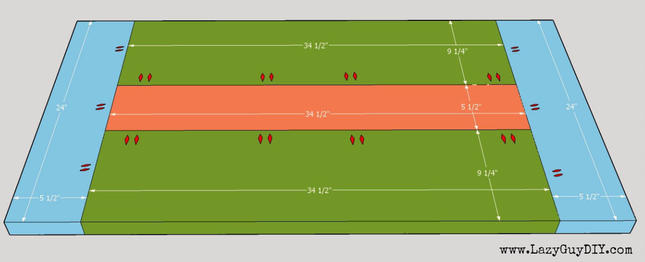 No it's not made of ship lap, but the nice chunky styling and rustic look are definitely within the Chip and Joanna farmhouse wheel house.  Cut your 2×10's and 2×6's to length (2) 2×10's @ 34.50″. (2) 2×6's @ 24.00″, (1) 2×6 @ 34.50″.  If you trimmed any of the sides off to square the boards, adjust the 24.00″ 2×6's accordingly so it's the same width as your 2×10 and 2×6 sandwich.  Using a Kreg Jig, pre-drill 1.50″ pocket holes on one side of both 2×10's and one side of two of the 2×6's.  Coat the joints with wood glue, clamp up and attach with 2.50″ pocket screws.  Make sure your work surface is absolutely flat to get the smoothest seams.  Wipe off any excess wood glue that might have seeped through on the glue up.  It won't take stain in the finishing steps.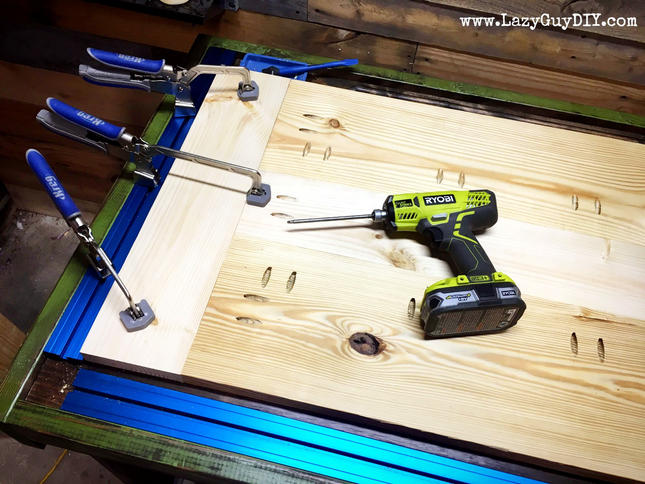 Flip it over and inspect your top.  Oh crap.  There are gaps.  And not the kind with reasonably priced khakis and timeless basic styling.  The kind where your joint isn't exactly perfect.  That's okay.  Take a nice glob of wood glue and saw dust from your project, then smear it all in the space into you've filled the void.  Let it dry, then come back and sand the excess off.  If you didn't have any gaps, then you're clearly a professional and reading the wrong website.  Go ahead and sand the entire surface until smooth to the touch.  I went with 150 grit and then ended with 220 grit.
Step 2 – Assemble Drawer Frames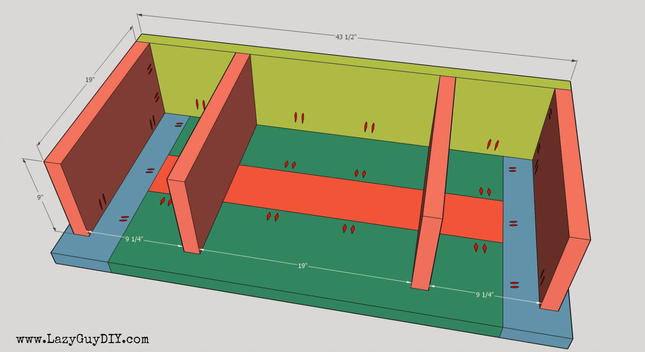 The plan was to leave a 1″ overhang on the desk top around the drawer frames, I'm happy to say I actually accomplished this, hopefully you will too.  It's purely preference whether you want the joint exposure on the side or hidden in the back of the desk.  Depending on what State you live in or how cool your friends are, it's okay to have a joint out in the open.  I went with the side joint in this case.  Cut the 2×10 to length (43.50″) that will make up the back panel.  Using your Kreg Jig again, pre-drill 1.50″ depth pocket holes along the side that will attach to the desk top.  Now cut 4 side and middle panel 2×10's to length (19.00″) and add 1.50″ pocket holes along one side that will attach to the desk top and one end that will attach to the back panel.  Be sure to alternate which side you add the pocket holes to for each pair.  You want the holes to be hidden inside the drawer when everything is assembled.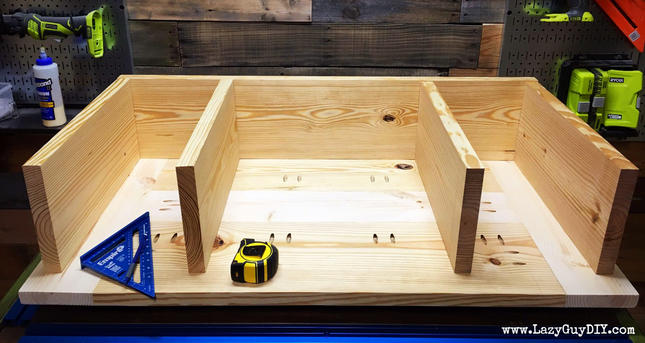 So it was about this time that I realized that the 2×10's I had purchased were ALL DIFFERENT WIDTHS.  ARE YOU KIDDING ME?  Seriously, I get that 2×10's are not really 10″ wide, but they should all be milled to the same 9.25″ wide.  I had to go back and rip everything (including the back panel and drawer faces) to the same width.  I also stomped my feet and held my breath in classic temper tantrum style.  So in my graphic you will see the frame and back panel are only 9″ tall, that's why.  $#@&*%!  Make sure when you attach these panels with 2.50″ pocket screws that they are absolutely square, your drawers won't slide properly if they are off.  I used a fun combo of bar clamps and tank hands to get the best fit.  I also used a scrap piece of 1×10 to get the proper spacing at the opening of the drawer frame for the drawer bottoms.
Step 3 – Attach Drawer Bottoms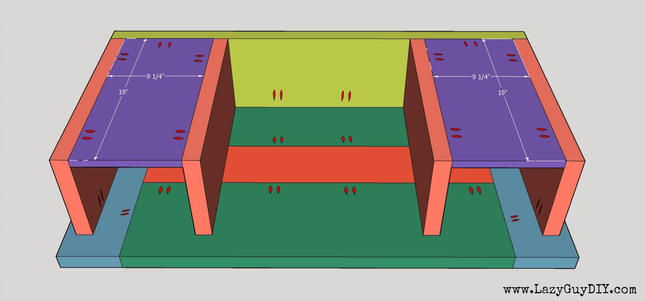 Yes, I said drawer bottoms.  This is where you're going to find out how square your assembly is.  Cut two pieces of 1×10 to length (19.00″) that will be used for the bottom of the drawer frame.  Using your Kreg Jig pre-drill 0.75″ pocket holes along the sides and one of the ends and then attach with wood glue and 1-1/4″ pocket screws for a flush fit into the bottom of the drawer frame.  You can have the pocket holes facing down or into the drawer.  I had mine facing down (up in the pictures since the unit if flipped) just because it's easier to screw them in.   If you have small hands and tiny tools be my guest to install them with the pocket holes inside.
Sand out any uneven areas to make sure you'll have a smooth drawer fitting.  Now if you're like me, spend the next 3 weeks trying to figure out a finish that will work for this desk.  Have none of them work.  Go ahead and try one only to have it fail miserably and have to sand most of it off.  It's cool.
Step 4 – Attach The Legs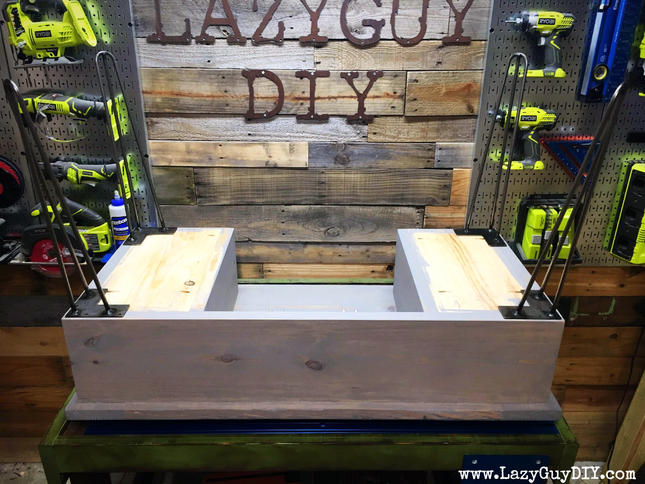 Before you ask, that is legitimately what was supposed to be a finish coat on the desk.  Things went wrong.  Things went really wrong.  On the sample pieces (cut from the same material!) the finish came out nice and rich and consistent.  When applied to the entire desk it was splotchy and awful.  I had to let the clients know that Houston… we have a major problem.  More on that later.
I went ahead and attached the legs mainly because it made it easier to maneuver around the desk.  These 20″ Three Rod Hairpin legs come from DIY Hairpin Legs and they look fantastic on the final piece.  The do include screws to install, but you'll need to buy (unfortunately) four screws that are less than 3/4″ to install the two front legs that are attached to the 1×10 used for the drawer bottom.
Step 5 – Assemble The Drawers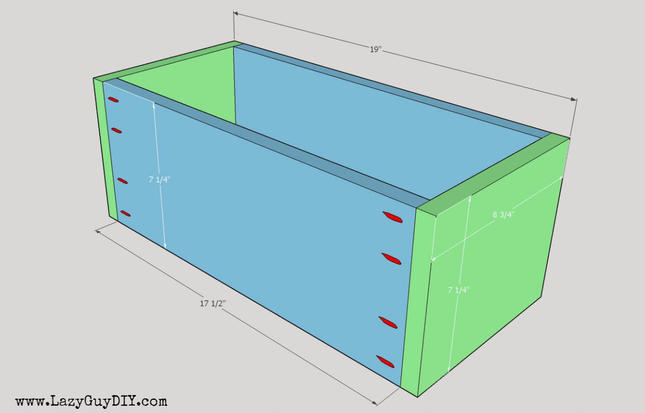 This is a defining moment in this build where you're going to have to make a choice.  It's a life altering decision.  What kind of drawers do you want to put into this desk?  The easiest route is a friction drawer.  You just build something that fits the exact dimensions (minus a wee bit) and the drawer just sits in the frame.  The drawback is nothing keeps them in so when you pull them out, they can fall out and smash your toes or small animals.  Oh, if your build isn't square they won't fit properly either and the pull out won't be smooth (mind out of the gutter…).  The next option comes with drawer slides where you have yet several more choices upon even more choices.  Do you mount them on the top, side or the bottom (seriously… mind out of the gutter…)?  Are they soft close?  Are they 3/4 extension or full extension?  These are all legitimate options and a real pain to figure out.  I ended up getting full extension, side mount, soft close drawer sliders.  Yes, that's a mouthful.Once you decide what sort of drawer system you're going to use you can build your drawer boxes.  I'm sure I'll get some flak about having visible pocket holes on these, but I do what I want.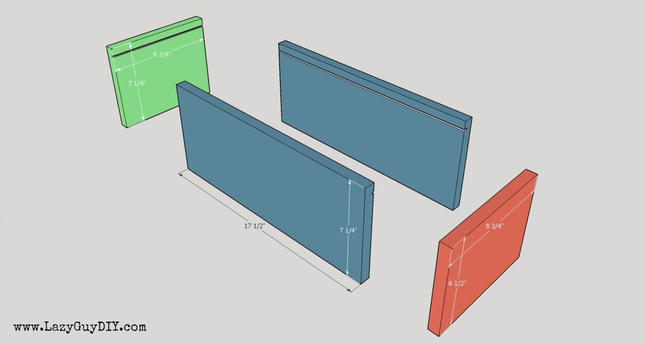 With most drawer slides, they require a 1/2″ gap on either side and at least 1/8″ spacing below the mounted drawer and the frame.  I would recommend making the drawer box a hair skinnier than the 8.75″ width I have in the instructions if you go the drawer slide route like I did.  I cut the 1×8's to length (2) @ 17.50″ and (2) 8.75″.  Using my table saw I cut a dado groove in the side boards and one of the end boards so I can slide my 1/8″ underlayment into the groove for the drawer bottom.  For the end piece you didn't cut a dado groove into, cut the top off to the same height of your lowest dado cut.  That way when you slide the drawer bottom in, it will sit flush with the top of that end piece and you can tack it on with brad nails.  Also, if the drawer needs repairs, you can pull that drawer bottom out without having to disassemble the entire drawer.  You can see the full assembly in the video at the top or check out my post on Build Your Own Drawers from a while back with a slightly different option than above (dark ages method before I had a table saw).  Admire my boxes below… (it's okay, I giggled like an immature 13 year old too when I typed that).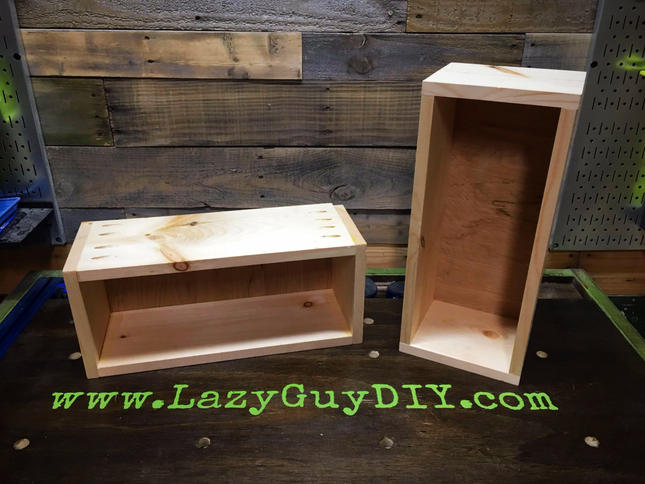 Step 6 – Attach The Drawer Slides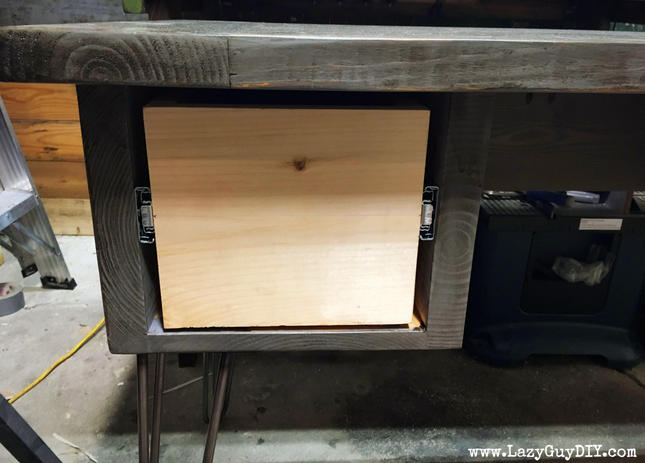 Contrary to popular belief, or maybe right in line with what you already think… included instructions for these drawer slides are crap.  Don't listen to them.  Mount your slides in the middle of your drawer frame.  The suggested a 1/4 of the way down, everyone says that's a bad idea.  Remember you need to leave an 1/8″ space between the bottom of the drawer and the frame, so I used a piece of scrap underlayment and set it under my drawer to get the right height.  Find the exact center of the drawer frame, mark it on both sides, and then with the underlayment still under the drawer box, mark the drawer at the same height.  The idea is for the slider mounts to be centered on the drawer frame, but an 1/8″ offset on the drawer box because of the scrap spacer to allow for the correct clearance.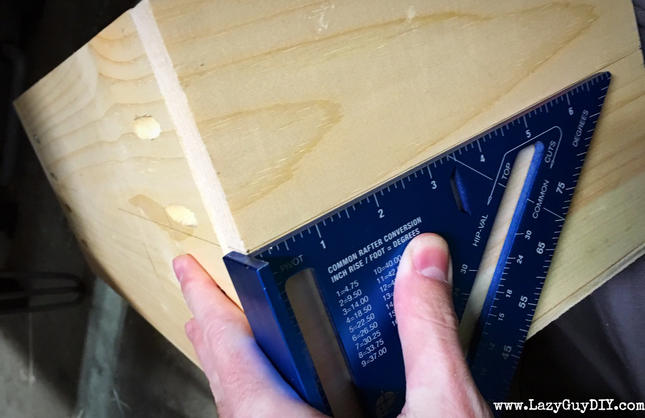 Put the drawer box in the drawer frame the opposite direction and mark the same midpoint.  Then with a straight edge or a square, draw a center line along the sides of your drawer box.  You'll use this mark to install your drawer slide.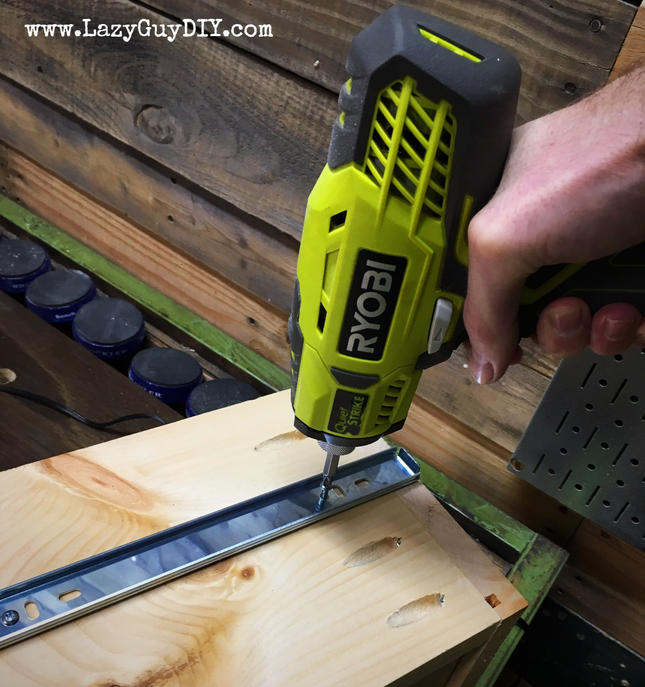 Remove the drawer mount from the slide, then use the mid-line mark to center and install flush with the drawer face.  You should be able to see the line through the screw holes.  Don't over torque because the screws are terrible (I actually broke the head off of one) and make sure the mounting bracket is level.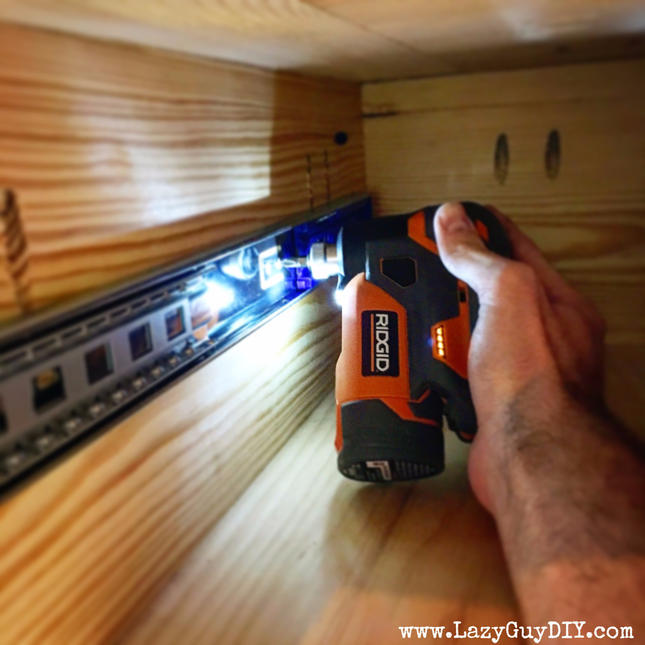 Using the same method with a guideline, I lined up my drawer slides and mounted flush with the drawer frame face.  Because the space is so tight I ended up using my RIDGID Palm Impact Driver, love this little guy.  A low profile driver or a 90 degree bit will work too.   With both sides installed I was able to slide my drawers right in… at least for the second drawer.  The first drawer had "issues" and I had to reset the drawer piston.  And oh yeah, that screw head I popped off?  Didn't know about it until it was caught in the track.  So if it doesn't work right away, just trouble shoot.  Or set the whole project on fire and start over.
Step 7 – Before We Finish, Time To Finish The Desk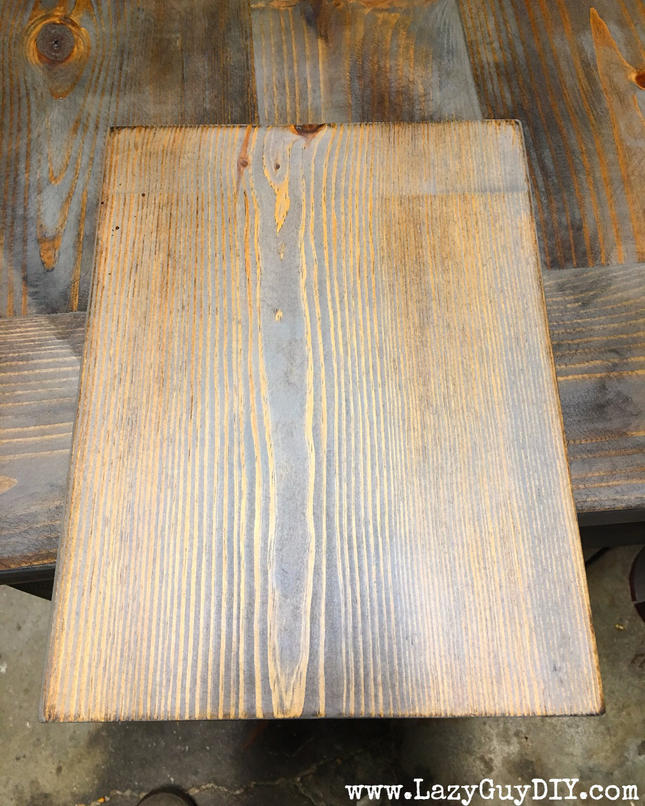 When posting the progress of this project on Instagram the number one thing I was asked about from people was how exactly I got this unique finish.  Believe me when I say it was accidental and out of frustration.  I'll save you the sob story and get straight to the point.  For step 1, I mixed 1 part General Finishes Queenstown Gray Milk Paint with 1 part MinWax White Wash Pickling Stain.  They are both water based so they'll mix together just like paint.  I coated an entire section, waited about 2 minutes for it to start setting into the grain and then with a damp paper towel wiped the entire surface removing any excess.  You will have a thin milky skim over your surface, but most importantly, you'll see it setting into the grain.  It's going to look terrible (see below), I warn you.  Just let this run its course.  You know how when babies are born they have cone heads and look like old potatoes?  They do get better looking shortly thereafter.  Let that dry (it's actually fairly quick) and then with a random orbital sander and 220 grit sandpaper start sanding over the surface to expose the high spots in the grain.

The idea is to take off that skim in the areas where the paint mixture didn't soak into the grain with the sandpaper.  This way the newly exposed wood can accept wood stain and not feel self conscious about being… well newly exposed.  Make sure you get the corners and edges really well with sanding and especially any areas with exposed knots.  They really soak up stain for a great finishing effect.  Generally you sand with the grain, but I like to go diagonal a few times to really distress the surface and then go back over with the grain.  Wipe the surface clean of dust and then apply a coat of MinWax Special Walnut Stain.  Wipe away any excess stain.  Then wipe it again.  Then wipe it once more.  You want the stain to highlight the negative space where the paint didn't soak, not coat over the painted grain.  It took me two or three extra wipe downs than I normally do with a stained piece to have the finish show through how I wanted.  Once that dries I sealed it with 3-4 coats of MinWax Clear Satin poly.
Step 8 – Attach The Drawer Fronts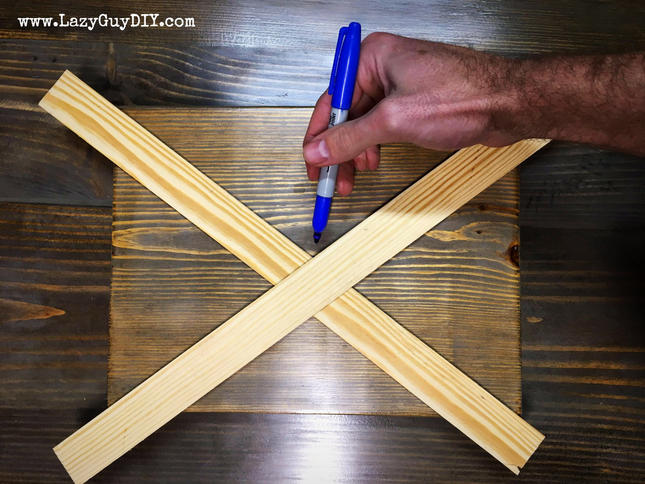 The piece of 2×10 I used for the drawer front was also trimmed down to 9.00″ because of that weird batch of wrongly sized 2×10's.  Don't remind me of how angry I was… I measured the distance between my drawer frames and ended up with 12.25″.  I probably should have mentioned you should have applied your finish on these drawer fronts the same time you applied it to the rest of the desk…  whoops.  Using two straight edges, I found and marked the center of my drawer for the hardware.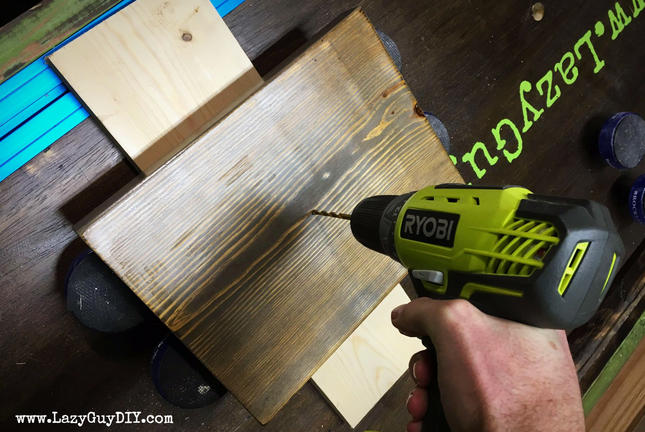 The hardware the clients picked for this had a machine screw that was a #8-32.  It's meant for a cabinet, which is slightly problematic given the 2.25″ thickness of the drawer box and drawer face and the 3/4″ screw that came with them.  I lucked out and found screws long enough at only the 3rd hardware store I tried.  Luckily I'm lazy and patient.  These pulls also had an inset sleeve, so I only drilled for the machine screw thickness at this point in the drawer face.  The reason for that is because I wanted the holes to line up when I drilled into the actual drawer box.  If I drilled to fit the knob with the sleeve, the hole would be too wide for what comes next.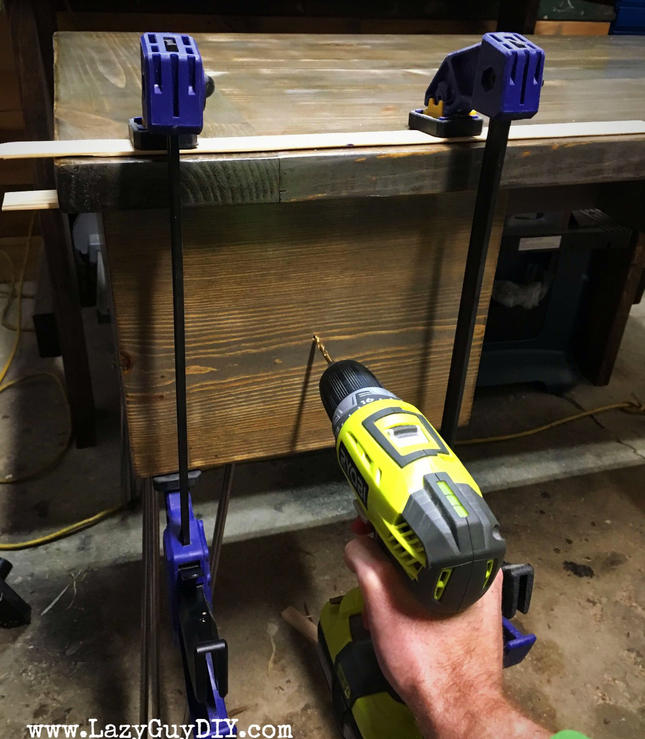 Before drilling into the drawer box, clamp the drawer face onto the desk with a shim for spacing.  You don't want the drawer face sitting flush with the bottom of the desk or it might catch.  After pre-drilling into the drawer box, I went back and widened the hole in only the drawer face to accept the hardware.  I added a little wood glue behind the drawer face, attached the knob and then secured the drawer face from the inside of the drawer box with several 2″ wood screws.  Be sure to pre-drill so you don't split any of your wood.   After that… you're finished.  Not like the kind you put on to make it pretty, you're full blown done with this build.  I would recommend allowing the poly to dry for an additional 24 hours before you start setting desk type stuff on top so you don't get any indentations.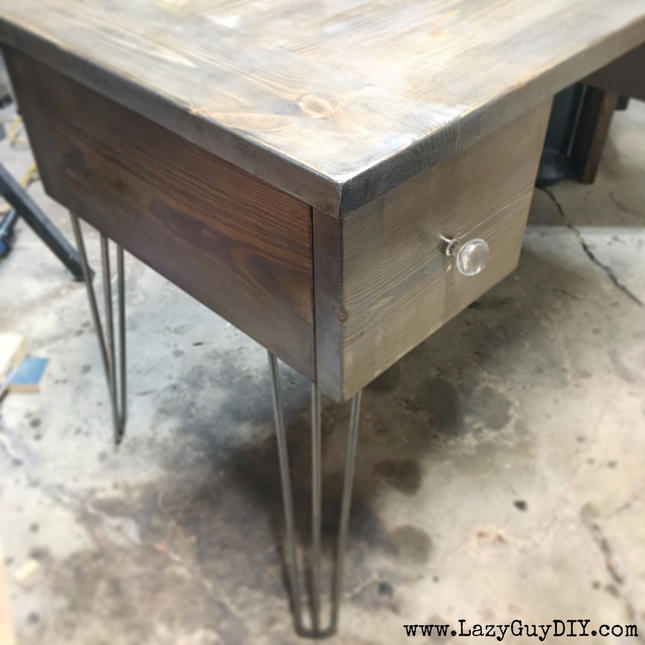 If you have any questions about this build, absolutely reach out to me and of course, if you build your own I would love to see it!
~Lazy Guy