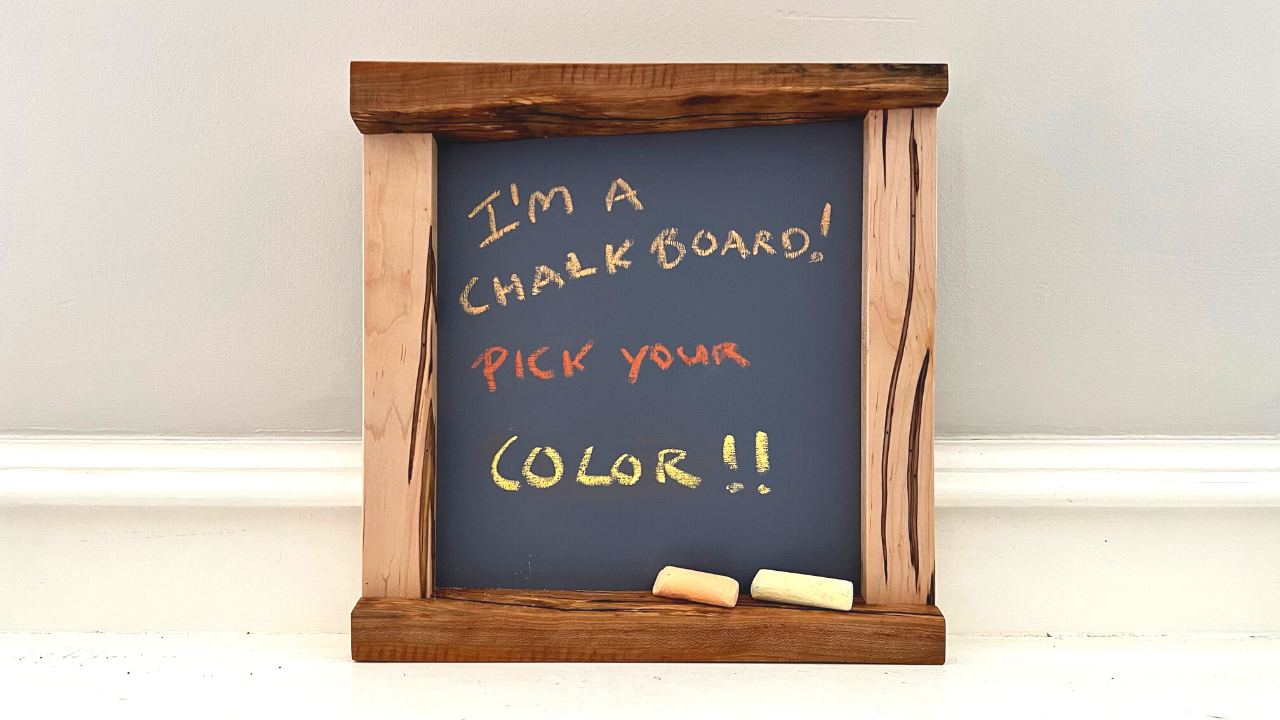 When you think of a chalkboard you generally picture the classic blackboard color or that obnoxious green that you'd sometimes find in classrooms.  But what if I told you that you can now make chalkboards with literally hundreds of different color choices?  That's exactly what I did for this fun little project while teaming up with my friends from Krylon Paint!
For this project I turned to 4-year-old Intern Teddy for a color choice.  As he's getting into sports and activities, he's starting to have a more structured day, which means we need a way to keep up with his schedule. I also have a couple pieces of maple wood cutoffs I've been saving that would make a perfect frame for a Chalkboard Command center.  The first thing I needed was for the middle intern to pick a color for his chalkboard.  Want to watch the build? Check out the quick video here on my Instagram channel and make sure you subscribe!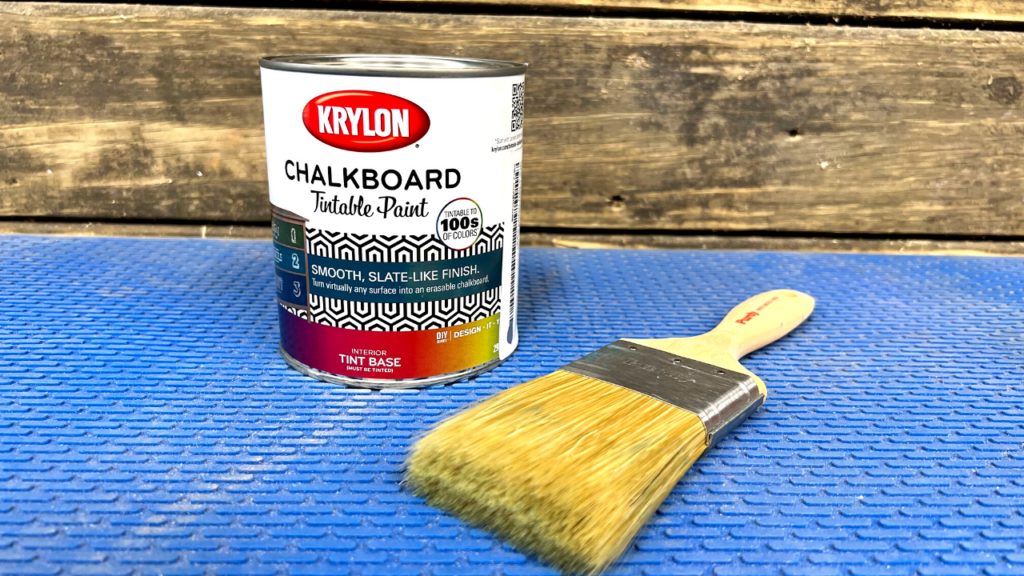 We're using Krylon Brush-On Tintable Chalkboard Paint for this project, which is great because it can be used on wood, metal, plastic, glass and more.  We looked online on the Krylon website and found that several of our local big box stores had a few cans in stock, so it was time to pick a color and have them mix it up. Intern Teddy opted for "Pacific Pleasure" blue which sounds like a very romantic color choice for a 4-year-old who loves listening to AC/DC, but it matched the shirt he was wearing at the time.  It's also a great choice for contrasting the buttery color of oiled up spalted maple.  This intern training is clearly paying off.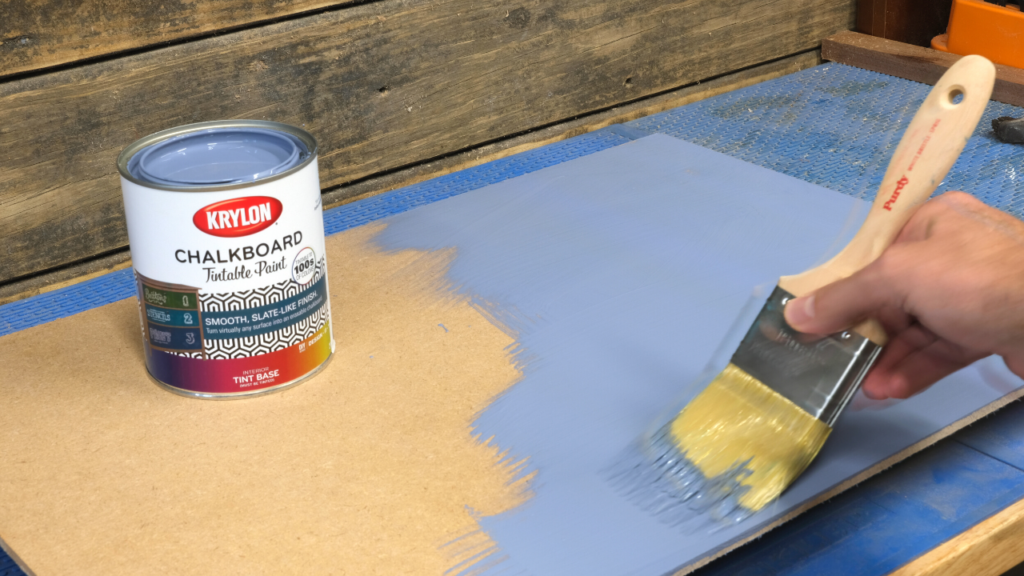 We also picked up an 1/8" project panel of MDF and a few Purdy Paint brushes and got to work.  The Krylon Chalkboard paint goes on nice and thick.  It looks like you'd only need to apply one coat, but it's recommended that you apply at least two.  That way you have plenty of paint applied to get that correct chalkboard finish and surface.  It also dries to the touch within 60 minutes, so if you have an impatient toddler, you can get to applying that second coat after a run around in the backyard and a quick snack.  Okay you're done!  Okay maybe not.  But you do have a perfectly functioning chalkboard that's ready to use within 24 hours.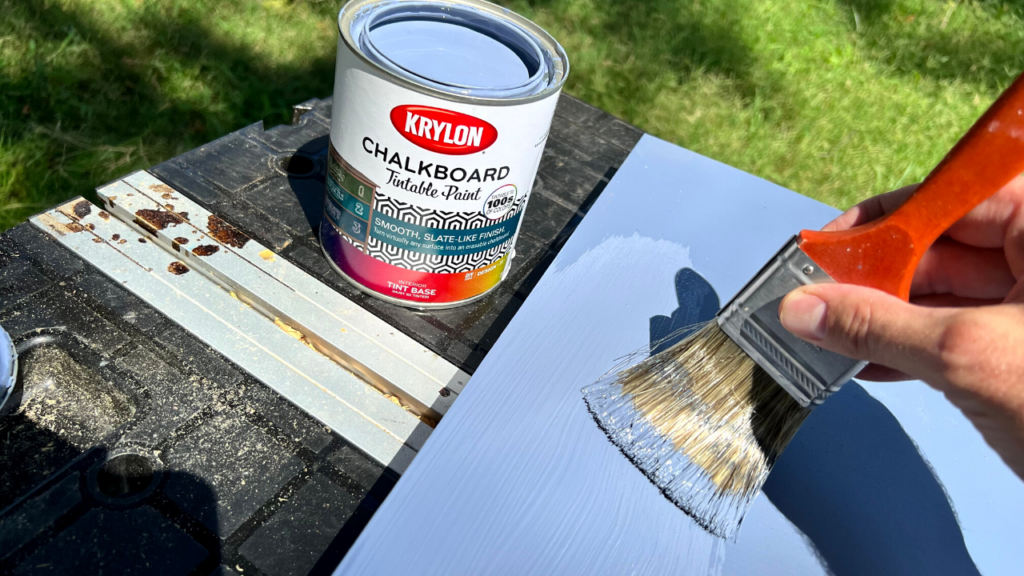 For the frame I had two pieces of live edge maple cutoffs that have been sitting in my "special" scrap bin for probably 5 years.  I want this chalkboard to hang on my son's door, so these smaller pieces were the perfect size.  They were nice and dry, but almost too dry.  There had been some extreme splitting and cracking, so I took a few minutes with some tinted fast cure CA glue and filled the voids.  After a quick spray of the applicator, they were ready to sand smooth in a few minutes.  I then squared up three of the four sides (keeping the live edge) and cut them down to 16" each (top and bottom pieces).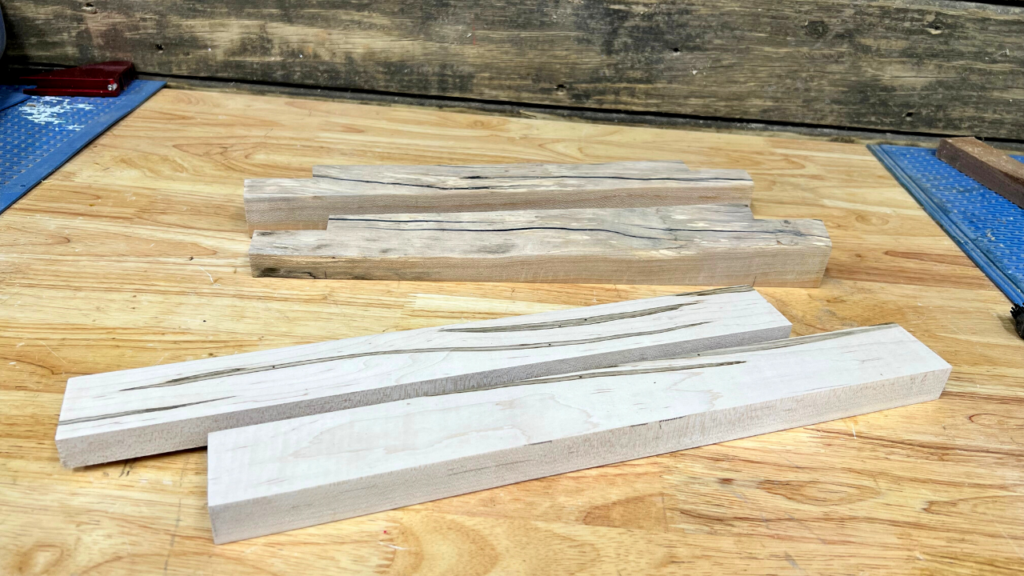 For the sides, I had another scrap piece of spalted maple that had a lot of tear out from the milling process.  I ripped the piece down so I had a pair of 1×2's again about 16" long.  With those sanded up and ready to go it was time to assemble the frame.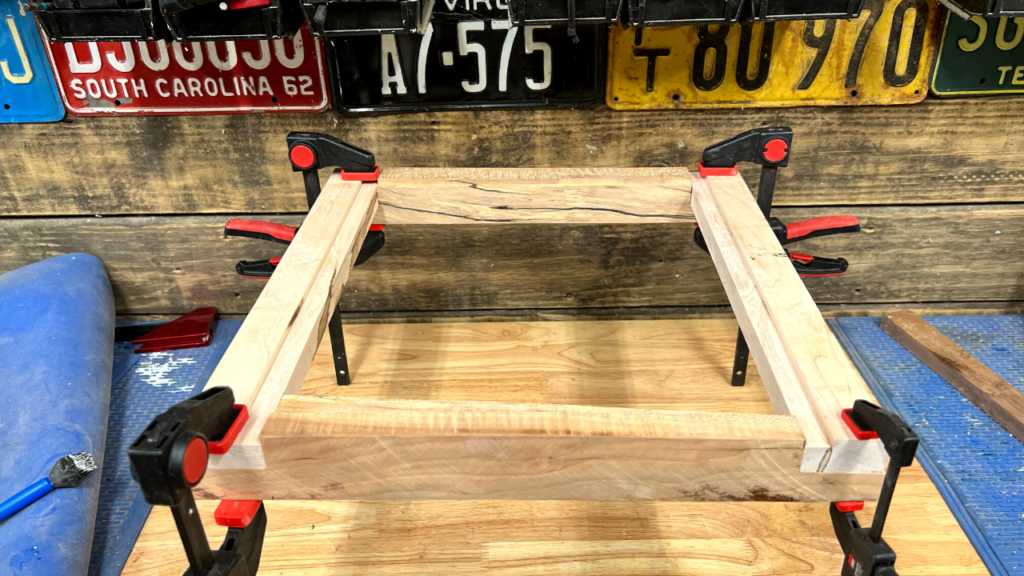 Now here's where the difference comes in on what you can do if you have the tools in your workspace.  There's absolutely nothing wrong with mitering the corners or butt joining the frame together and then attaching the chalkboard onto the back.  I like to overengineer and make everything difficult.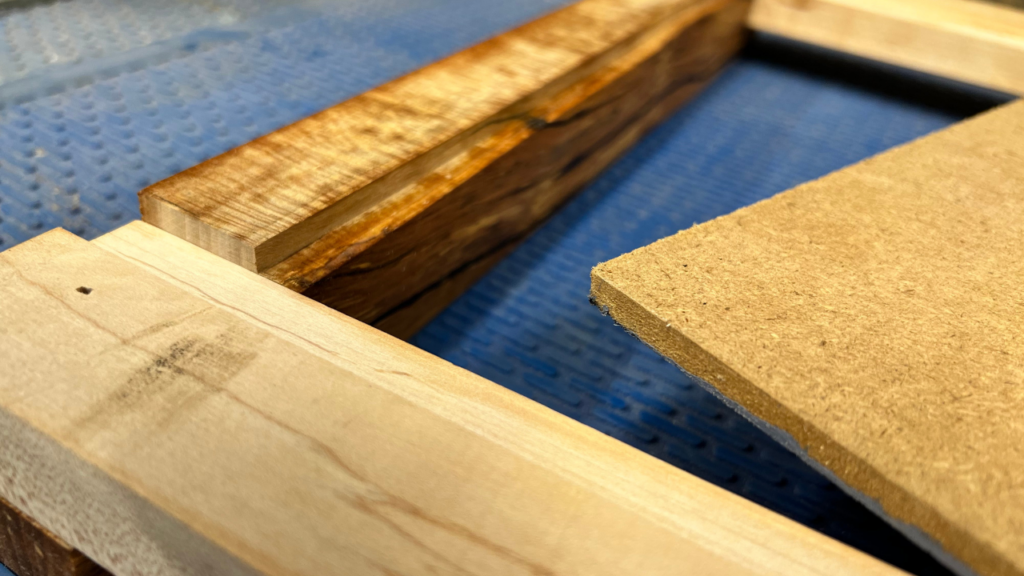 For the live edge bottom and top pieces I used a dado stack to cut a groove for the 1×2's to set into flush from the back.  A few quick passes on my table saw and we were in business.  I then used the same dado stack to cut an edge rabbet (inset ledge) along the inside of the frame pieces.  That way I can attach my chalkboard pieces and it sits flush with the back.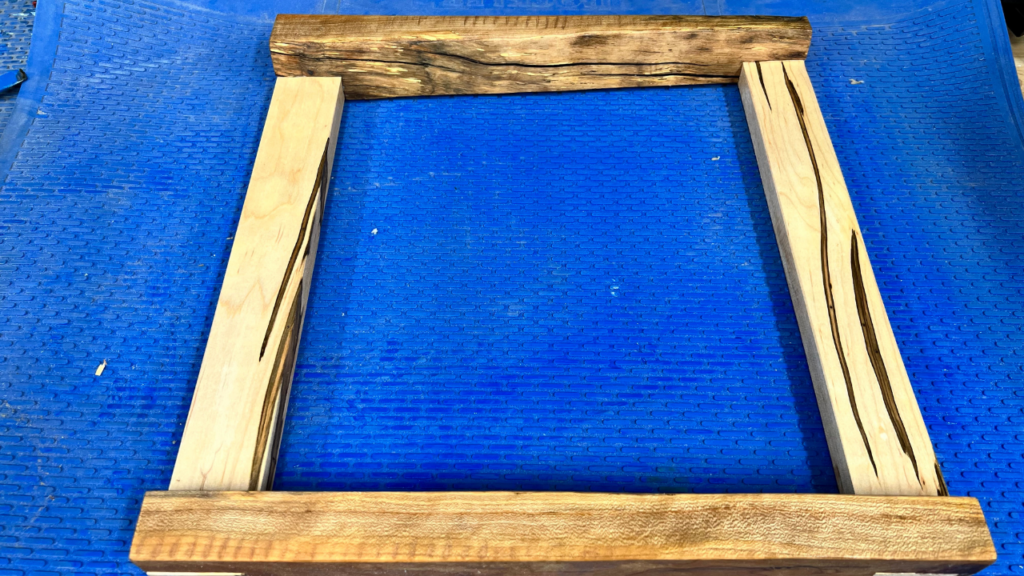 The whole thing then gets glued up and maybe add a brad or two on the corners for good measure.  Again… you don't need to go through all the trouble in this assembly, but I'm here to party.  For the finish on the frame, I applied a mix of oil and wax and let it dry overnight.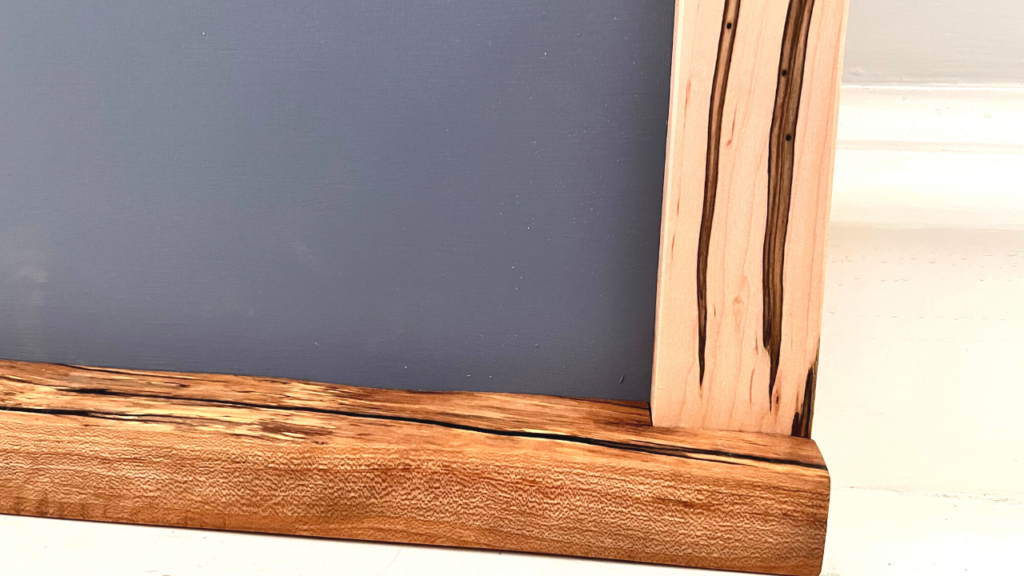 One sleep later and I dropped the chalkboard right into the rabbets on the frame with a little glue and a brad to secure it.  Once that dries you can flip it over and marvel at the beauty of a fun Krylon Chalkboard paint color and that buttery smooth maple frame!  For hanging the frame, it's light enough that I was able to use a few command strips and attach it right to the door, but if I needed something a little heftier, I could have used a picture hanging or cut a keyhole mount with a router.  But I'm lazy (thus the name) and this was much easier!
~Lazy Guy