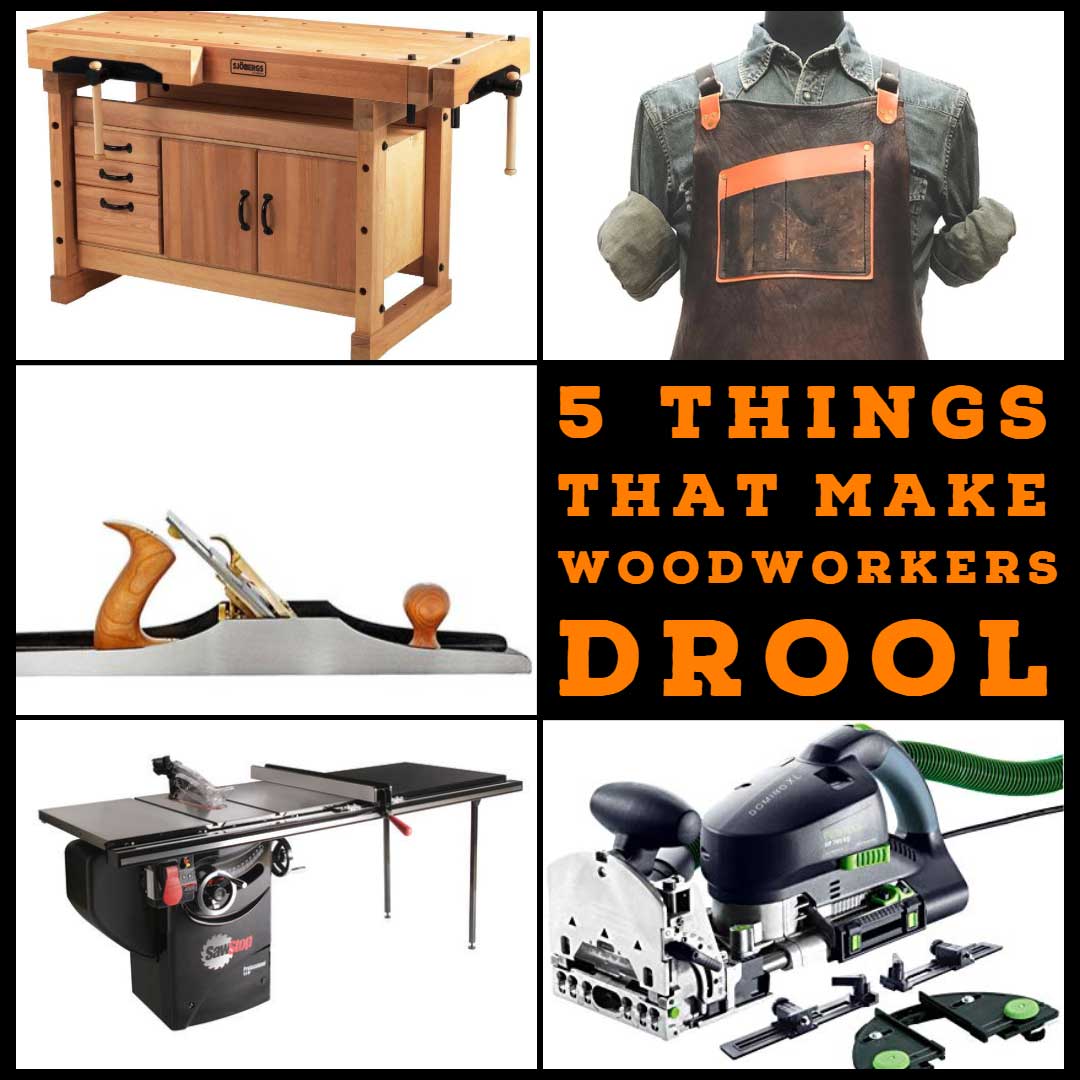 Sure, we can all use a bigger shop and who doesn't want a 10 foot long CNC? But while those things are probably out of reach to most of us, there a few items that get the hearts pounding for most Woodworkers. So start saving your paychecks because here are 5 Things That Make Woodworkers Drool!
This is an ongoing series of "5 Things" that are quick tips, hints and buys, check them all out!
Sjobergs Workbench
Yes there's an unwritten rule that all Woodworkers must build their own workbenches. It's a rite of passage. But then… take a look at the Sjobergs Swedish Workbenches and realize it's going to be tough to reach that kind of perfection. I personally like the Sjorbergs Elite 1500 with or without Cabinet that's not too big and comes with plenty of must haves.
They are set up with an End Vise, Shoulder Vise, a Hold fast and a slew of bench dogs. This is one of the set ups that people model their own benches after, but it will run you anywhere from $1500-$3000 depending on components.
Calavera Tool Works Apron
I typically like my Buffalo in Jerky or Burger form, but for a Calavera Tool Works Apron I'll make an exception. The one drawback of working with instruments of precision and creation is they are sharp and they make one heck of a mess, so you need to protect yourself. A leather work apron is a must have in the shop and it will last a lifetime.
The Calavera Aprons are the A-Standard in shop wear and man do they look awesome too. The Jory Brigham Special is what woodworker dreams are made of, but if it's too much of a hit to your wallet you can always check out the Mahogany or Tobacco versions. These Work Aprons will run you anywhere from $150-$300 depending on the model.
Lie Nielsen #8 Jointer Plane
Measuring in at 24″ long and 10 lbs. the Lie Nielsen #8 is the Granddaddy of all Hand Planes. You'd think that such a large hand tool would be unwieldy and difficult to use, but the size and weight make it the best flattening plane on the market. The long span of the sole let's you glide over any of imperfections in the wood perfect for flattening but it's also great for shooting an edge.
Lie Nielsen hand planes come ready to use out of the box and are among the most lauded modern planes in the community. The #8 will set you back almost $500 but it's a tool that will be handed down for generations.
*Afraid of Hand Tools? Check out my Hand Tools for Power Tool user's Guide!
Saw Stop Table Saw
As soon as I got serious about Woodworking there was one tool that went to the top of my "someday" list. Well earlier this year I purchased my Saw Stop Table Saw and I'm happy to say it's one of those products that lives up to the hype. Accidents in the shop happen regardless of how careful you are and a Saw Stop Saw will stop and drop a spinning saw blade in less than 5 milliseconds.
Safety isn't the only factor, you're also getting one of the most accurate table saws on the market with this purchase. You can pick up the Job Site Saw for around $1400, the Contractor's Saw (the one I got!) for around $2,000 or the fully loaded Professional Cabinet Saw for $3400+. Which is cheaper than a new hand.
Festool Domino XL
Just saying the word Festool around a Power Tool user is enough to get their heart pounding. From the Rotex to the Plunge Cut Track Saw this is German engineering at it's finest, but what everyone really wants is a Festool Domino. The ability to cut accurate and repeatable mortises for tenons will save you hours of work if you're mass producing furniture.
The Domino is one of those tools everyone knows about in the industry and is a purchase that you can easily recoup in production. Starting around $1500 it's one of those tools that make people nervous to invest in, but once they buy it they never look back.
~ Lazy Guy
Make sure you're up to date on all of the newest tool reviews by following the Tool Review Feed!