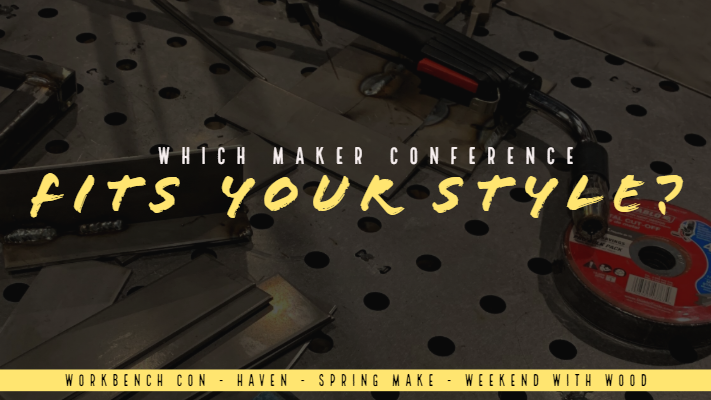 Over the last year I've been flying around the country to the majestic locales of Iowa, Ohio and Georgia just for you guys. Okay, maybe for me too. I've been checking out some of the biggest Woodworking, Content Creator and Maker Conferences in the country! Now the question is… which one is the right conference for you? Haven Conference, Weekend With Wood, Spring Make and Workbench Con. If you're going to invest in your content, which of these is worth the price of admission?
Workbench Con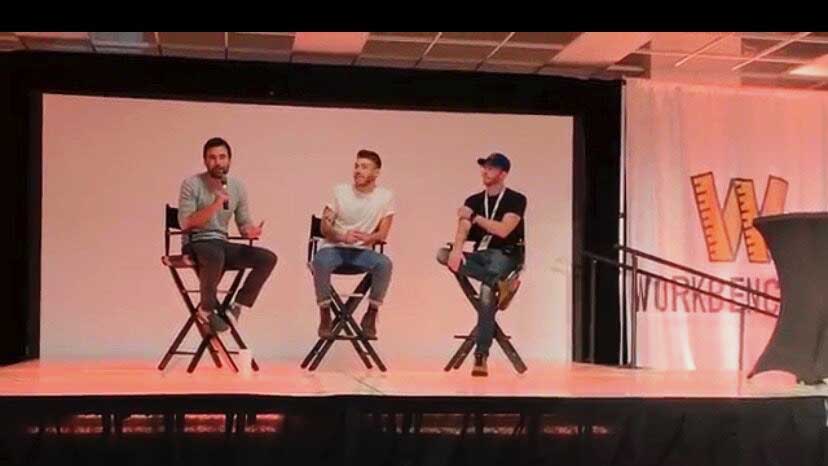 When and Where:
Mid February in Atlanta, Georgia – Website
Attendees:
400-500 Woodworkers, Content Creators and Makers
Why Attend:
Do you like dudes with beards who like posting pictures of their hardwood on the internet? If the answer is yes, just to be clear, we're talking about a conference for Woodworkers. Tech classes are abundant and geared towards social media platforms like Instagram, YouTube and growing your "Maker" following. At Workbench Con, classes are taught by peers in the industry which means the same people you follow and enjoy will also be your instructor.
What's The Vibe:
The atmosphere is extremely laid back. Jeans and t-shirts with often a beer in hand for most events. After the classes stop, the hotel bars are standing room only well after last call. Check your livers and pack your Pedialyte.
It's Not Me, It's You:
Size does matter here and Workbench Con doubled in size within a year. In my opinion it's to its detriment. The limited hands on classes sat 50 or fewer and my own epoxy class had more than 150 people walk through the door. Despite being labeled as a hands on conference, you'll be sitting and watching (hungover) more than actually participating. If I go to a welding or wood turning class, my expectation is to actually try it. Networking and socializing with your peers and vendors is the biggest draw, which is a pro and a con.
Spring Make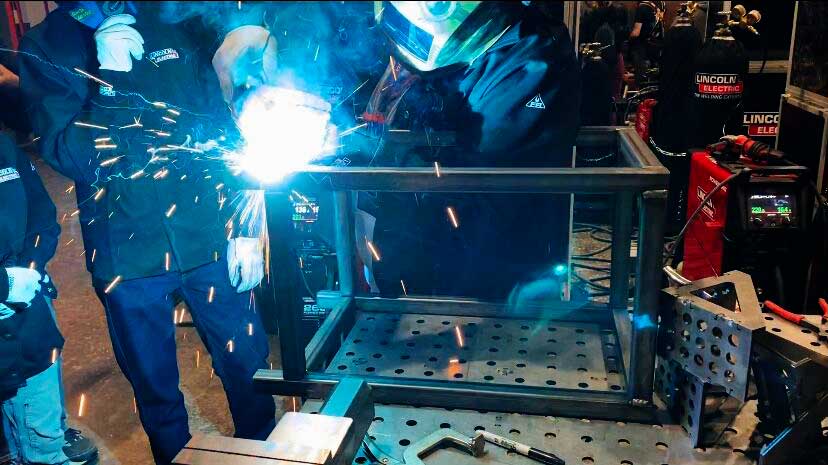 When and Where:
Mid April in Cleveland, Ohio – Website
Attendees:
100-200 Woodworkers, Metalworkers and Forgers
Why Attend:
Want to expand your craft in woodworking, or try your hand at welding or forging? But in Cleveland… where dreams go to die. Spring Make offers one the most intimate and hands on environments for makers I've been to (and Cleveland was actually awesome). Stations are open to move about freely throughout the day with only a handful of tech classes. The instructors are a mix of industry leaders in the trade as well as experienced influencers. You also get a lot of bang for your buck at Spring Make from the day sessions to the included after hour events.
What's The Vibe:
The smaller size of Spring Make puts everyone at ease compared to the frenetic pace of an event like Workbench Con. It's very laid back in terms of approach-ability in classes but still 100% professional. Sort of like going to learn a new trick from your buddies that just happen to be industry famous.
It's Not Me, It's You:
Cost is going to be the biggest roadblock. The event is several hundred dollars more than any of the other events. However, according to the organizers that's intentional to keep the crowds at bay and weed out the casual conference goer. I also have the worry about the sophomore slump. They went all out in year one with course offerings and the lineup of speakers… but it's very possible it will be hard to repeat.
Weekend With Wood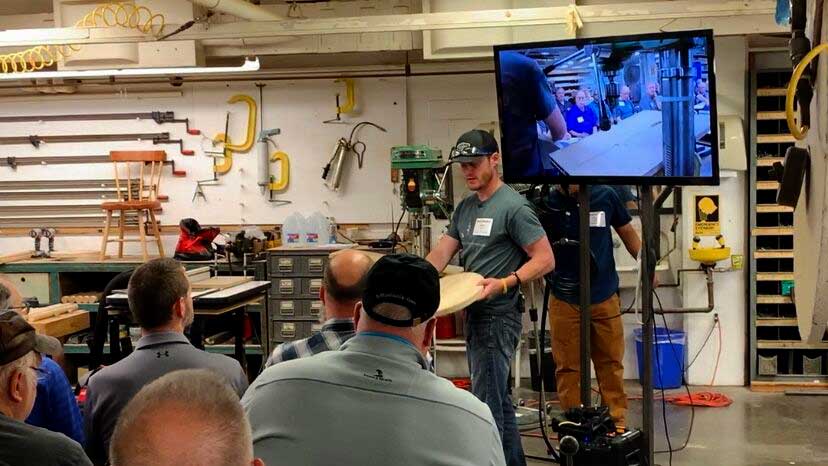 When and Where:
Mid May in Des Moines, Iowa – Website
Attendees:
150-200 retired old guys
Why Attend:
Professionally trained, industry veterans you grew up reading in the magazines put their skills on display. Pull out a selfie stick and you'll get your ass kicked. Weekend With Wood is for woodworkers who want to expand their craft and see the best do what they do in small classroom environments in Wood Magazine's own shops. I should mention they also have one of the best swag bags in the biz!
What's The Vibe:
Weekend With Wood is straight business and education in craft. The schedule is grueling but the information is substantial. It's high school shop class for skilled adults. While the attendees call it a night early, the impressive collection of vendors are up for after hours fun and networking.
It's Not Me, It's You:
The core demographic is a bunch of old white dudes and Wood Magazine is okay with that. Everyone is extremely nice, but if you're a female or haven't had any gray hairs grow in, you're going to feel very out of place and a little lonely. Weekend With Wood caps the attendee numbers and sells out quickly as well, so you might not even get a foot in the door.
Haven Conference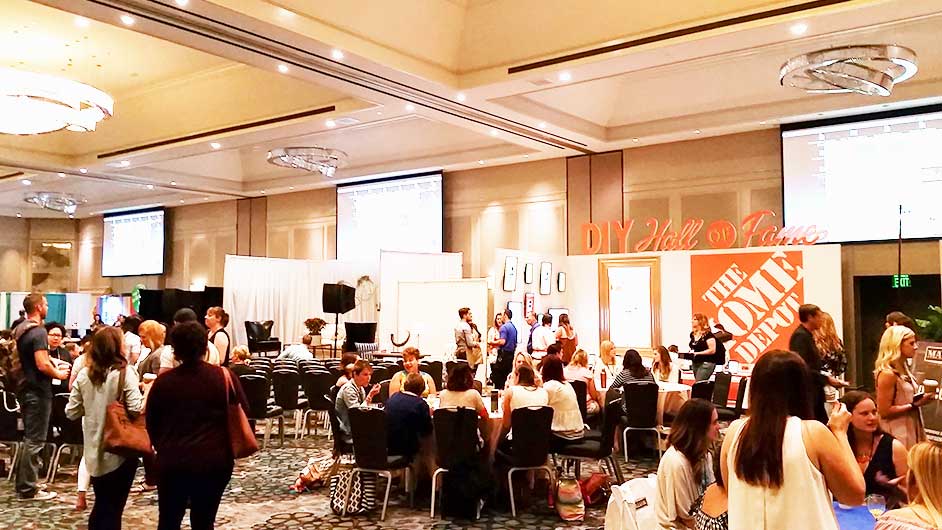 When and Where:
Mid July in Atlanta, Georgia – Website
Attendees:
250-300 Female Decor or DIY Bloggers
Why Attend:
Haven Conference, at one point, was one of the largest DIY Blogger Conferences in the industry. However, the competition above has allowed Haven to get back to it's Decor and Home DIY roots. Tech classes are abundant and full of advanced blogger topics like SEO & website management. Social media classes, however, are more geared towards beginners. The mentor program can be great (I was a mentor!) and newbies tend to find their tribes here.
What's The Vibe:
Sorority sister getaway weekend at Haven! Sundresses, sparkling water and lots of excited high pitched voices. The tone is professional and fun, but make no mistake, it's a conference geared towards a female demographic.
It's Not Me, It's You:
The ratio of female to male attendees has vastly improved from the 50:1 when I first attended, but there are not a lot of guys there. Which means you have to pick through the Farmhouse Fab to absorb information in some cases. There has also been an exodus of sorts of veteran influencers which means some of the classes lacked the punch they used to carry in the past.
Psst… want a deeper dive about Haven Conference? Check out my past recaps!
Which Conference Is Right For Me?
For me, Adam from Lazy Guy DIY (uh oh, he's speaking in 3rd person)… I'll prioritize Workbench Con. I love to teach and I love to learn and that environment gives me the option to do both at an event that truly is fun 21 hours of the day. The other 3 hours are reserved for sleeping (passing out).
However, Spring Make and Weekend With Wood were by far the most educational for me. When there are more power tools than slide decks, you know the content is going to be worth your time. That's not to say I don't still appreciate Haven Conference though. It's just no longer partially aligned to my content and makes it difficult to stay engaged.
~Lazy Guy
Have you attended any of these conferences before? I'd love to hear your thoughts in the comments! Which one is your favorite and why?