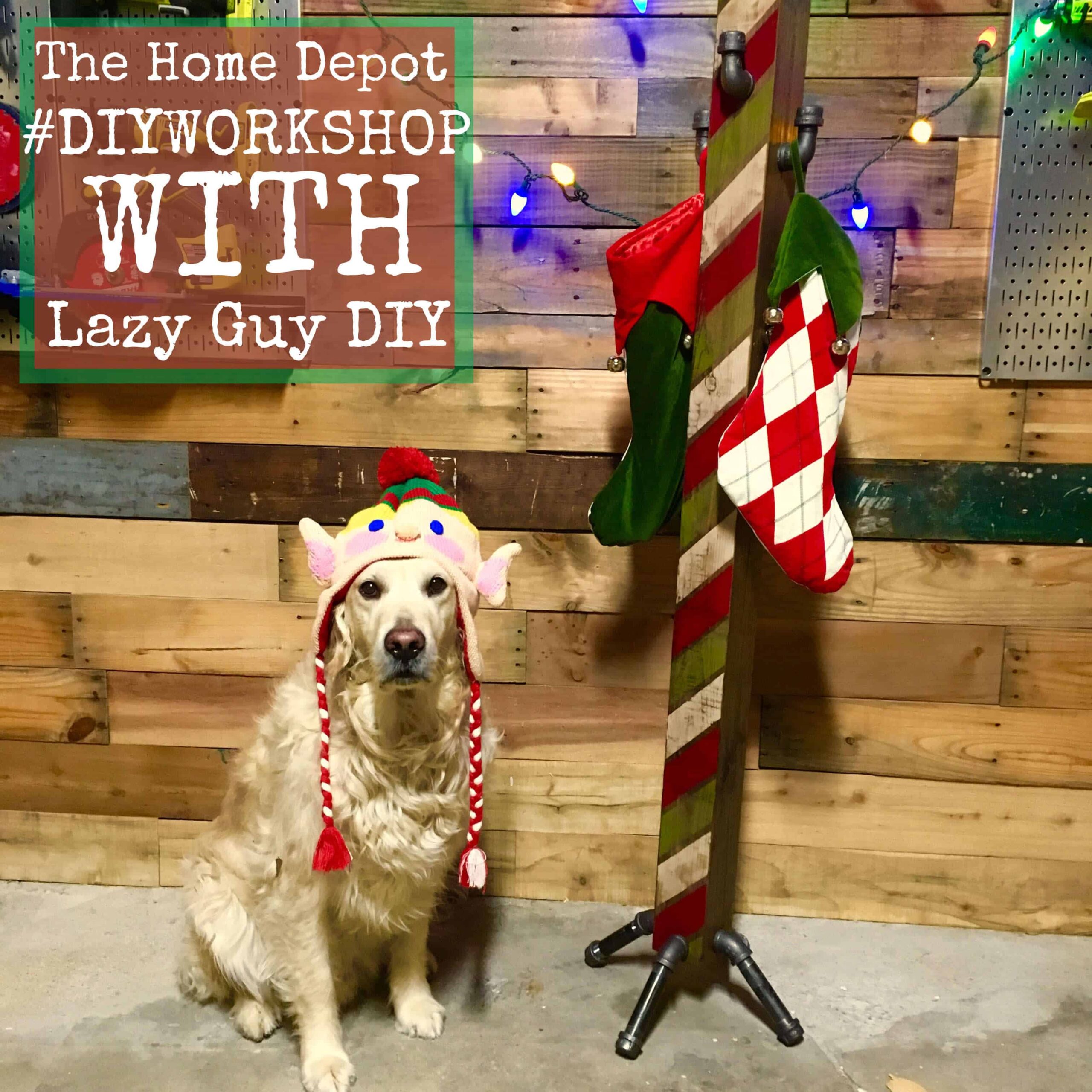 SERENITY NOW!  I really tried my hardest not to make any Festivus references when working on this project, but let's be honest, "I've got a lot of problems with you people, and now, you're gonna hear about it!"  It is a holiday pole and I have the sense of humor of a pop culture influenced 15 year old, but I'm going to get my airing of the grievances out of the way now and tell you more about this great project… SERENITY NOW! (that was my last one).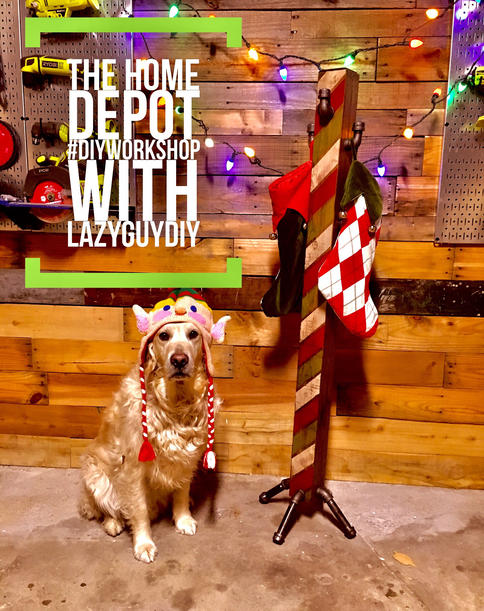 We have several cats in our home in addition to lots of other animals (whether I wanted them or not).  Two of the cats, Stegosaurus and Pancake (those are legitimately the names we gave them) have an issue with table top clutter.  If there's something sitting on a flat surface that they don't approve of, they tap tap tap it until it falls onto the floor.  You know, full glasses of water, decorative bowls, cellphones, remote controls… They are jerks plain and simple.  So imagine what the holiday season is like in our house?
Growing up, my family Christmas Eve tradition was every year my sister and I got a new nutcracker to add to our collection.  Two nutcrackers every year for 20+ years equals a nutcracker army that my parent's have tried to give back to us every year since we've both moved away from home and started our own families.  The problem is, I can't take these sort of nostalgic things with me because the jerk cats will encourage them to jump off the mantle.  Think it's limited to nutcrackers?  Oh no.  Stockings aren't safe either.  Leave an empty stocking up before Christmas and a cat will jump into it, get stuck and wreck everything around trying to claw it's way out of it.  When the stocking is full it should be safe right?  Nope.  There might be cat treats hidden in them.  We must destroy the wrapped presents to see what they got us.  Like I said, jerk cats.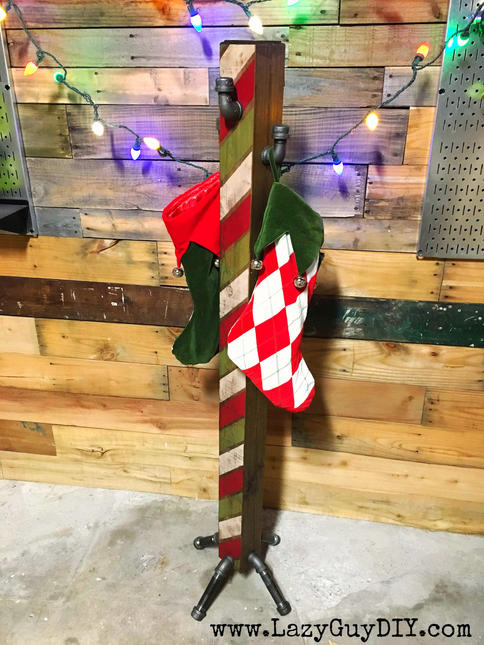 Home Depot's Holiday Workshop project was immediately received in our house with open arms (but not little kitty arms).  A holiday stocking hanger seems like it might thwart the efforts of "Search" & "Destroy".  So how did I build mine? First off, you'll need to get the supplies, which luckily, can all be found at your local Home Depot.  Speaking of Home Depot… Don't forget that what you really need to do is SIGN UP for the DIYWorkshop at your local Home Depot for Saturday, November 19th, from 10:00am-11:30am.  Click the image below to reserve your spot!  Classes are geared for all DIY'er, whether you're young, old, a beginner or a salty old veteran.  These are here to help you build your own!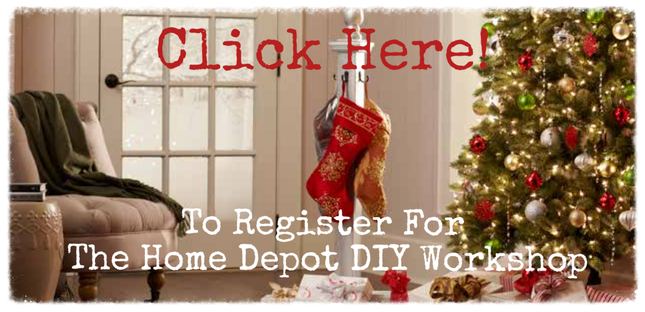 ---
Material Needed
(1) 4″x 4″ x 54″ wooden deck post.  

You can have yours cut to length on site to make it easier to bring home.

(2) 3/4″ by 4″ Black Metal Pipe Nipple
(4) 3/4″ by 5″ Black Metal Pipe Nipple
(8) 3/4″ Black Metal Pipe Caps
(4) 3/4″ Black Metal Pipe 90 degree Street Elbow
(4) 3/4″ Black Metal Pipe 45 degree Elbow
(4) 3/4″ by 1″ Black Metal Pipe Threaded
Paint for holiday stripes. I picked mine up in the clearance section at Home Depot for $0.50 each.
MinWax Wood Stain ( I used Espresso that I had from another project)
Tools Needed
Circular saw or Compound Miter saw (if you don't get it cut at the store)
Drill/Driver
Random Orbital Sander (or any palm sander)
1″ Spade Bit or Forstner Bit
1- 1/16th" Spade Bit or Forstner Bit
(Optional) Router with Round Over Bit
Painter's Tape
Speed Square
Tape Measure
---
Now on to the build! Like I said, if you didn't have them cut it for you at the store, use a circular saw or miter saw to cut the 4×4 to 54″ in length.  Because this is a pressure treated board that's fairly rough cut from the mill, you might want to hit it with the sander a few times to smooth the surface out.  I used my Random Orbital sander with 220 grit.  Full disclosure, I ran mine through my thickness planer at a very low setting because the board I purchases wasn't really square.  You absolutely do not need to do this.  I just didn't want a trapezoid for a pole instead of, you know a square.
With a smooth surface, it's not time for the tedious step.  Using a pencil, a speed square and my painter's tape, I painstakingly marked out my lines for my holiday stripes.  To make it easier, I made the stripes the width of my tape and I left a 1/4 gap between each stripe where the stain will show through.

Now comes the worst part… tape and tape and tape and tape some more.  I went with three colors, so make sure you're taping up and exposing only the section for that particular color.  You'll go through the step three times (on both sides).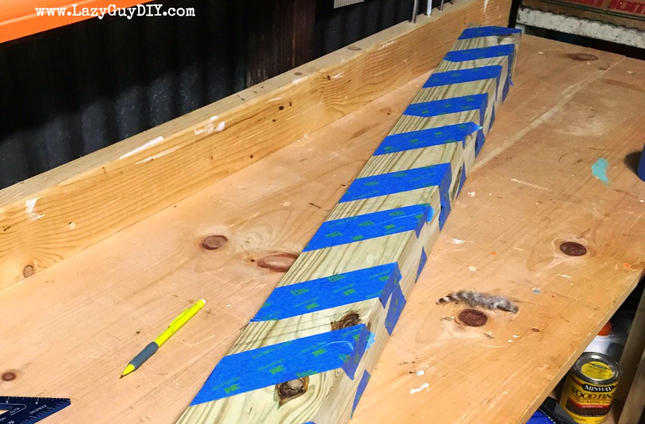 When you apply the paint, make sure you do not go over the edge onto the sides.  You're only going to apply stripes to two of the sides and the other will be stained.   You don't want drippage over the edge, so be careful.  If you do drip a little, you can always sand it off before you stain.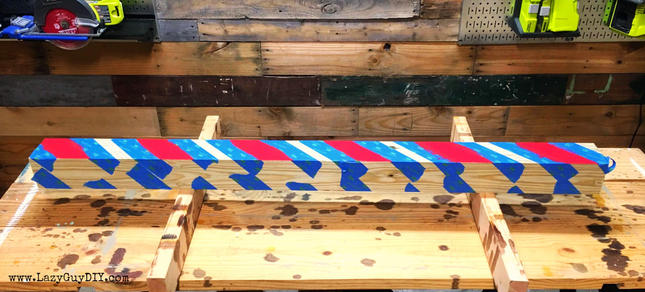 Once the paint is dry, pull the tape off and then tape around the edges of your next color and so on.  Eventually you will end up with 2 sides painted with stripes (with straight lines of course!).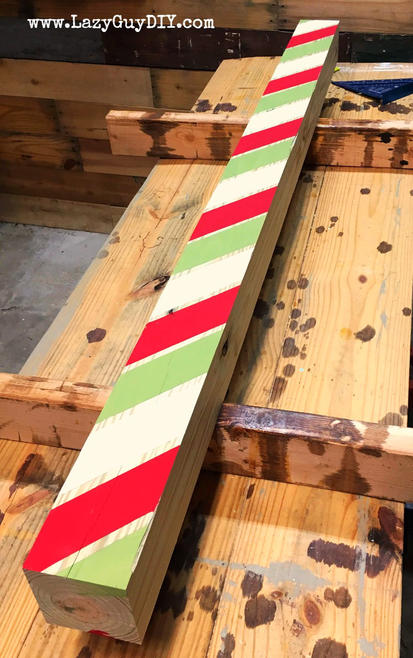 Here's where the fun part comes in!  Once you've completely painted all of the stripes on your pole, you absolutely need to make sure the paint is dry.  Run around outside with it on a windy day, hire small children to fan it with palm fronds and feed you grapes.  Whichever method seems the most appropriate, just make sure it's dry!
Now it's time to distress those beautiful stripes you just painted in addition to the blank sides of your pole.  Give a few smacks with a hammer.  Run some screws on them, punch it if you're feeling really rage filled.  But then don't be so rage filled… this is a holiday project.  We're talking "The most wonderful time of the year!"
Once you've roughed this thing up slightly (don't go overboard), use a non orbital palm sander and take a wear a little bit of the paint off of your still beautiful, but slightly beat up stripes.  The edges usually come off the easiest, but if you tilt the sander at an angle, you can take off a little bit of paint in the middle of your stripes.  Don't go too crazy and remove entire portions of the stripes.  What you want to do is take off just enough that the stain shows through and makes for a nice antiqued look. Got it?  No?  That's okay, time for some "antiquing" that is extremely easy to do!  The sloppier the better!  Ha.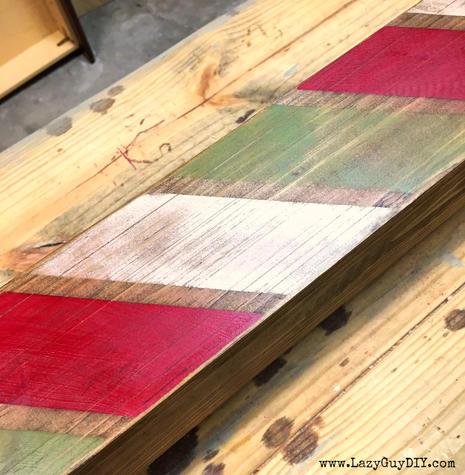 With everything fully sanded, I wiped the surface clean and then applied my stain on each side.  I used MinWax Espresso that I had sitting around from another project.  It's a nice dark color that should really POP with the stripes.
You don't need to leave the stain on for very long before it's time to wipe it off.  I coat one side completely, then wipe if off starting from the earliest application out.  Then roll it over and do the next side.  Just make sure that when you're finished, you stand the pole up in a safe place where the residual stain can dry and not seep out onto your work surface (or clothing or walls or furniture…) You can tell the white and green come off a little easier than the red does from sanding, so don't get frustrated when not as much stain shows through on the red stripes (boo creepy foot doctor, hooray beer!).
You're going to want to let this dry for a few hours before you start the next step.  Miller time!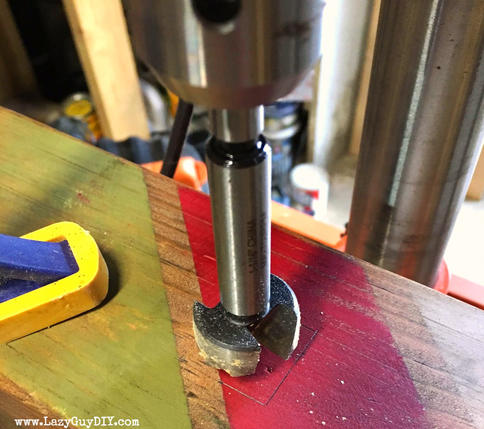 Welcome back!  Next up is drilling the holes for the stocking hooks.  You've got two choices here depending on what kind of equipment you have on hand.  I tried both methods and both worked equally as well.  I used a drill press with a 1-1/16th Forstner Bit for one hole and a 1-1/16th spade bit and a hand drill for the other hole.  Both looked exactly the same.  Forstner bits can be expensive if you don't already have one, spade bits are much cheaper!   The important part is the 1-1/16th sized bit.  That width is perfect for a 3/4″ piece of pipe to slide through.  It needed a little bit of coaxing with a rubber mallet, but in the end, the fit was snug.  You don't want the pipe to fit loosely because your pipe hooks will just turn and throw your stockings filled with wonderful toys on the ground.  Then Christmas will be ruined.
Time to add the hooks!  Here's what you need:
4 – 3/4″ 90 degree Street Elbows
4 – 3/4″ End Caps
2 – 3/4″ by 4″ black metal pipe nipples.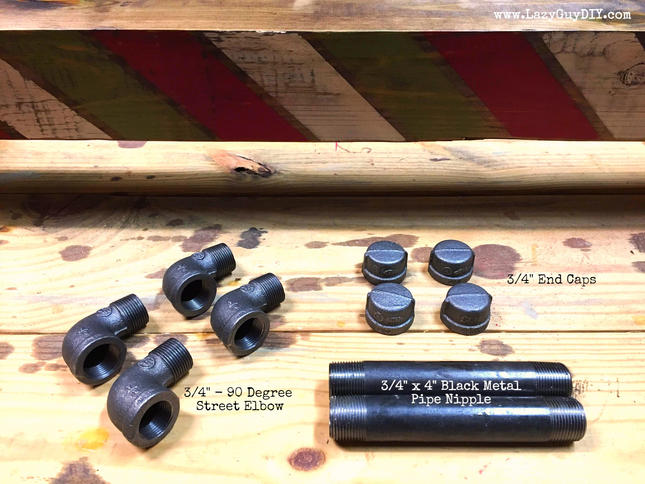 Here's a fun fact, a 4×4 is not actually 4″ wide.  It's confusing I know.  Lumber yards have been lying about it for years.  It's actually around 3.5″ wide.  Which is exactly why we're using a 4″ black metal pipe nipple.  Yes I said nipple in a Christmas post for The Home Depot, but it's an industry term for a threaded length of pipe.  Stop laughing.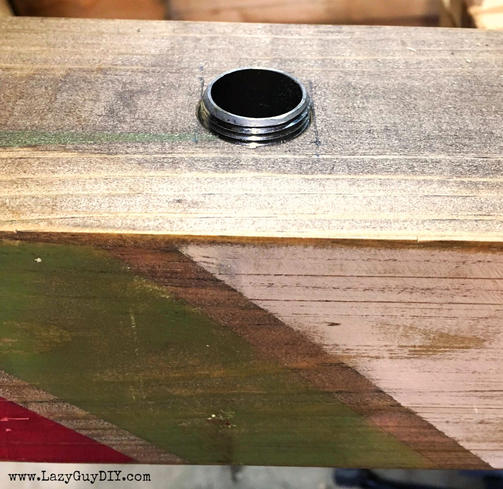 Like I said, I coaxed the pipe through the hole with a rubber mallet.  Don't hit it with a metal hammer or you'll damage the threads.  Don't have a rubber mallet?  Use a scrap piece of wood between the pipe and the hammer when you drive it through.  If the pipe is too loose, you can always use some adhesive like DAP Rapid fuse to have it set.  It's basically woodworker's super glue.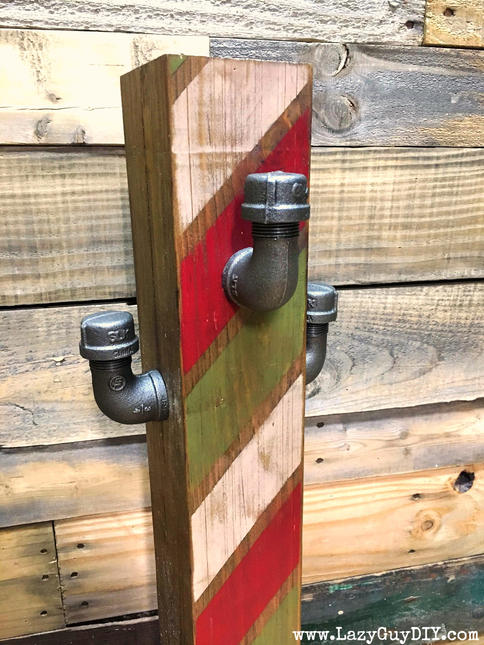 With a little elbow grease you should be able to screw on the street elbows and end caps to have your stocking hooks ready to hold all of your Christmas stocking goodness!It does take a little finagling to get everything all lined up so both your handles are straight on either side.  I had to unscrew and re-thread the street elbows a handful of times just to get it right.  The good news is that you can "over tighten" the elbows a little bit to get the angles just right.  The pipe will just push into the wood.   Next up on the project is to finish off those legs!  You can't just have this pole standing on the ground and hope it doesn't fall over?  Remember we're trying to get rid of the stockings fall down because of jerk cats knocking them off the mantle, so we absolutely need to put a solid base on these things. For the legs you need:
4 – 3/4″ 45 degree elbows
4 – 3/4″ by 1″ threaded nipple
4 – 3/4″ by 5″ black metal pipe nipple
4 – 3/4″ end caps (not pictured)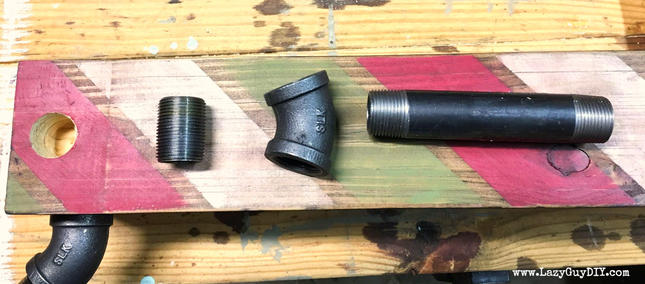 Remember last time we cut a hole all the way through the 4×4 to so the pipe fit snug?  Well don't do that this time!  Using a 1″ spade bit or forstner bit (you can use a drill here) cut a 3/4″ hole.  As you can see, I put a piece of tape on my forstner bit so I could see exactly how deep to cut.  Also, pay attention that this is a 1″ bit, not a 1-1/16.  With a 1″ bit you can screw the threaded pipe directly into the post.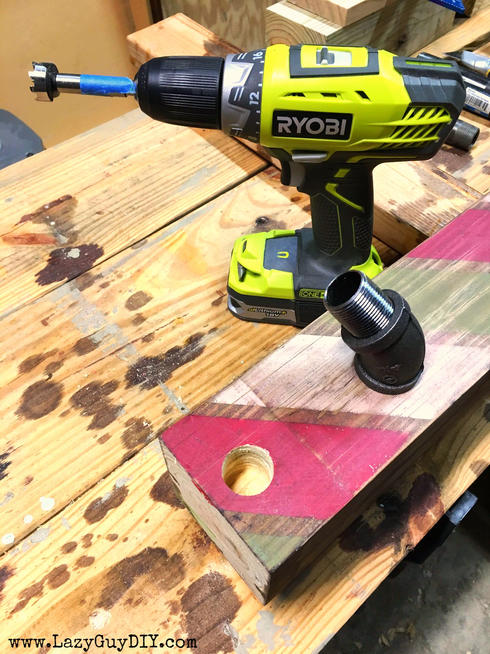 I cut the holes for the legs 1.5″ on center from the bottom of the post.  Meaning, the center of the whole is 1.5″ from the bottom of the post.  Then, with a little more elbow grease leftover from the hook step… screw these bad boys in until you have four legs for the unit.  Because we are so close to the edge, don't over tighten because you could actually cause the lumber to split.  What's nice is that there are enough parts that you can adjust the legs by unscrewing or re-threading to make sure the legs don't wobble.  When you're finished drilling holes and attaching them, they should look like this: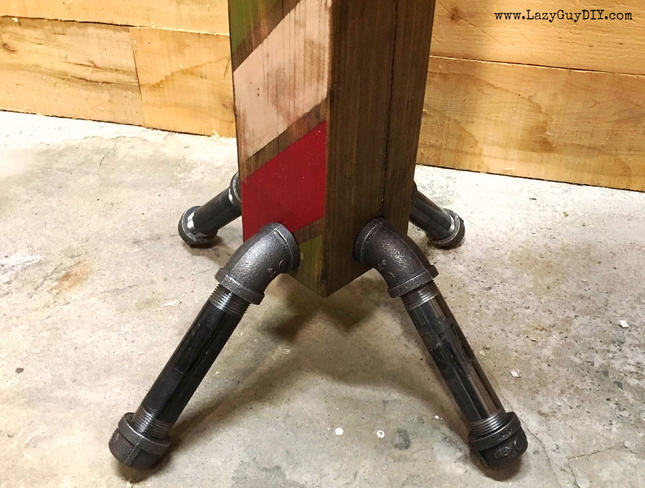 Think you're done?  NOT YET!  I know… longest build ever.  Go big or go home! And this is coming from someone named Lazy Guy.  The very last step is to do something with the very top of the post.  You can honestly do whatever you want.  Sand the edge to make a round over, add a screw on fancy ball top.  I went a different route.  Literally.  I routed the edge with a round over bit on my plunge router and then painted and antiqued it like the rest of the pole.  This is totally optional.  And pretty much the result of indecision… but I like the result.  Ha.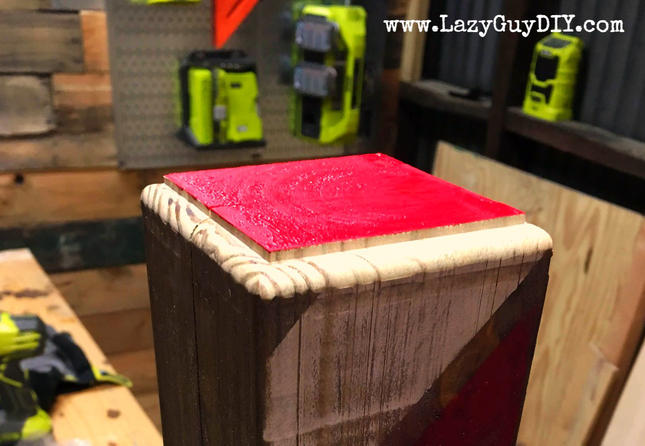 How about now?  Think you're done?  Hooray you are!  Throw the confetti!  Or sawdust!  Or however you want to celebrate.   Grab the stockings, fill them with awesome presents that you'd like to share and oh yeah… take pictures and be sure to tag them with the #DIYWorkshop so we can all see them!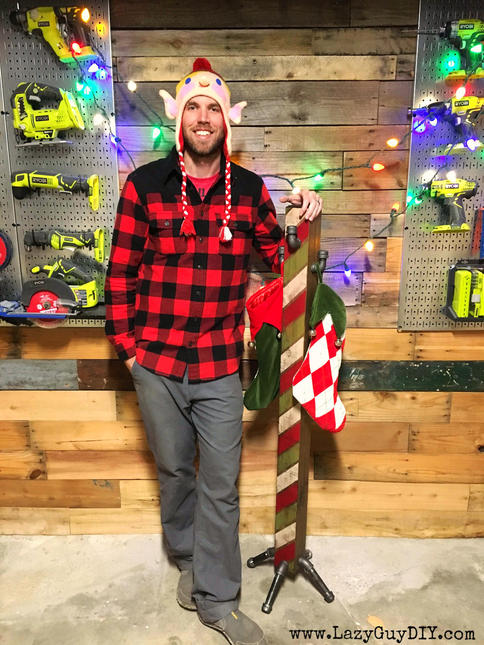 Now that you've seen my Home Depot #DIYWorkshop Holiday Stocking Hanger, it's time for you to go build your own!  Remember to sign up with the above link to reserve at spot at your local Home Depot.  The class will be held Saturday, November 19th!  So don't miss out!   All materials used for my build can easily be found at your local Home Depot.  Think we're done with this post?  Heck no!  Did you know that 24 other bloggers built their own Holiday Stocking Hangers as well?  Check out the links below and be prepared to be blown away with how creative everyone can get on just one little project!
~Lazy Guy
Domestic Charm * Homemade By Carmona *  My Altered State * Smart Girls DIY * Chaotically Creative * Ciburbanity * Build Basic * That's My Letter * Her Toolbelt * The Handmade Home * The Heathered Nest * Designer Trapped * The Chronicles of Home * Cherished Bliss * Just a Girl and Her Blog * House of Wood * Shades of Blue Interior * Uncookie Cutter * Ella Claire Inspired * Shine Your Light Blog * Sawdust 2 Stitches * Remodelando La Casa * Paper Daisy Design * Fix This Build That   
*This post has been sponsored by the Home Depot.  I was compensated for this post, but I donated all of the proceeds to my garage overhaul, so it's like giving back to the community… one eye sore of a rundown shed at a time.  Happy Holidays!