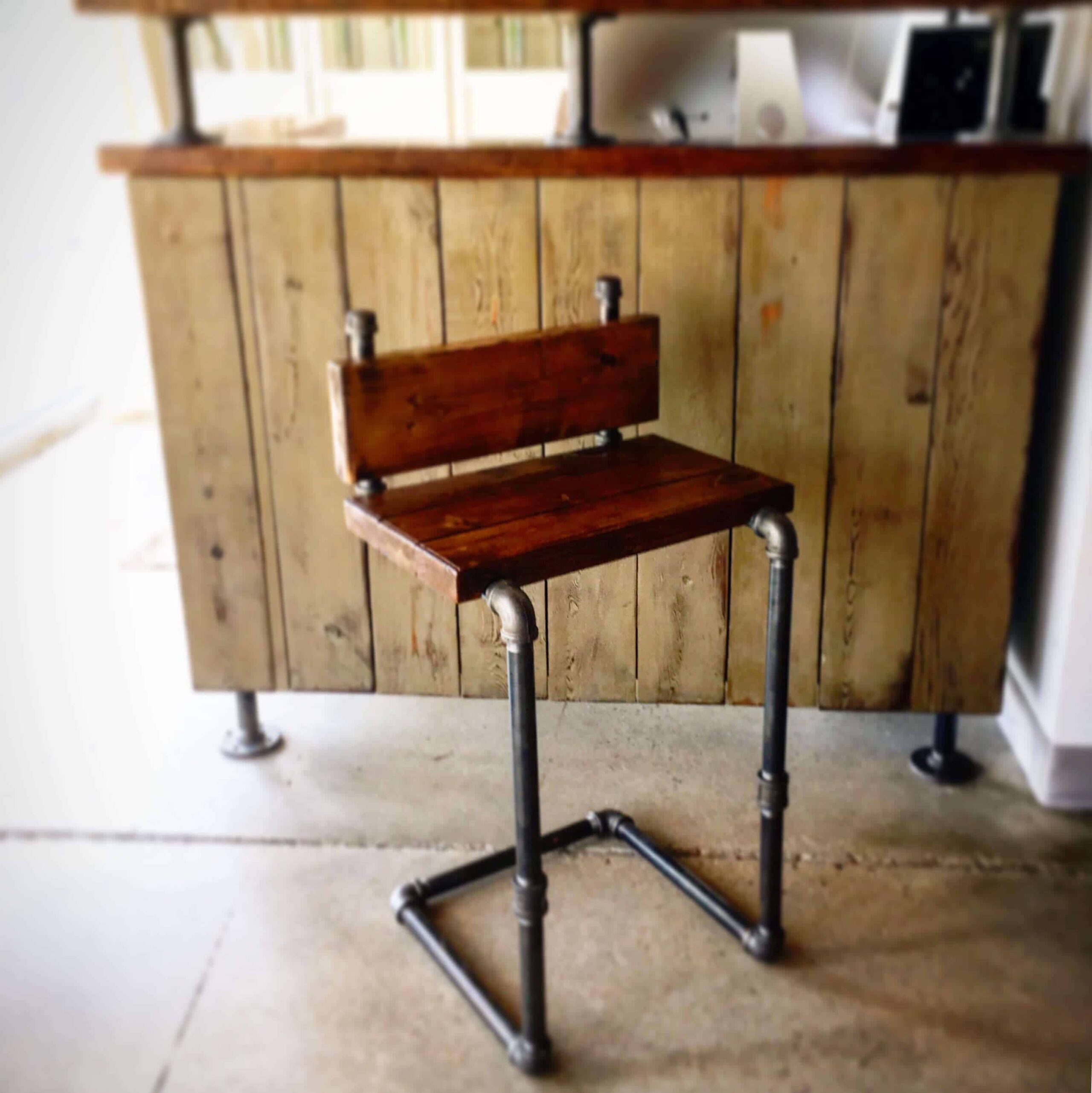 A few months ago I was w̶o̶r̶k̶i̶n̶g̶  looking at the internet at my day job and came across this awesome Industrial Metal Pipe Chair made by Ben Uyeda from HomeMade-Modern.  So I immediately thought this could definitely be something I could make for my friends at FLOW Cycle Studio where I had previously made a reception desk.  Unfortunately, it's one of those rare tutorials that Ben didn't have available on his website.  So I say to myself "Lazy Guy, (in the 3rd person while looking at myself in the mirror) you can totally build this without directions.  You've got this champ!" (and then gave myself a wink).
While it may not have gone down that way (my wife always interrupts me when I'm speaking to myself in the mirror) I did realize this would probably be a fairly easy build and all I really needed to figure out is what my materials would be and then wing it.  Luckily, I've found an awesome supplier for black metal piping online coincidentally with www.Supply.com.  With their prices and their shipping, I've generally found ordering from them is about a 1/3 to 1/2 of my cost at a big box home improvement store.  Go ahead and price compare once, I dare you.  Look up the price of a 1″ threaded floor flange on either site and then sit back in amazement.  Ha.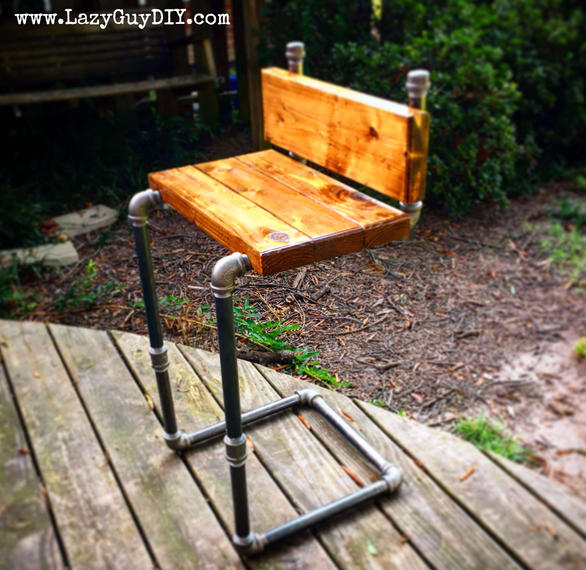 Build An Industrial Metal Pipe Chair
---
Material Needed:
(2) 3/4″ x 8″ black nipple (backrest)
(7) 3/4″ x 12″ black nipple (base, legs, seat support)
(2) 3/4″ x 3″ black nipple (bottom legs)
(8) 3/4″ 90 degree black elbow
(2) 3/4″ black coupling
(2) 3/4″ black cap
(8) 3/4″ pipe clamps
(3) 2″x 4″ @ 18″ (seat)
(1) 2″x 6″ @ 18″ (backrest)
5/8″ screws
Tools Needed:
Miter Saw
Impact Driver/Drill
7/8″ forstner bit
Kreg Pocket hole jig
Router
Straight bit
Round over bit (optional)
---
Inspiration Piece
Ben's chair is considered a "bar stool" so it's taller and has a few noticeable differences including a lower back.  One thing that immediately stood out is that he used thinner pipe.  It looks like 1/2″ because he's actually running the pipe through the 2x material.  He used a spade bit to boar out the holes and run the pipe through it.  I debated doing the same thing but there's honestly a little bit of flex to the piping the thinner you go so all I could picture was someone at the fitness studio sitting in a chair post workout and breaking it.  Then the rest of the year they would have a complex about not working out enough all because I used the wrong piping.  So with that said I upped the thickness of the pipe to 3/4″ which meant running it through the 2x material wasn't ideal.
Metal Pipe Surface Prep
Before you assemble you're going to want to wipe the pipe down with a rag or two to remove the oil and grease used in the machining process.  Your hands will be black otherwise and your clothing will wear the same tell tale signs if you don't.  Go ahead and assemble the pipe framework and play the fun contortion game of trying to get all the pieces equally tight and lined up.  It might take a few tries, but try to make sure the mirrored pieces are threaded the same amount of times.  I found that a long screw driver really helped me get leverage when threading the pieces.
Seat Assembly
I still wanted the pipe inset into the wood, so if you don't want to go that route, just ignore the rest of this tutorial and slap your clamps straight onto your material.  Just be warned the seat might slide slightly.  I also finally set up my new drill press and this was a perfect excuse to fire it up to cut some holes with my forstner bits (you can get the same results with a spade bit and a drill/driver with a securely clamped piece of material).  Instead of using the 3/4″ forstner bit, I went a size up and used a 7/8″ bit and made a groove a little less than half of the bit's thickness.  The idea is for the seat to fit nicely into the pocket of the grooves, not challenge the integrity of the piece of wood by cutting too deep.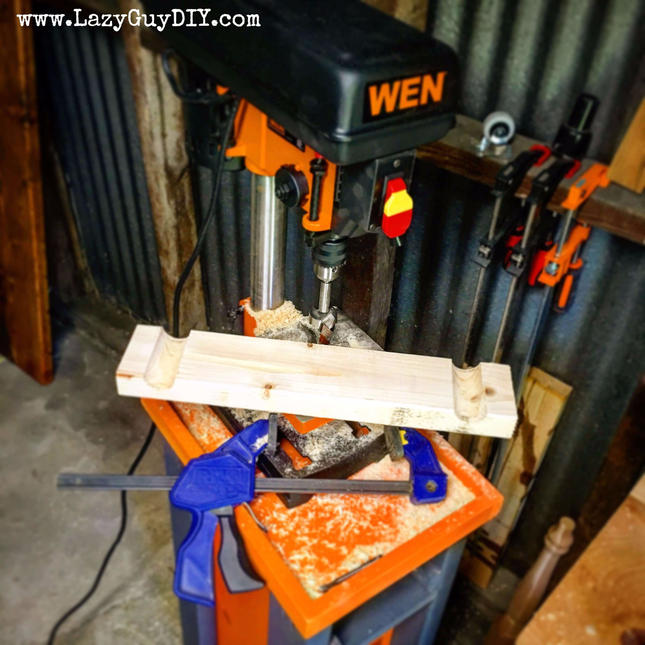 Once I had cut the groove into all three pieces I used my Kreg jig with the 1.50″ setting and attached the three with 2.50″ pocket screws.  For finishing purposes (after a good sanding) I ran a round over bit over the top edges of the seat with my router.  Totally optional.  I did the same with the backrest with the front facing side.  I then stained everything (Early American – MinWax) and sealed (Semi-Gloss – MinWax Poly) with 3 coats.  Remember to lightly hand sand with a high grit sandpaper (400+) in between coats and the clean off the dust with a damp cloth between coats for a smooth finish.
Insetting The Metal Pipe Clamps
And here's where the fun begins… but it turned out to be a happy accident.  When the pipe is inset into the wood, the pipe clamps can't give the pipe a full hug (totally a legitimate and technical term) and just worthlessly make a bridge over the pipe.  So to solve this, I decided to inset the clamps over the inset pipe.  Brilliant!  It's like a riddle wrapped inside an enigma I know.  Check out the video below:
---
I used a straight cutting bit and my plunge base on my router to make the cuts.  As you saw in the video, they don't need to be perfect, only big enough to let the clamps fit and be attached to the seat.  The pipe won't wobble and it actually adds to the stability of the chair.  Here's a closer look: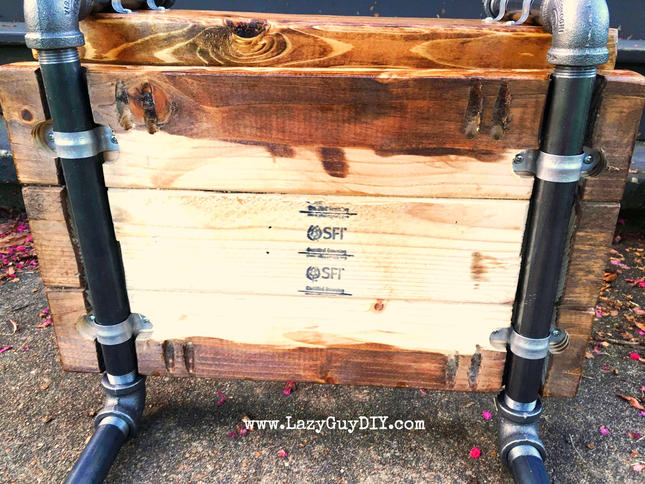 Attaching The Back Rest
I opted not to inset the pipe on the backrest and just attached it straight to the wood.  You might call it lazy (rightly so) but I think it actually adds to the industrial style.  Plus, between you and me, my drill press couldn't handle the forstner bit and the 2″x 6″ material because the plate won't slide down far enough.  Again… happy accident.  Here's a better look: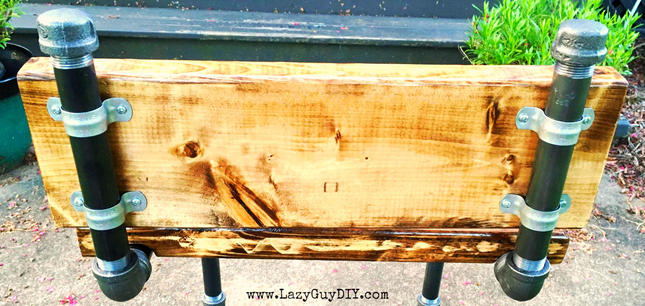 Sit In Your Pipe Chair And Relax
And that's pretty much it.  I will say, that after having a few people try out the seat, they all agreed it was comfortable, but most likely needed a foot rest.  I'll attach a 2″x 4″ to the bottom 3″ (no 2″x 4″s aren't really 4″ wide and 3″ pipe isn't exactly 3″ long) section and update the post before I deliver the chair.  That will also add to the stability because if you didn't tighten your pipes enough, you might get "roll" where the chair slightly wiggles side to side.  So use that Gi-Joe Kung Fu grip and tighten those pipes!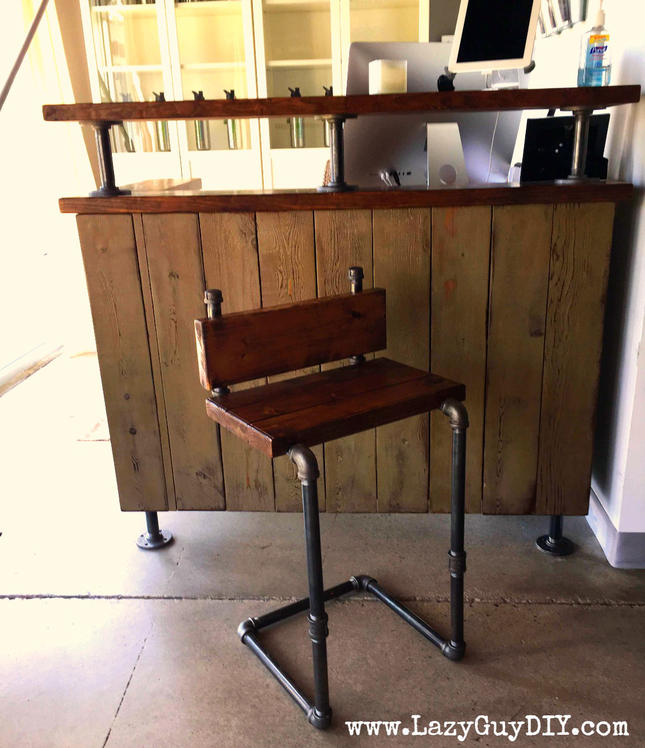 If you have any questions or comments about this build or the materials I used, please feel free to contact me here! Also, I love seeing the stuff you all build, so if you try this out on your own send me a picture so I can put it up on our social media pages.
~Lazy Guy