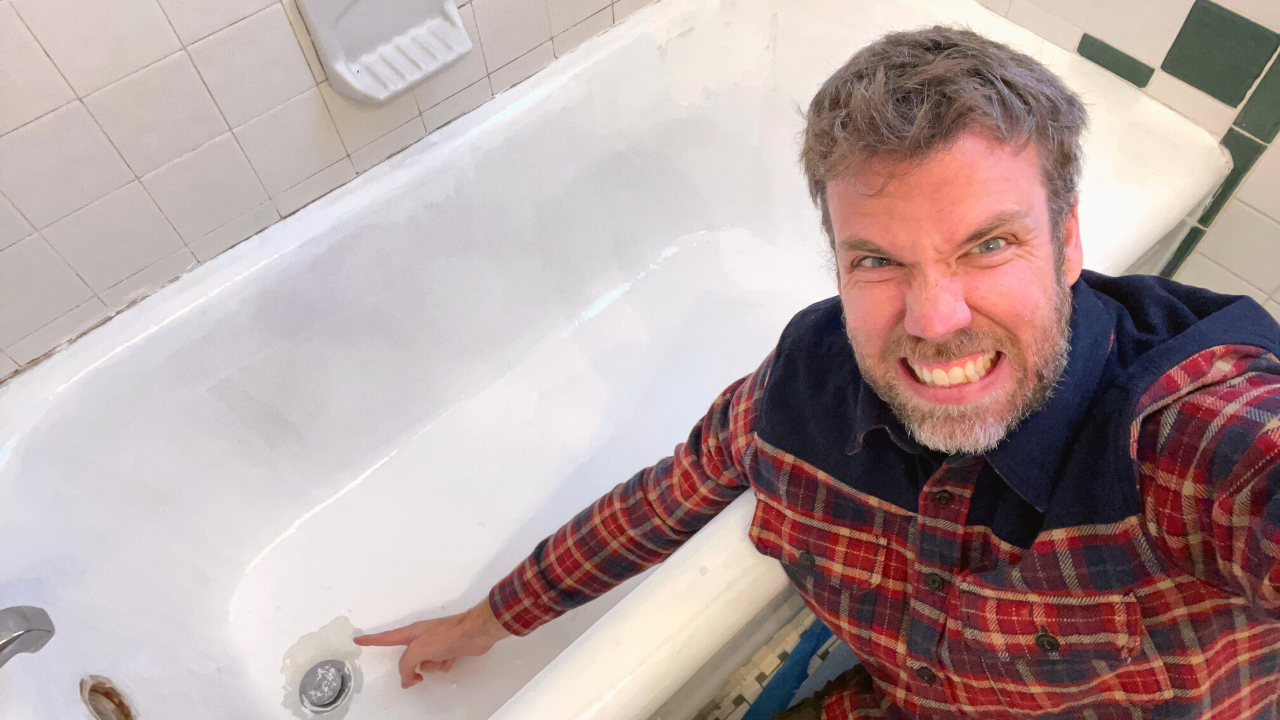 Ever consider trying one of those Do It Yourself bathtub refinishing kits? Looks easy right? Plus it saves you the hundreds of dollars it would cost you to hire a professional! What can go wrong? Whelp… Let me tell you how it can go wrong and exactly how you can fix that Do It Yourself bathtub refinishing that went oh so wrong.
Bathtub Refinishing Kit Problems
As we were prepping the house to sell, one thing needed some attention before we moved… the main bathtub was a cast iron built in tub from the 1930s that had lost its finish years ago. It was perpetually dingy looking like someone with dirty feet constantly walked through it. So we fired up the google search bar and researched what the best DIY bathtub refinishing kit was.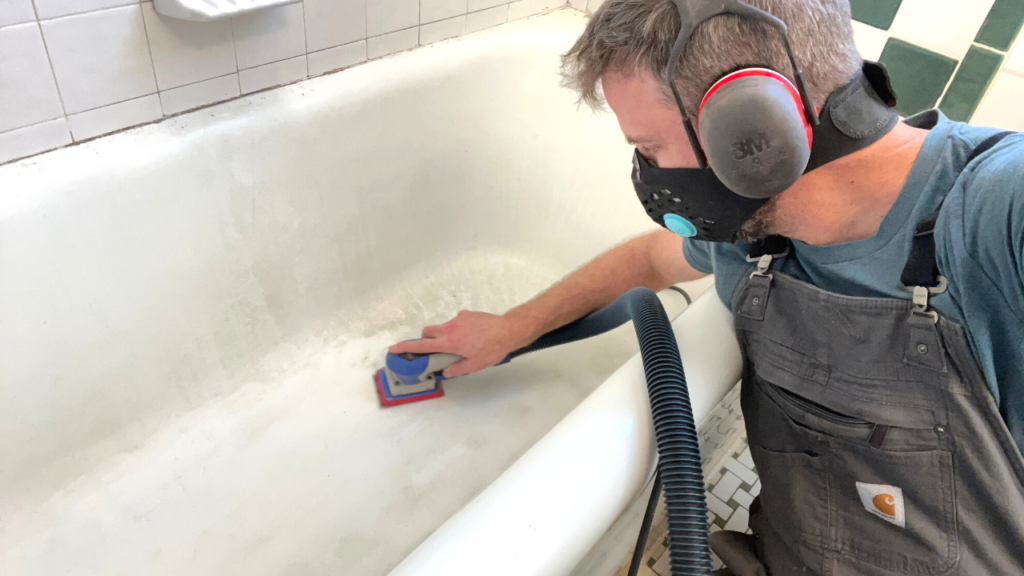 Now I'm sure this is a quality product from a quality company, so I'm not going to tell you the brand, but I will tell you this whole process for something the size of our tub was not great. After prepping the tub with the recommended cleaning process (plus a little sanding) and raising the temperature (more on that in a minute) to ideal conditions, I set out on applying the new finish. It did not go well.
Bathtub Refinishing Gone Wrong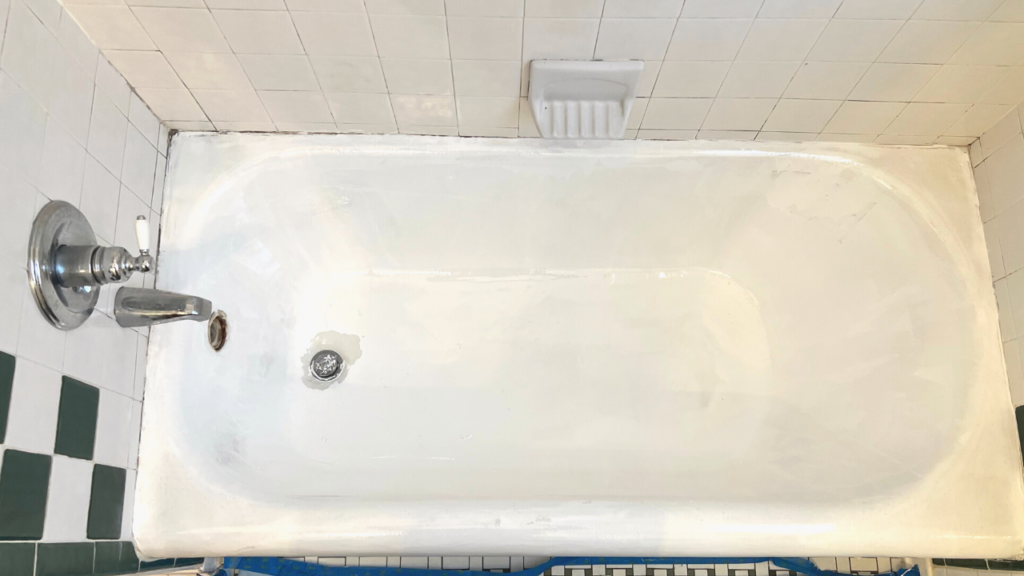 Now I work with epoxy quite a bit, so a two part application isn't foreign to me. But the consistency of the finish did not feel thick enough to really set on vertical surfaces. More so… it wanted to slowly ooze down towards the drain and puddle. Which, I created a tape dam as suggested, around the drain, but you're supposed to use the entire contents of your mixing bucket so it doesn't do any good if your dam overfloweth. Not to mention when I pulled said tape up…
And then there's the mess… this stuff obviously has some adhesive qualities… which means it does stick to everything and never comes off. So any little drips on the plastic drop clothes are going to turn them into human flypaper when you're trying to contort and stretch to reach into areas you need to apply more finish. So your clothing, shoes, arm hair, floor, etc. is going to have this sticky stuff ALL OVER it. Enjoy that.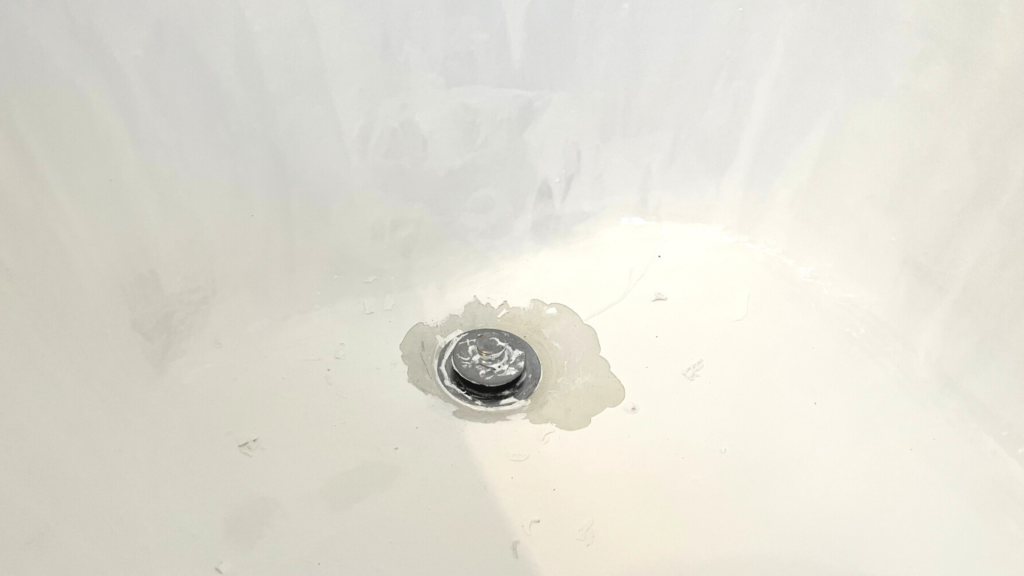 About the raised temperature… you're supposed to heat the room to over 80 degrees for application. So I brought a little heater in the already cramped bathroom and it cooked the place. Then add in the fact you're started to sweat because the finish is looking bad a few weeks before your house goes on the market AND it's now in the 90's in your bathroom and mistakes get made. In the end when this all dried (which is so much faster than you want it to) it looked terrible. So now what?
How To Remove A Bad Bathtub Finish
Well here's the good news… if you did as I did and applied a bad finish, you're not completely out of luck. You can remove it fairly quickly. Just keep your fingers crossed it did not go down your drain and harden there. Then you're going to need a plumber too.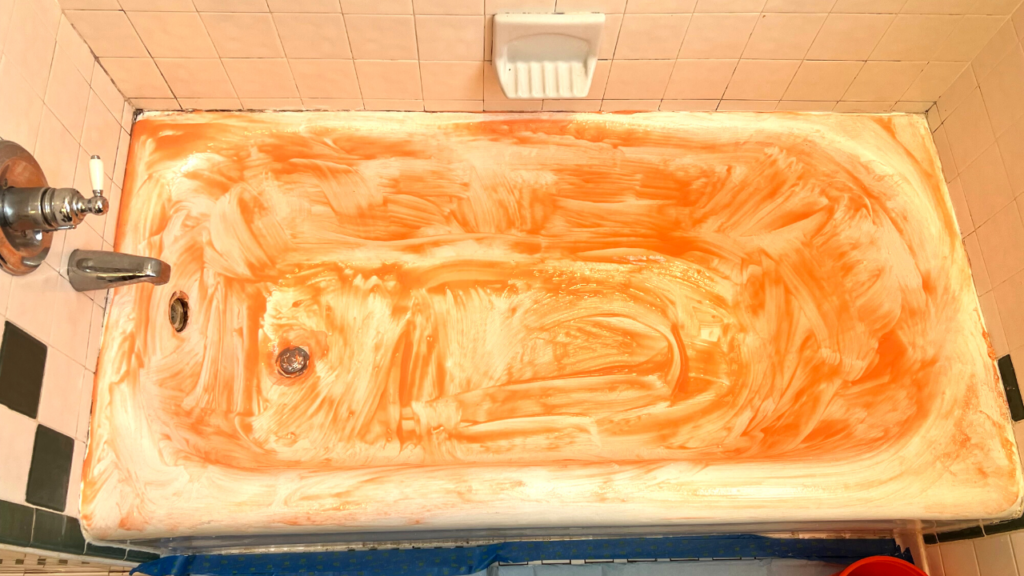 All you need is CitriStrip Paint and Varnish Stripping Gel and an electric sander. I used a combination of a sheet sander and a Random Orbital Sander. Apply a healthy dose of the CitriStrip and sit back and watch science happen in front of you.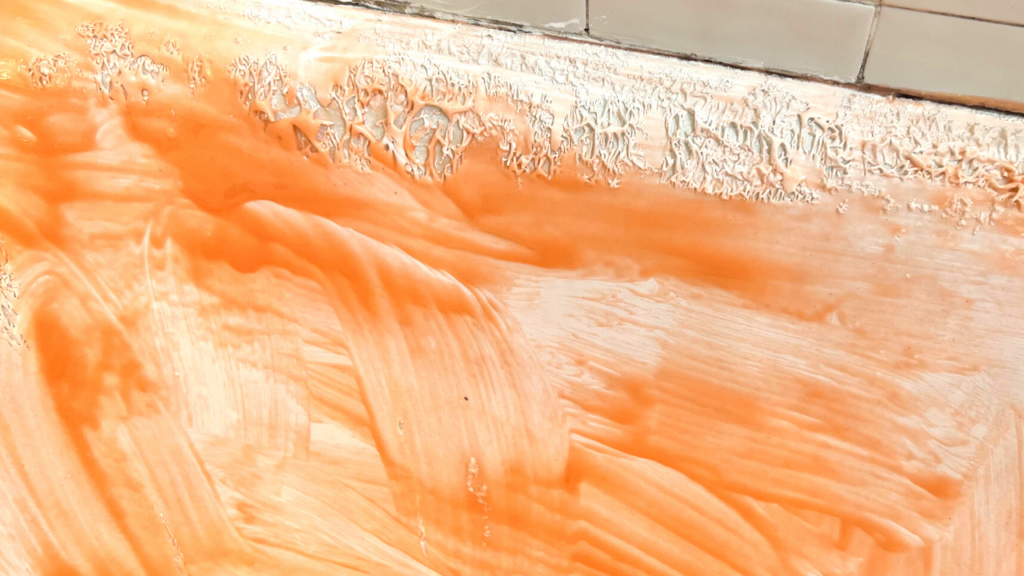 The finish I applied started bubbling up in seconds. Give it 30 minutes or reapply to tough spots and let it sit for a few hours and it's on! Err… off. What's nice about CitriStrip compared to other brands is the fact that there is no toxic off-gassing or fumes. You can apply it indoors with no concerns. I did some healthy doses and grabbed a plastic putty knife and started scraping.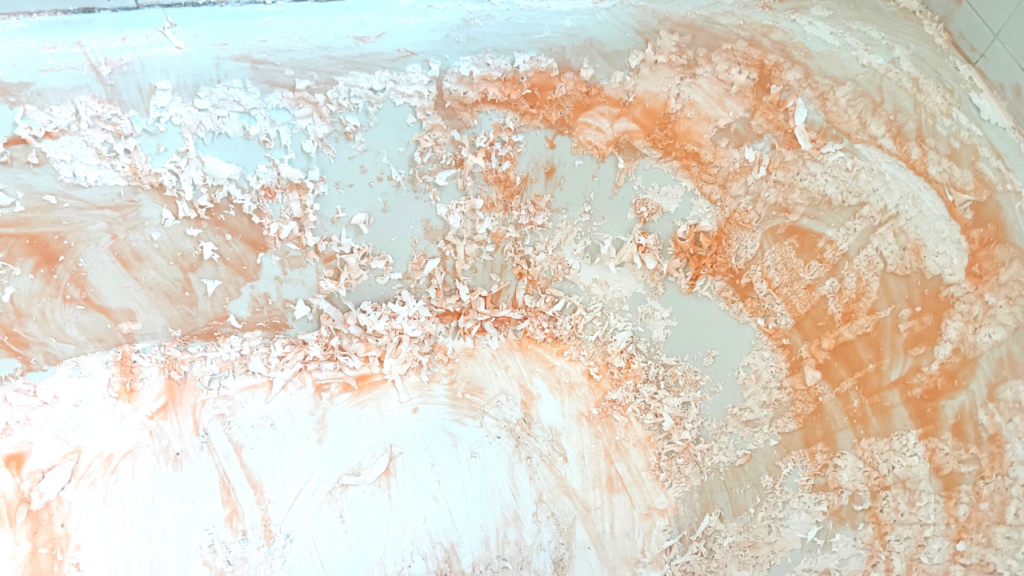 There were some spots that just would not come clean no matter how much orange goop I applied so for those I pulled out a sander. Now, before you ask, yes you do need to be careful with how hard and how much you sand because while the finish was already damaged through years of use, I did not want to over sand to the point I would be going through the top layer. So be aware of how aggressive you are with your abrasion. With just a few hours of clean up, my terrible application of finish was removed. But now what?
How The Bathtub Actually Got Refinished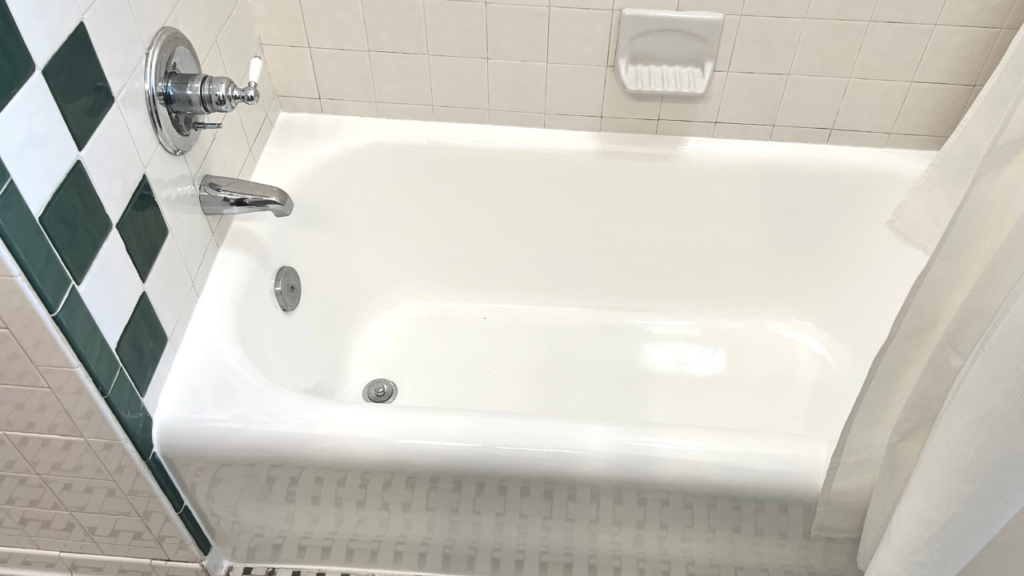 So… I ended up having to call a professional in to refinish my bathtub. Honestly, this is what I should have done to begin with. Here's what they don't tell you with those refinishing kits. With regular use the Do It Yourself Bathtub finish has an effective life of 6-12 months. If I had to go through that process at least once every year, plus lose the use of that bathtub for several days while it cured I would go crazy. It was a terrible experience and the finish looked awful. Could it have been user error? Sure, but I'm pretty capable at projects and that one was no bueno.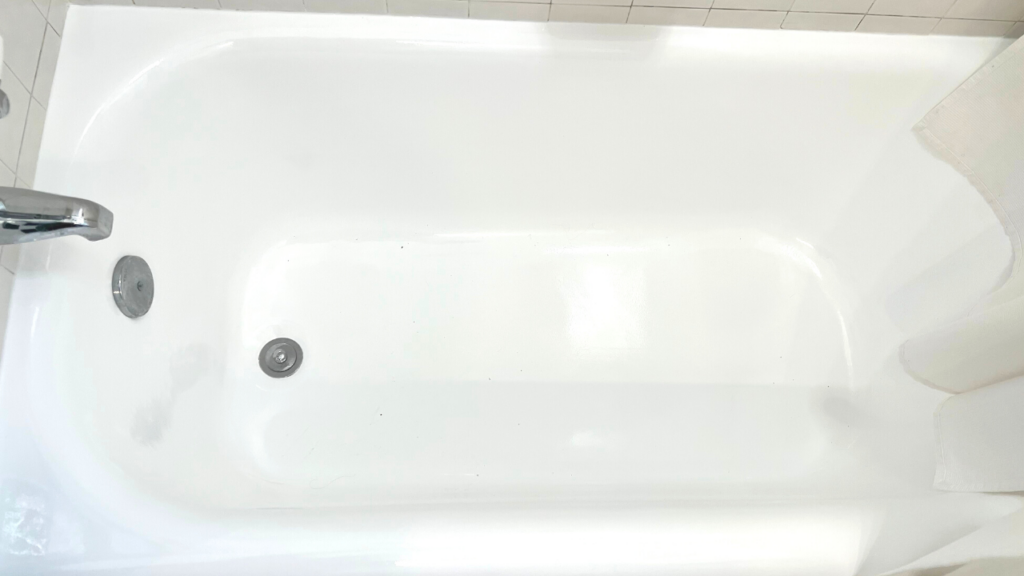 Another thing is the application itself for those kits. You mix the two parts and apply with a pour and spread method. You know how the professionals apply the new finish? Not like that. They use a sprayer. Actually, they use a filler first to catch any scratches or marks that only get amplified by a top coat and then spray the new finish. Several coats in fact. It took my guy 3 days from patch, to apply to final finish. It did run between $600-$900 to have it done… but it was oh so worth it. And it's guaranteed for 6 years. So save yourself the hassle, hardship and added cost of applying it yourself, removing it and paying someone to do it. Just hire this project out!
~Lazy Guy