Without giving away the secret location of the Lazy Guy DIY base of operations I'll tell you that I live within the city limits in an awesome old neighborhood of Richmond.  All the streets and little urban parceled backyards are lined with massive trees that can block out the sun on even the brightest day of summer.  It really gives that 1960's era retro feel of wholesome Americana.  They even shot scenes from a Rob Lowe movie in our front yard.  Well, there's a drawback to those beautiful old tree line streets… leaves.  So many leaves.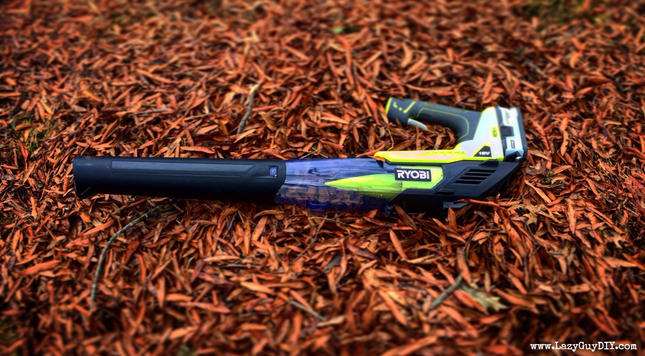 We have a tree guy regularly come out and check on the massive Willow Oak that's rooted only a few yards from the back of our house.  It's big enough that the branches span our entire yard and into the neighbor's on either side of us.  The tree guy says it's by far the largest tree in the neighborhood.  I'm so proud… and nervous any time we have a big storm come through.  When fall comes, it drops so many leaves.  Like a ridiculous amount.  Not the nice big leaves that are easy to rake up either, tiny little feather like Willow Oak leaves.  From the backyard alone (in not that big of a space) we'll regularly fill up over 14 large black trash bags of leaves.  FROM ONE TREE!!  And the gutters… oh God don't get me started about the gutters…
A few weeks ago, I walked out of my back door and immediately felt defeated as the entire porch was hidden under a couple inches of those leaves.  So I reached out to my friends at Ryobi Outdoors and said… "please help!"  This was on a Sunday.  I heard back from them a few hours later.  On a Sunday.  Why weren't they watching football?  Ha!  So what they sent me was a The 18v One+ Jet Fan Blower.  There's an actual jet engine turbine on this thing straight off some Soviet era MIG fighter plane or maybe from the Rocketeer's jet pack!
Okay okay, full disclosure, it's not off a fighter jet, but I did try to strap this thing onto my back and see if I could fly around the yard.  I got a couple inches off the ground which is pretty much Wright Brothers territory.  And they were flying downhill off dunes.
So let's talk specs.  The jet blower pushes out wind at 100 mph which is only eclipsed by the average speed my in-laws like to drive.  It's also super light weight.  It weighs only 9 lbs and a chunk of that comes from the battery.  Speaking of… and this is my favorite part, it uses the 18v Ryobi One+ battery system that powers a majority of my  team green power tools.  Which means I can slap it into my same 6-Pack Ryobi Super Charging Station that I use in my shop or into my other tools.  Mine came with the big 4.0 AH battery that I've used for hours and haven't killed.  What's nice is that if I add any additional Ryobi Outdoor products to my yard tools I can interchange batteries between lawnmowers, weed-eaters, hedge trimmers and so on.  Plus there's a nifty battery gauge like most of the new Ryobi batteries have so I know how much juice is left.  If that's not enough,  it's got a feather trigger that adjusts the power according to how much pressure you put on it.  So no more dialing up the power, just stand back, squeeze and feel the breeze (I'm gonna have to put a copyright on that pure marketing gold!)
So let's talk power.  Ryobi has a bevy of blowers right now but I believe only three come from the Jet Fan Blower line and of those, only two use batteries.  The big boy is a 2-Cycle Gas Powered Jet Blower that looks like a space aged bazooka used to fight off aliens with an airflow of 160 mph.  The other battery offering is a 40v Jet Blower  that pushes out a cool breeze at 155 mph.  With the model I used, I only had a few situations where I felt like I needed a little more power than a 100 mph airflow could offer.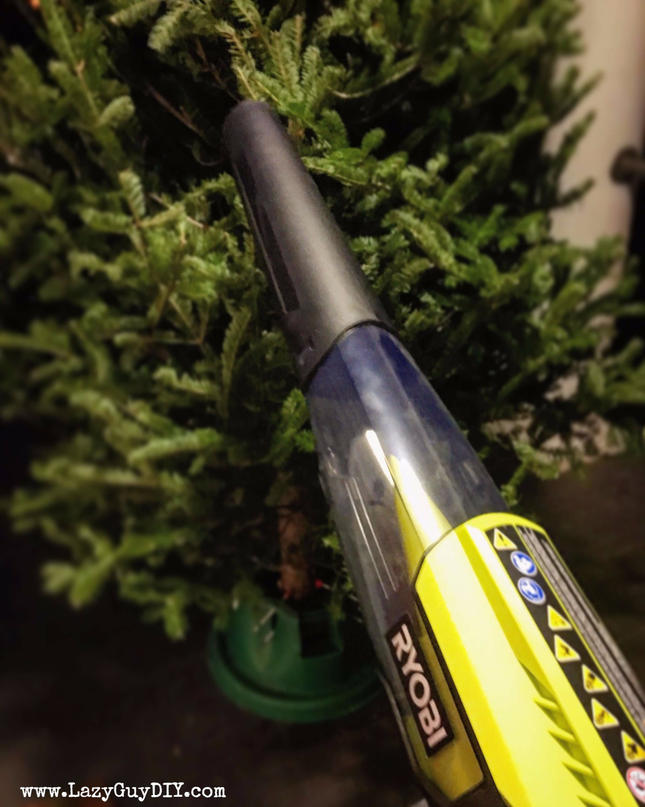 My first test was on our Christmas tree.  What?  You don't blow off your Christmas trees before you bring them in your house?  Oh, you're Jewish?  Mozel Tov!  Any who, I ALWAYS blast the O Tannenbaum with a leaf blower before I bring it into the house to loosen or clear off any dead needles before I make the doorway look like it has an evergreen shag carpet.  Then there's always the National Lampoon's Christmas Vacation fear that there's a squirrel living in between the branches.  This would definitely dislodge him.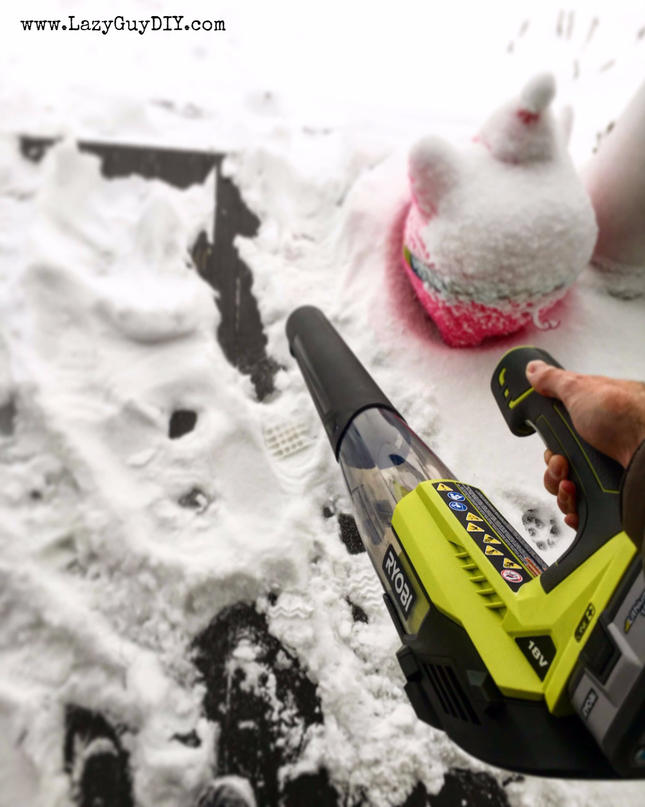 Up next we had 9″ of powdery white snow hit Central Virginia a few weeks ago and the entire city shut down.  It started snowing early Saturday morning and the local schools were still closed on Wednesday the following week.  As you can see from the photo, Christmas Piggy was in a dire situation, but with a few pulls of the trigger I was able to clear my entire front porch in a few minutes.   I've used it for other various outdoor activities and occasionally scared the crap out of one of our jerk cats while he was sleeping indoors, but that's not going to be the application you really want to know about.  Let's talk about leaves.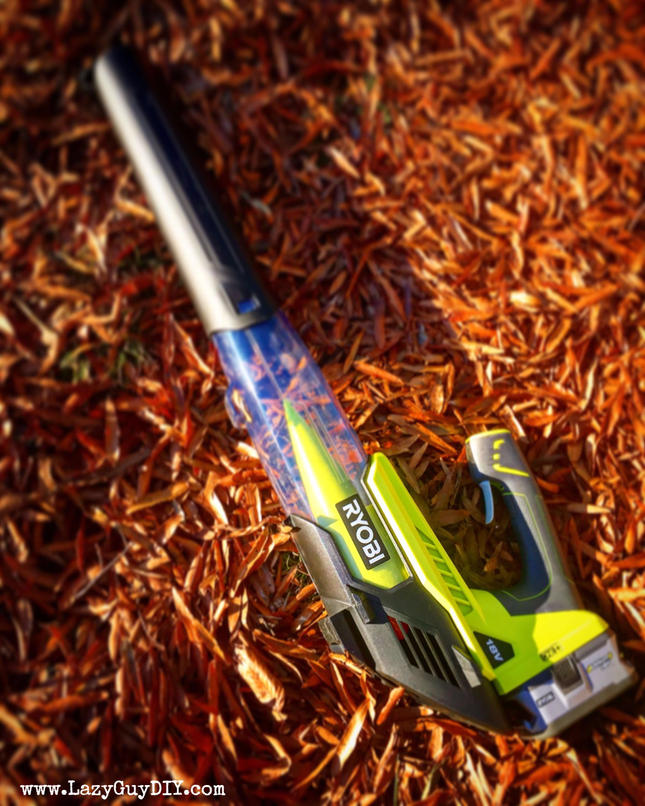 It should be noted that no matter how powerful your blower is, if the leaves are damp you're going to have trouble doing anything with them nevertheless harness one of the five elements that make up Captain Planet (who didn't love Linka?).  The little leaves from the Willow Oak tree absolutely posed a challenge for this blower because they have such a little surface area compared to something like big oak leaves.  On flat surfaces like my porches and sidewalks, the green machine wiped the slate clean (yet another awesome slogan!  I'm on fire!).  There was plenty of power to clean up the thickest piles of leaves.  The same was true for those tricky areas in my roof line that just seem to always clog up, but let's put our mind in the gutter.  I tried before to blow the leaves out of my gutters with my old blower that needed an extension cord.   And let me tell you… hauling all of that up a ladder, having enough cord to reach and then having that cord disconnect while you're up on the roof… RAGE… so much RAGE.  That's not a problem here when you cut the cord and you're firing on One+ battery power.  Because the unit is so light and you're not tethered to an electrical outlet, I really had no issue using this while up on the roof.
The only time I really wish I had a little more oomph is when it came to moving big piles of leaves in my yard.  Once again, it's these stupid little Willow Oak leaves.  The leaves in my front yard from the Crape Myrtles blew away like Kansas' Dust In The Wind.  I would say for normal every day leaves and not these resilient evil ones… you can confidently purchase this unit. So if you're looking to step up your blower game with a jet engine I can definitely recommend this 18v model from Ryobi Outdoors.
You can pick up your Ryobi 18v Jet Blower today at The Home Depot.  (*affiliate link)
~Lazy Guy
*this product was provided to me by the folks at Ryobi Outdoors.  My opinions are my own when it comes to writing on this website, but when it comes to home life I have to check with my wife and my daughter as to what my opinions will be for that particular day.  Some days I'm told the Little Mermaid is my favorite Disney Princess, some days I'm told it's Rapunzel.  Product links highlighted in blue are affiliate links.