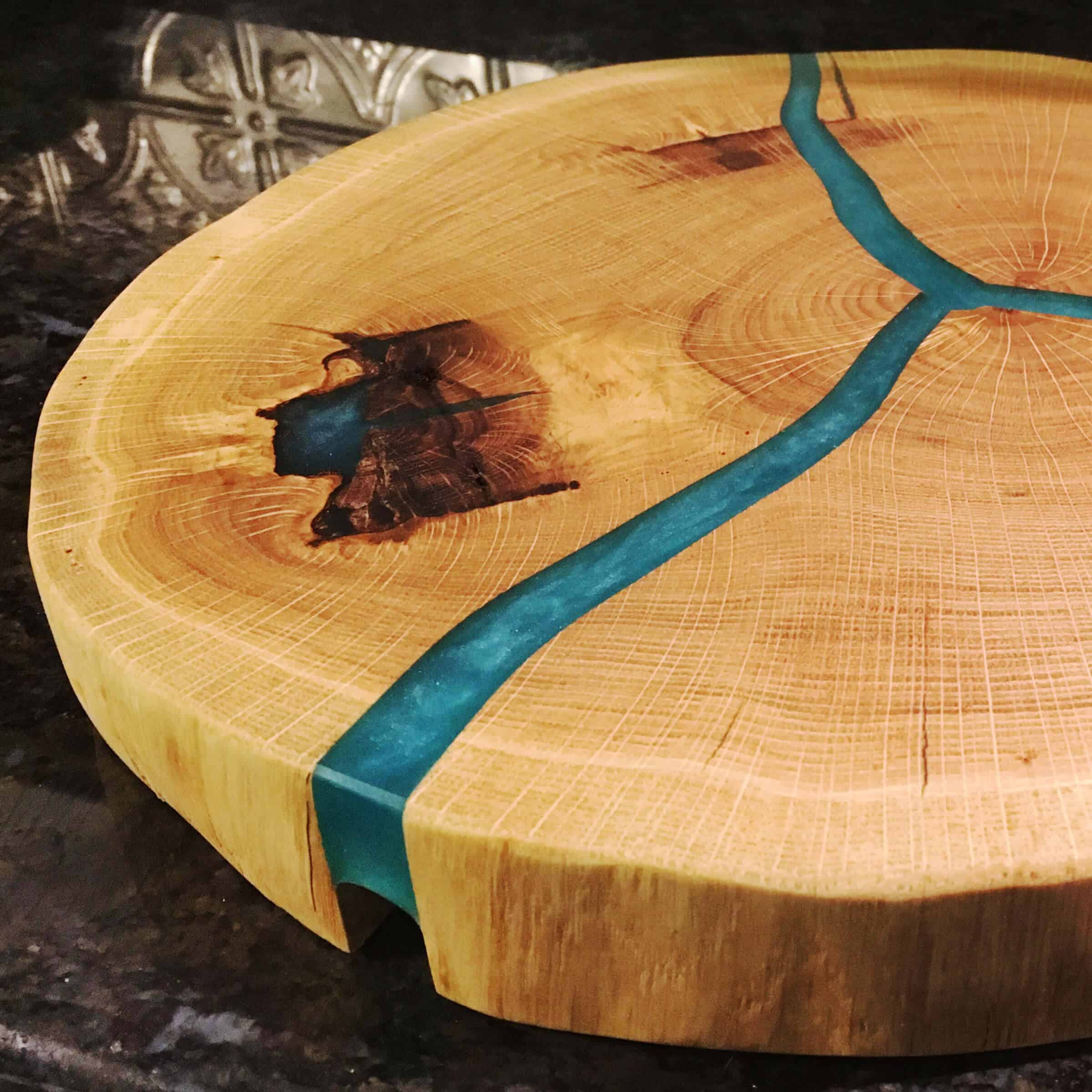 Getting packages in the mail is usually pretty exciting. What's in the box? What's in the box? (*he says in a Brad Pitt voice) But then a few weeks ago an odd looking package arrived. It was a re-purposed Metabo box that had been cut up then taped together crudely for shipping. The Metabo box was a red flag in itself because that's mainly a European tool brand that I don't work with… but then I looked at the label. Everything was written in Cyrillic other than my address. I didn't remember ordering anything from Eastern Europe… but then… I had been putting a lot of late hours in the shop and occasionally my Amazon Echo likes to take commands from the TV so it wasn't out of the question Alexa ordered me something from online. The box was 15"x 15"x 2" which doesn't sound all that big but it was really heavy too which made it even stranger and made me even more cautious about opening it. So I told my daughter and cats to go to the other room and set out to discover what was inside…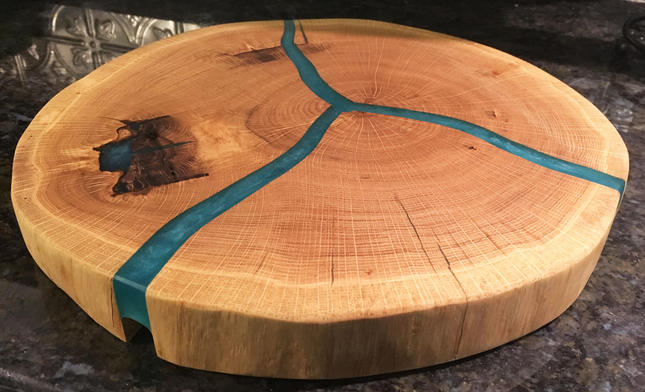 It was a wood cookie! A round slice of a tree for those who aren't familiar. What kind of tree I'm not sure, but I had forgotten I had a client ordering a wood cookie and sending it to me for a wedding cake stand for her wedding on New Year's Eve. Apparently the wood cookie market has been cornered by the Eastern Europeans on Etsy. Now it all made sense.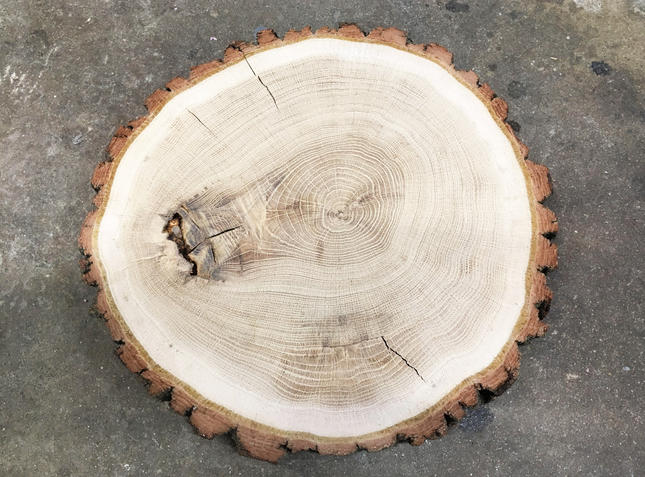 So let's talk about how I made this awesome wood cookie into an even cooler cake stand.
Tools & Supplies Needed
*affiliate links below
1. Wood Prep
See all that nice looking bark on the sides of this rustic looking piece of wood? It needs to come off. Not only will it eventually fall off as it continues to dry, but you also don't want pieces of bark coming off on your wedding cake. There are plenty of good methods for removing bark with power tools, I just clamped the cookie and used a hammer and a chisel to remove as much of the outer and inner layers of bark without damaging the sapwood.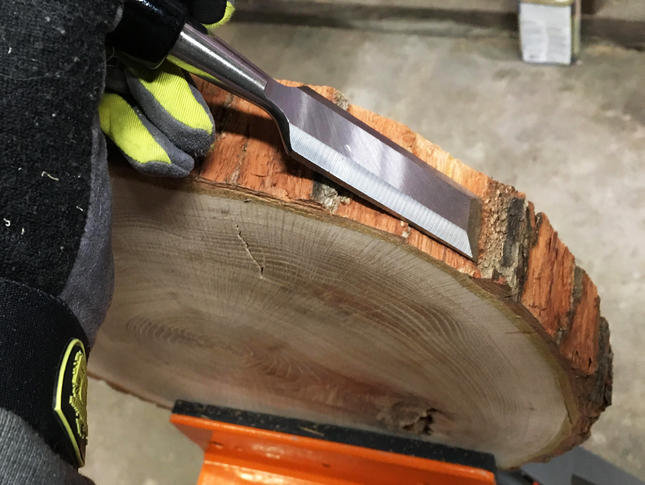 When you look at a slice of wood, you'll see 5 distinct layers: outer bark, inner bark, cambium cell layer, sapwood and heartwood. I chiseled down to the paper thin cambium cell layer (which is great for revealed grain projects) and then removed that with (60-80 grit) sandpaper with my random orbit sander.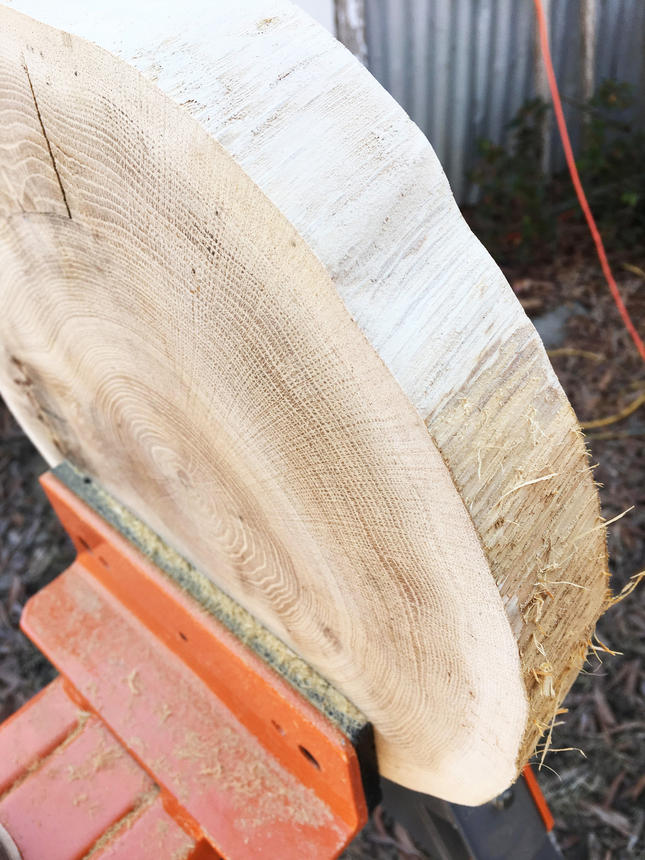 Don't worry, it sands right off. Then I walked the sanding grits up through the progressions to a 220 grit, sanding all surfaces until it was smooth to the touch.
2. Cutting The Wood
With everything cleaned up and sanded, it was time to pick my pattern for cutting out. I had an existing crack that I incorporated into my cut line. I just drew on the cookie with a pencil. It's better to cut the crack out than have the piece split later.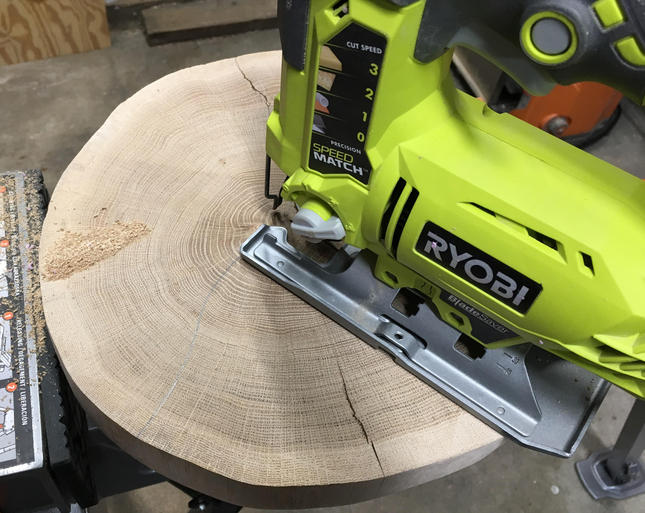 Using a jigsaw I cut my winding lines through the cookie. Try to make them organic looking like flowing water (that was very Zen sounding of me). Straight cuts are not going to look as natural when you fill with epoxy later. When you're cutting, be aware of what's underneath where the blade is passing through and that the pieces will fall apart once you make the final cut (which can be hazardous with a blade running). You can always cut on top of a piece of foam board.
3. Tape & Fill
Now that you have cut the piece, it's time to prep for your epoxy pour. I like to use T-Rex tape for epoxy because it's industrial strength & weather resistant. Two part epoxy heats up after you pour it which causes regular painter's tape to lose it's stickiness.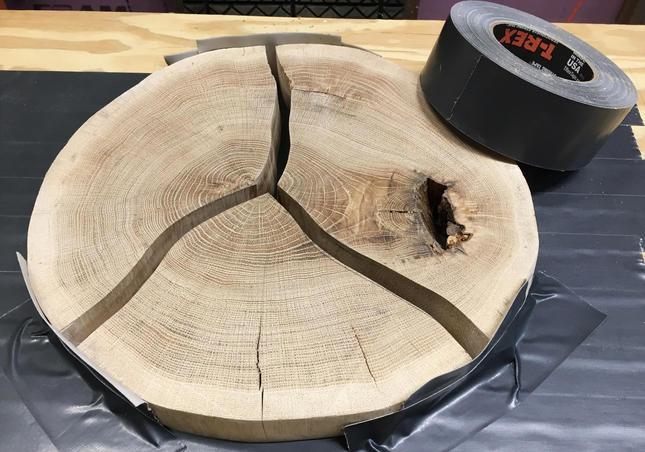 I have a scrap piece of plywood with a layer of tape on it for my epoxy fills that makes removing it (or clean up from leaks) even easier than just pouring onto a porous wood surface that can absorb the epoxy. Tape the bottom over the gaps and then the edges to avoid leaks. Just like water, if there's a place for the epoxy to leak… it will. The better you tape the better the results.

Depending on what kind of epoxy you get (I've linked mine in the material section) you mix and pour into the gap per the instructions. But wait, mine has color and your epoxy is clear. Clear epoxy tints incredibly easily. Take a few drops of whatever kind of paint you have sitting around (house paint, craft paint, nail polish, powdered eye shadow) and mix it into your epoxy before you start filling. A little bit goes a very long way. Don't worry about overflow on the top, you just sand it off later. Just know the more you overflow… the more you have to sand.
4. Clean Up
As mentioned, you have to sand again. Sorry. Use your random orbit sander again starting with a 60 to 80 grit and start moving material. It's going to take a little time but it's worth it. Continue to sand until the shiny parts of the epoxy are gone and then go back over with a higher grits up to 220.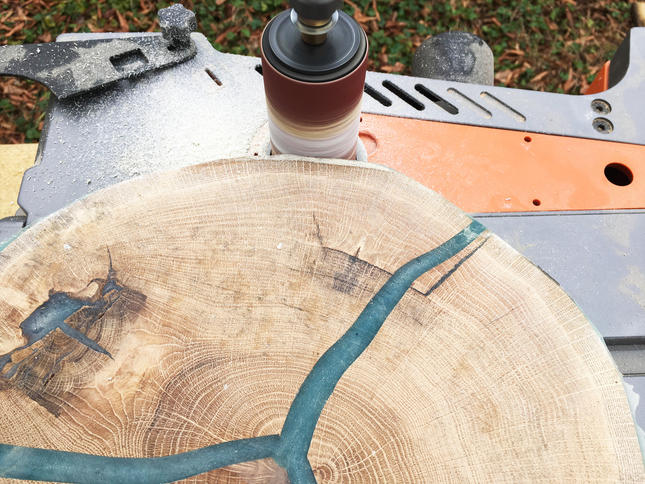 I got overly ambitious with my pours and had a bad tape job so I had epoxy that ran over the edges. I could use a random orbit sander again to clean up those areas… but then I have a spindle sander that is always begging for use.
5. The Final Finish
Once you've cleaned up your excess epoxy, hand sand with a super fine 330 to 400 grit sandpaper. That will give any of the epoxy areas that still look cloudy a clear finish. Since this is a cake serving stand you've got two choices to make this food safe.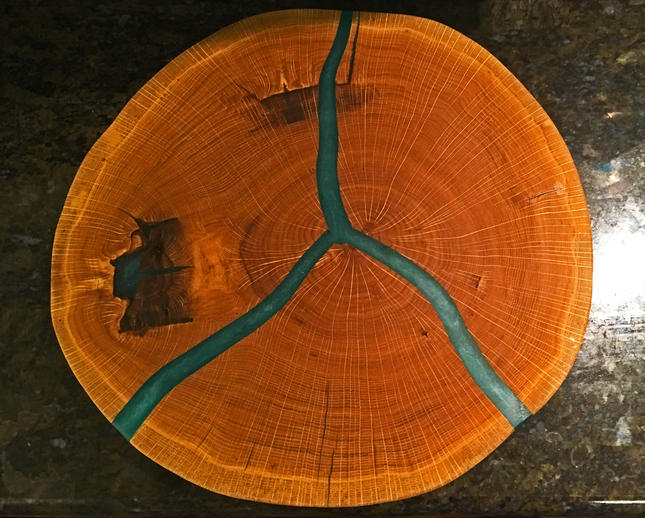 I wanted the cake stand to be a little darker in color so I applied Watco Danish oil first, let that dry and then applied General Finishes Salad Bowl Finish. You can skip that step completely and just add Butcher's Block or Cutting Board oil. You can just wipe your piece down with a damp (water, not oil) cloth to test and see what the surface is going to look like with the oil applied. Let your piece dry for the recommended time and you're ready to use! You don't need to go as big as a cake stand with this either. You can do coasters, cutting boards and even table tops! The wedding for this cake stand is on New Year's Eve so I'll make sure I add some cake pics after the event has taken place!
~ Lazy Guy
Need another wedding gift idea? How about a Custom Signature Bench instead of they normal guest book?