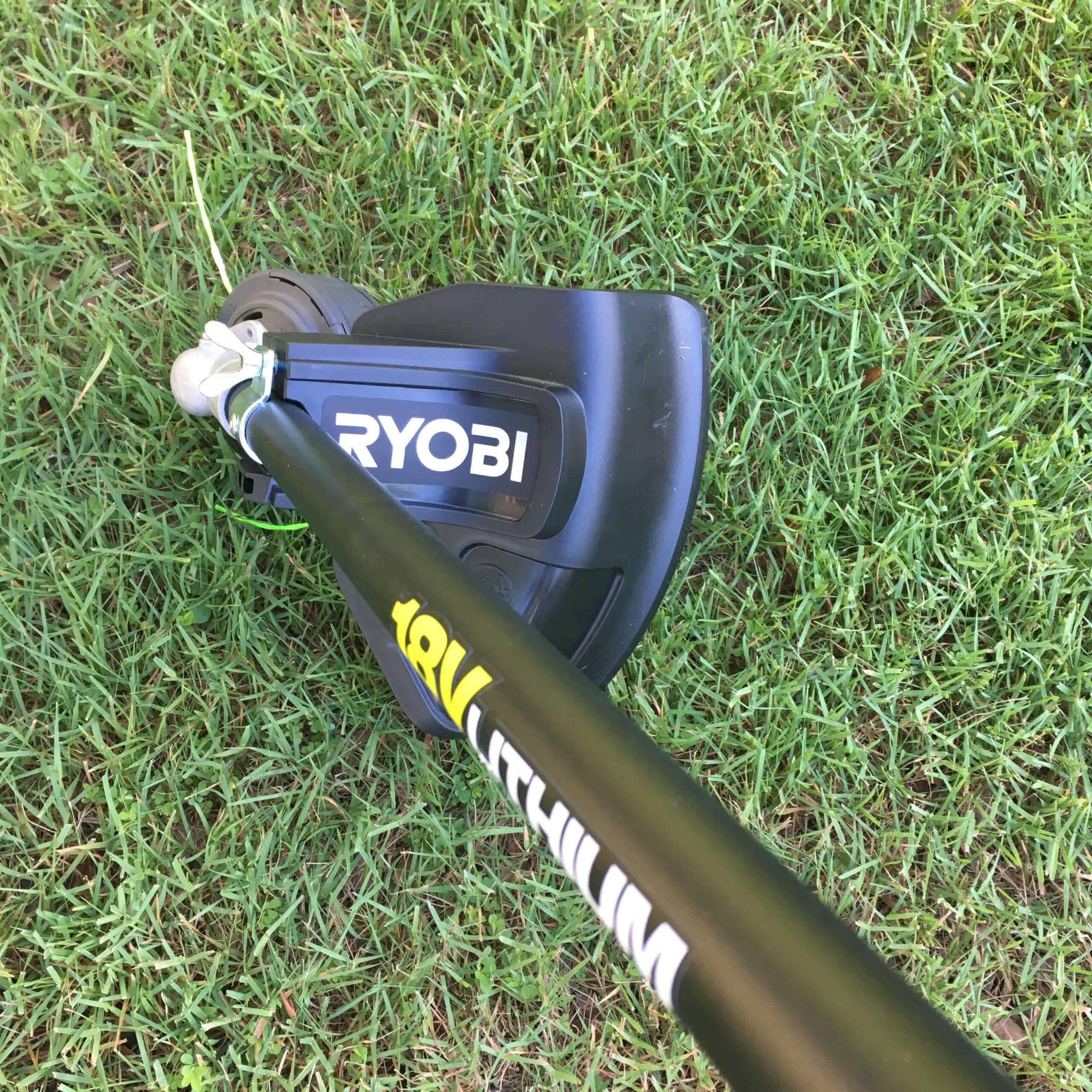 Alright, let me be absolutely honest here. Sometimes having the "Lazy Guy" moniker is stretching the truth and sometimes it's spot on. When it comes to lawn care I am the absolute worst. I haven't edged the grass spilling over onto the sidewalk in front of our house in over 3 years (and that was only once with another three year hiatus before that). We live in the city so our yard isn't big. I can cut all the grass in the front and backyard in less than 30 minutes. But does that stop me from only mowing the front yard and letting the backyard turn into a nature preserve? Ask my neighbors… or better yet, our chickens have laid eggs in the tall grass because it seemed so safe and inviting. Next thing I know I'll start finding baby deer (or fawns for you fancy folk) bedded down back there.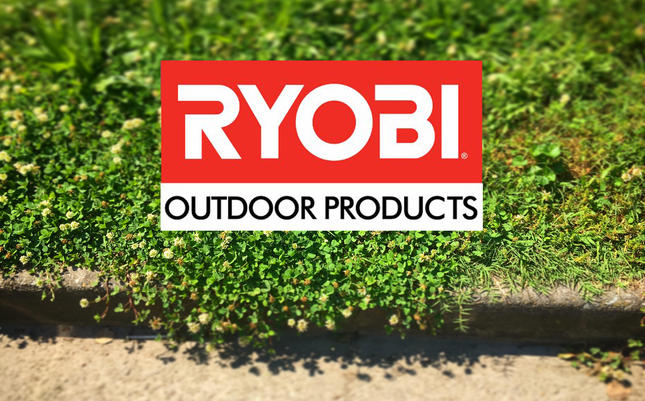 So I reached out to my Team Green friends at Ryobi Outdoors and asked if they could give me a little inspiration (and some new One+ products to try out) to help turn the corner and bring my neglected yard back into a space my family could enjoy. Even better, these lawn tools all run on the Ryobi One+ 18v platform that I already use and love in my workshop. So that means I can close up the shop, take the High Capacity Battery Pack from my One+ Impact Driver, slap it right into 18v Brushless String Trimmer and still have enough juice to drop it into my One+ Wireless Speakers when I finish and can enjoy some tunes. Yeah, that just happened.
---
We bought our house in 2010 (I think…) and since then I've owned three different weed eaters to try and tackle the yard. All three of those models were gas powered and are no longer in the land of the living (no I didn't off them, they all died of natural causes… like being torn apart piece by piece to never go back together again). I was never willing to spend more than $200 on one so I got what I paid for and that was around 2-3 uses before the line feed mechanism broke or the motor started sputtering. Winterization? What's that? Not to mention gas trimmers are loud. My yard work time generally coincides with my daughter's nap time and the last thing I need to do is have a loud carburetor revving under her window. Needless to say, I don't have the best relationship with string trimmers… Until now.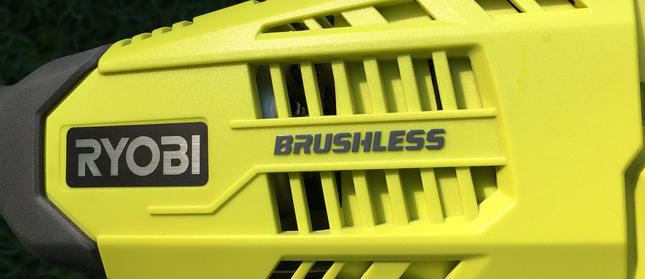 If you read any of my other reviews you know how excited I am about Brushless Motors making their rounds in the industry. Less friction means more power and longer run time when using batteries to power your tools. So if you were nervous about buying a battery powered tool in the past, the new brushless cordless models really level the corded and gas powered playing field.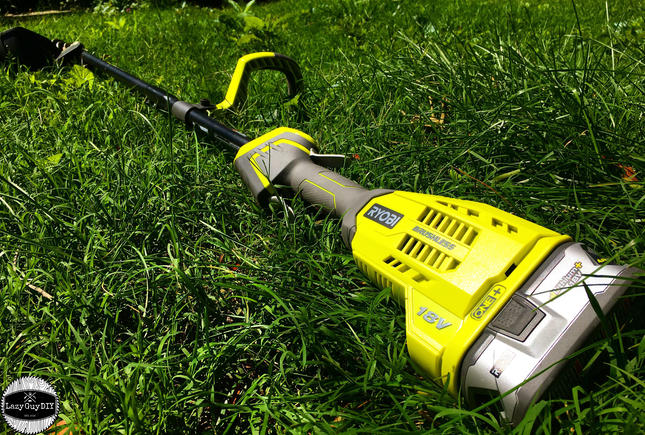 Assembly is easy. Two machine screws to tighten up with the provided hex-key to connect the shaft and then a quick spin of a wing nut on the guard and you are ready to rock (but charge your battery up first). A full charge of the provided 4amp hour high capacity battery gives you about an hour of run time. Considering I can cut my entire lawn in 30 minutes or less, this is plenty of time for me.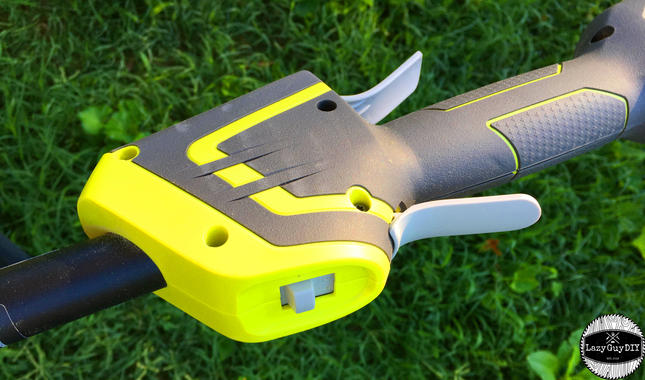 You have a high and low speed to choose from with a flick of a switch and a pressure sensitive trigger for when you really need to rev things up. But what about the noise? No disturbing the peace here. While it's not as quiet as a deadly Prius in a parking lot, the difference from gas powered to battery powered is significant. There are two important things that I'm sure you want to know about though.. is it comfortable to use and what about the line change?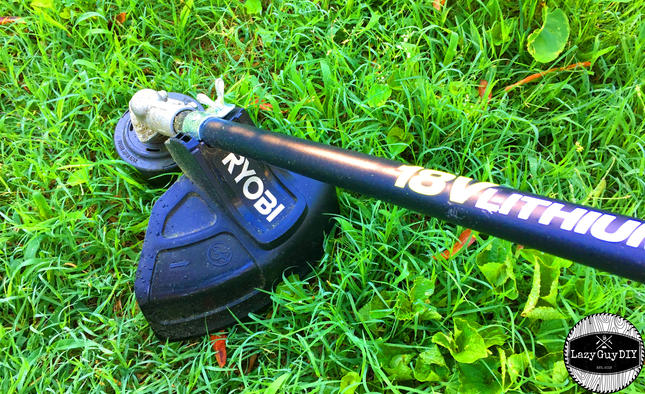 At 6'5" I am a tall glass of water that most consumer products don't generally cater to. Surprisingly, this string trimmer was very comfortable to use. I'm very active in my mid-30's and weed eating still typically hurts my back from the weight and necessary lean because of shorter models. Not here. I was able to slice through overgrown edges, curb hiding clover and a fairy ring of tall grass around a telephone pole that hasn't seen its base in almost a decade. As far as changing the string? Ryobi has the Reel-Easy (bless you all for your pun) speed load system that lets you call in reinforcements within 60 seconds. True story. When you hit the end of your line it will spit out the excess and with a few spins of the "Speed Winder" you're ready to roll.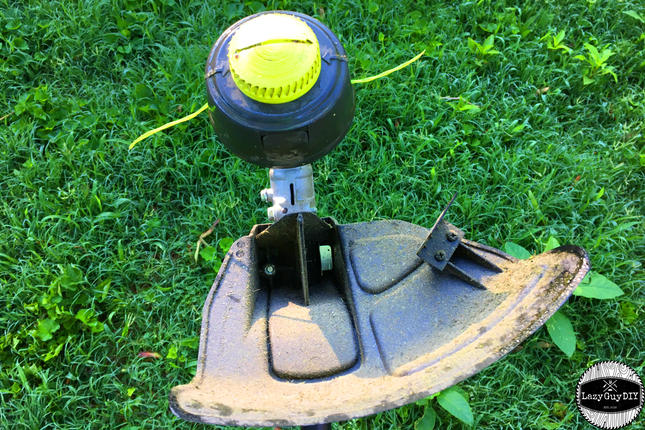 With the extended run time, ease of use and silent but deadly work ethic, the Ryobi One+ 18v Brushless String Trimmer is a great addition to combat the unruly weeds in small to medium sized yards. You can pick yours up exclusively at The Home Depot (high capacity battery and charger included). Need a little more power? Check out its 40 volt big brother.
Lawn Care HALFTIME!
Unfortunately, I'm still using a gas powered push mower to cut my grass after I took care of all the edges so after I took care of the front yard… I woke my daughter up when trying to mow the back… doh! After a quick post nap snack time and Mom back in charge, it was time to get into the weeds. Literally.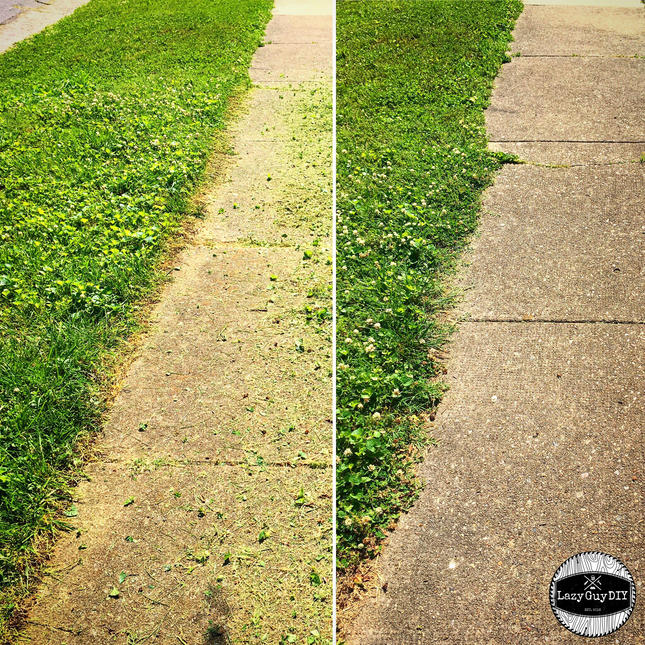 ---
If I wasn't edging my curbs or sidewalk… do you think I was taking care of the weeds growing up through the cracks? If kicking or scraping taller weeds out with my shoe counts, then yes, I was. But that probably doesn't count. I'll be honest (twice in one post, this is like therapy!) I was skeptical of a battery powered chemical sprayer. If I'm feeling extra ambitious I'll get one of those weed killer (is it still PC to call them killers?) bottles with a AA battery that's already drained only to have the chemicals come out in an unenthusiastic "Pfffttttttt.." The weed poison then inevitably dribbles out with the loss of pressure and kills the wrong plant or sprays back on my shoes making me a walking plague to anything green.

As much as I like the upper body workout I get from pressurizing a normal chemical sprayer, the constant pressure from this little unit was going to be a luxury. Right out of the box there's very little assembly other than screwing in the brass nozzle and charging up the included 18v battery. The cap on the unit doubles as a measuring cup so you're not just pouring liquid plant death into the 1-gallon tank on a whim (but I still might).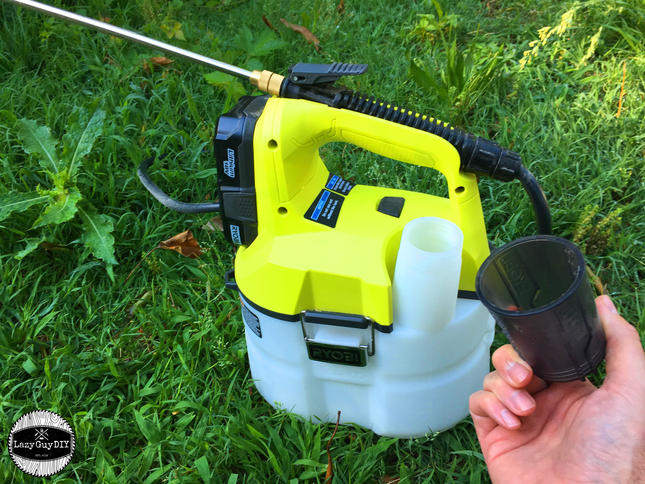 The tank itself is easy to fill and even easier to clean. Traditional chemical sprayers are a pain to clean which is why they are usually one season and done for me. I stained my deck with one once and I didn't even give clean up a second thought… Again… sometimes the Lazy Guy shoe fits better with outdoor projects. To fire this little guy up all you do is push the start button under the handle and it starts humming away ready to unleash the fury on dandelions everywhere.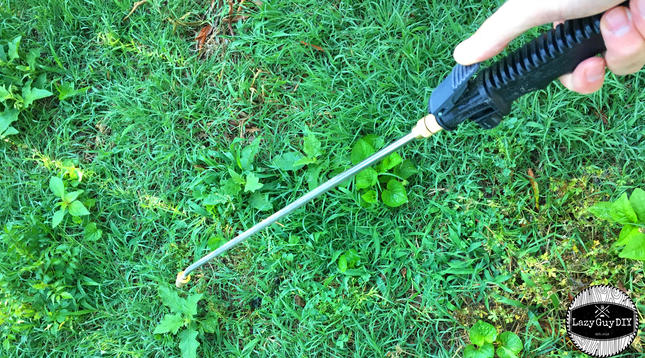 The constant pressure and stream from this sprayer is actually more satisfying then I was prepared to admit. So instead of just spraying my weeds, I might have gone a few feet extra into my neighbor's yard as well. I debated writing my name or telling him his favorite sports team sucks because the constant pressure means I could easily sabotage his grass that looks way better than mine. Better judgment kicked in because he knows where I live.

While I don't have to constantly struggle with weeds in my small city lot, the Ryobi 18v Chemical Sprayer is a nice addition to my growing team green outdoor selections. This unit would be right at home with anyone battling evil crab grass or taking care of their prized garden. The whole thing is under 5 lbs. so I actually think this would be a great choice for someone with an elderly family member that still loves to spend time gardening. The battery powered, no pumping action immediately made me think of family members with shoulder issues that still love to tend to the roses. The Ryobi One+ 18v Chemical Sprayer is available now at The Home Depot (that includes an 18v battery and charger).
---
BONUS Ryobi COVERAGE!
And just for good measure (and because it's easier than sweeping), I pulled out my Ryobi One+ 18v Jet Fan Blower to clear off my clippings. I reviewed the Jet Blower back in January if you want to check that out as well! Spoiler alert, it's not a real jet so you can't fly with it.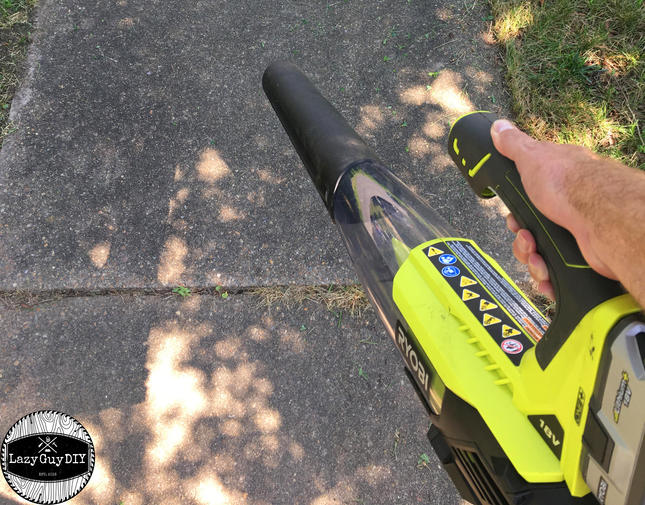 Ryobi continues to impress with it's dedication to outdoor products. From the tools you've seen above, to quiet running riding and push mowers, to hedge trimmers and chainsaws. Most of the outdoor equipment comes with batteries and chargers which is great especially if you've already got a stockpile of power tools in the shop like I do, or a great opportunity to jump into the versatile One+ platform. Ryobi Outdoor products are sold exclusively through The Home Depot. Go check them out!
~Lazy Guy
Want to see what the Ryobi Outdoors 40v line is all about? Check out my Ryobi 40v Lawn Care Review!
*The products in this post were provided by Ryobi Outdoors in exchange for my opinions. Which is actually really nice because my opinions rarely count in a house full of girls. Want to watch manly "Forged in Fire"? Nope. Real Housewives of some city or Shimmer and Shine. My opinions in this post are my own (hooray!). Product links are affiliate links which means if you make a purchase, a portion of your sale goes to this site at no additional cost to you. We're cool like that. ​