You've waited 5 years and 10 seasons for one of our most ambitious build plans to date! This season's design is a throwback to Season 1 where original plan creator, Ana White designed a Media Console to launch The Builders Challenge. Now in our 10th season, our build plan comes from Jory Brigham's "Chumash" Credenza.
With strong influences of Mid-Century Modern, this is a highly customizable plan that's going to inspire some great entries!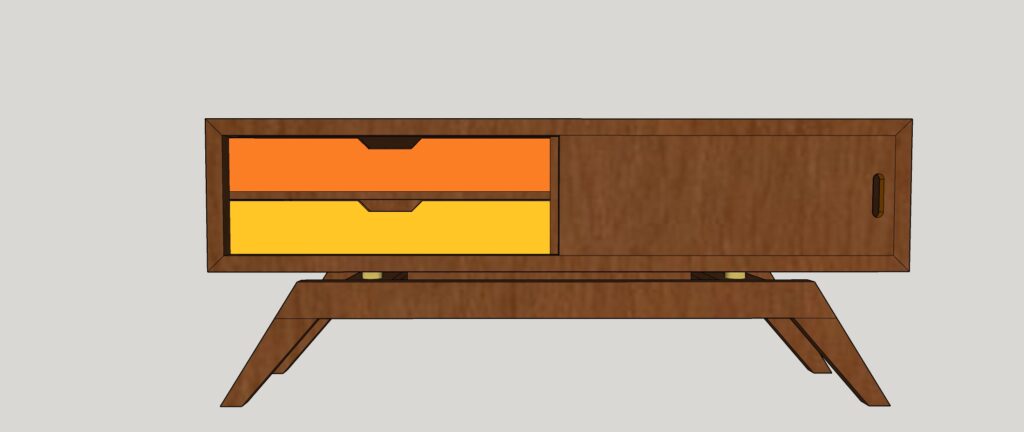 Wait, you're not entered yet? That's okay, registration is free! Click here to register! There's no obligation to build and will only cost you your guilt if you don't finish on time. Starting Saturday, October 3rd, you will have 3 weeks to build and compete with woodworkers across the country and enter your version of this build in what has become the biggest woodworking competition on the web.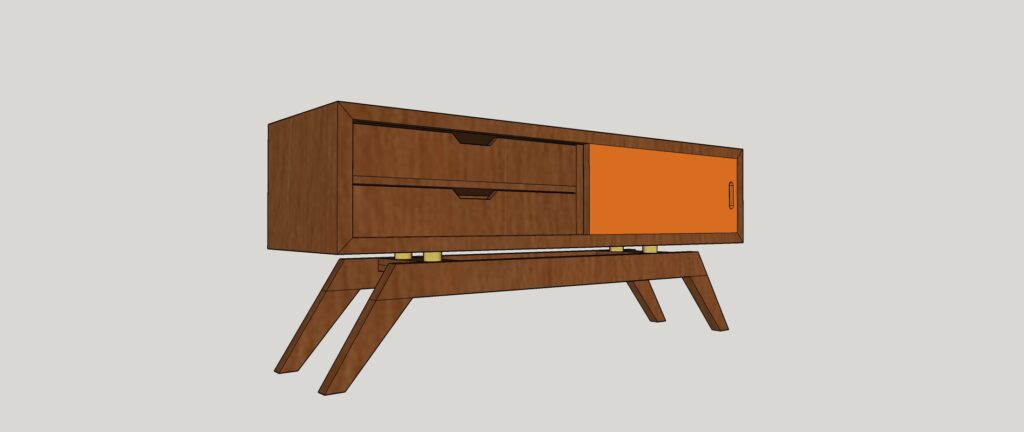 There are three categories you can enter (full details here) depending on your skill level and oh man are there some awesome prizes from our sponsors. The grand prize includes a trip to take a class with the Man himself… Jory Brigham at his ranch in California. Check out the full sponsor and prize line up here!
On To The Build Plans
Download the full PDF plans from the "Download" button above! If you have any issues with the download, you can use this direct link instead or contact us at [email protected]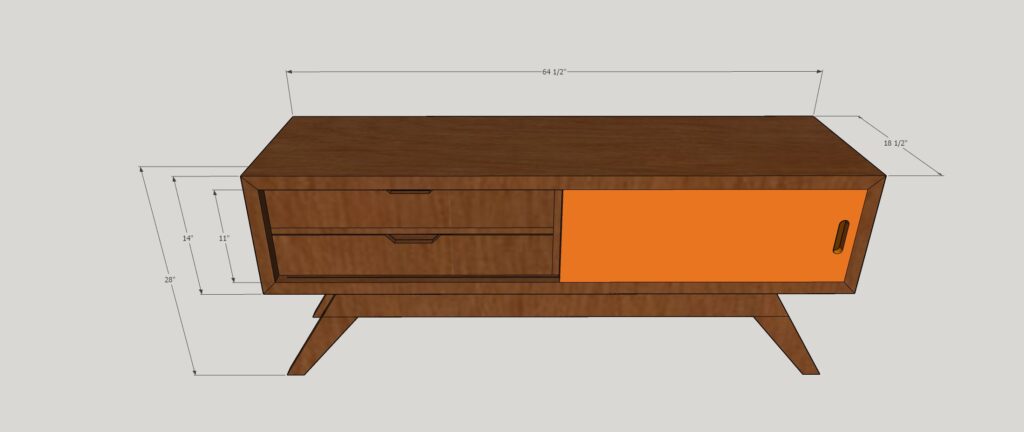 Plan Measurements
64-1/2″ Wide
28″ Height
18-1/2″ Depth
Build Plan Cut List
Main Carcass
(can be made from laminated plywood, whole lumber or jointed 2×10's)
Two (2) 1-1/2" x 18-1/2" x 80" panels
Cut down into:
Two (2) 18-1/2" x 64-1/2"
One (1) 1-1/2" x 11" x 16" for middle support
Carcass Add Ons
One (1) ¾" x 30" x 15-1/4" for middle shelf
Two (2) scrap ¾" x 11 for backer board support
Drawer Materials (Materials for 2 drawers)
Four (4) ¾" x 30" x 5" for drawer fronts and backs
Four (4) ¾" x 14-1/4" x 5" for drawer sides
Two (2) 15-3/4" x 30" 1/8" underlayment for drawer bottom (trim to fit inset into drawer box)
Door Slide
One (1) ¾" x 10-7/8" x 30-3/4" for door panel
One (1) 1/8" x 11-1/2" x 27-1/2" underlayment for door insert
Leg Assembly
Two (2) 1-1/2" x 3-1/2" x 53-7/8" for lateral leg support
Four (4) 1-1/2" x 3-1/2" x 14-3/8" for legs
Four (4) ¾" x 4-1/2" x 10-1/2" for middle support assembly
Four (4) 2" x 3" dowels for leg attachment
Backer Board
Two (2) 1/8" x 11" x 30-3/4" for underlayment backer board
Final Note
Remember, this is chance to show off your ingenuity and or craftsmanship. You can build an exact replica, put your own spin on this original or come up with something different and "inspired" by this design. If you want to see examples of past entries, check out the Instagram Hashtags "#TBC9FINAL or #TBC8FINAL just to see how creative you can get. When asked what are the limitations? If we say "build a table" don't "build a chair".
Just keep in mind this is a fun challenge meant to bring the community together. The prizes are amazing on all entry levels, so if you're a professional furniture maker, don't enter the Novice category and leave some prizes for the people just starting out!
Adam & Raechal